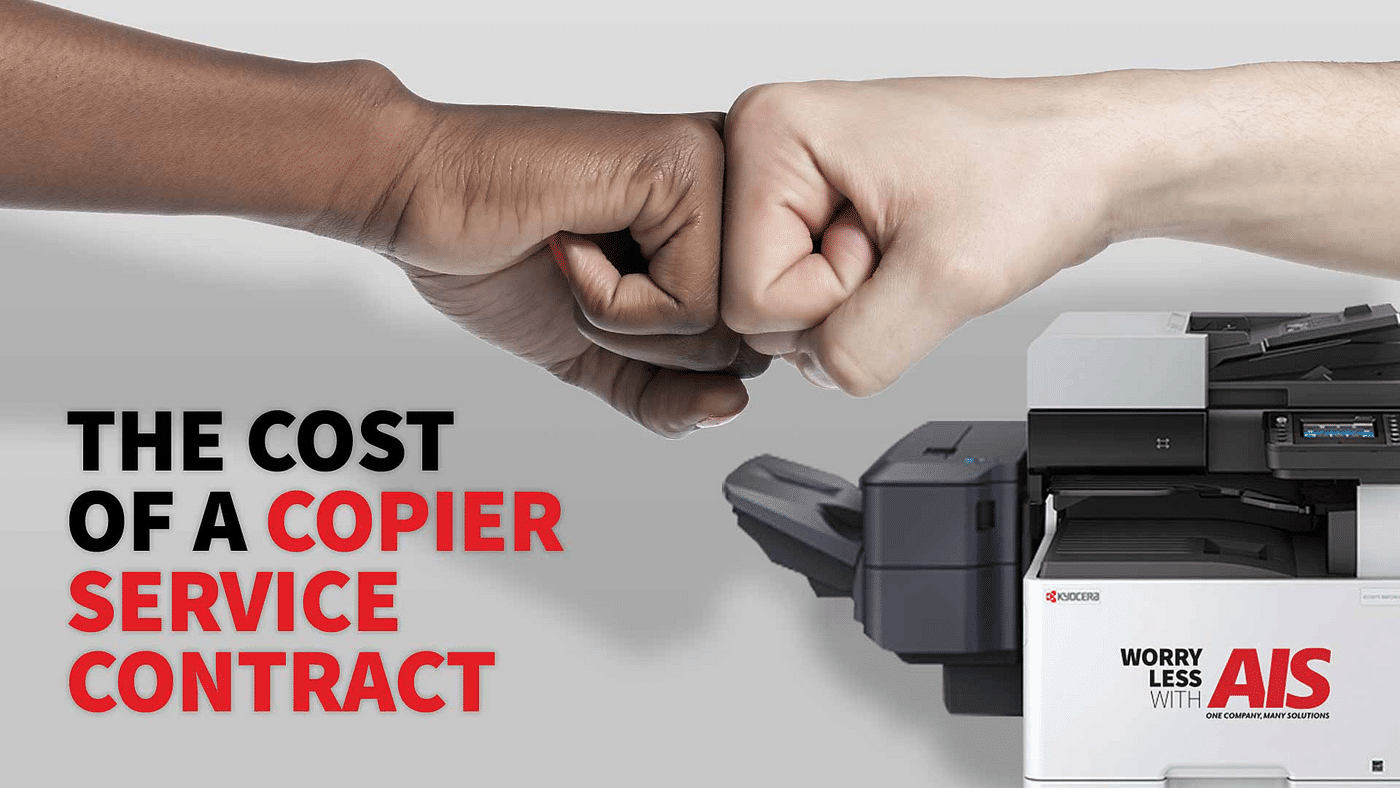 READ TIME: 4.5 MINS.
Despite the calls to reduce paperwork, printers and copiers are still a mainstay in modern offices. Today, you can either buy or lease a modern office copier to replace a range of other devices used in the office space and boost your team's productivity.
After getting the printer, office copier dealers will often approach you with a printer or copier service contract. Although these service contracts are necessary for future purposes, it's essential to understand what you are getting yourself into.
The essential part is getting a deal covering all your bases and knowing how to negotiate for these contracts. Read on as we dig deeper into more details on the pricing of service contracts for copiers or printers.
Related Article: Should You Lease or Buy Your Next Office Copier? Top Benefits of Each.
What Does A Copier Or Multifunction Printer Service Contract Include?
Typically, a printer or copier service contract covers all the components directly related to the device. However, this doesn't protect the network on which the device operates.
Most copier service contracts cover the drums, toner, repairs, maintenance, and other components that aren't paper or staples if you use a finisher.
These contracts are supposed to be hassle-free so that you can have quality time to concentrate on your business and focus on maintaining these devices or trying to figure out ways to troubleshoot issues.
You may also get service contracts offering complimentary use of a loaner unit in cases where it's not possible to make immediate repairs on your printer or copier.
However, while this is a valuable benefit to your business, it's not an industry standard. Therefore, always confirm with the dealer if they offer this service before signing the printer service contract.
Regardless of the dealer or manufacturer, it's essential to understand the fine print in every agreement. This can save you lots of headaches down the line.
Unfortunately, some more incendiary fine print have details such as quarterly or yearly service fee increases, drastic overage fees, and some exceptions in the case of ongoing maintenance that don't accommodate the normal wear and tear problems.
You also need to keep in mind the elements that a service contract doesn't cover. We have witnessed cases where a device malfunctions or fails to work entirely due to an external factor and not the device itself.
In this case, you will most likely have to deal with the issue yourself because the malfunction is due to an external problem. For instance, if something or someone at your company messed up with the device, then you'll have to foot the bill for the repairs.
How Does a Copier Service Contract Work?
Dealers and manufacturers offer different options in their service contracts so that you can choose among the following contractual choices.
Pay-As-You-Go
If you sign up for this option, you will have to pay for the service or repairs when it's required. However, we found this a bit inconvenient, keeping in mind that the toner costs can be expensive for most businesses.
Also, like any other equipment, your copier will require frequent repairs with age.
All-In-One Lease Payment
Generally, lease payment includes a particular number of copiers or printers allotted every month. For instance, if you lease a color printer, it mostly comes with a set of black, white, and color printers.
Note that if you get beyond the particular allotted amount, you will pay a specific fee per page. If you lease a piece of equipment for a fixed monthly payment or amount, it includes a particular amount of black and white or color prints.
Also, since you are paying fixed monthly fees, you will still pay for the prints you aren't using.
Lease and Maintenance are Separate
Also referred to as cost-per-pay contract, lease and maintenance charges are separate in this type of service contract.
The agreement offers preventive services that cover supplies, parts, and unlimited training. The advantage of taking this option is that you don't have to pay for things that you don't use.
If your agreement states that you pay a set amount per page, your dealership will multiply the total number of pages or copiers by that amount. If you operate a small or medium-sized business, this agreement is more economical.
You will pay the monthly cost per page and maintenance charge as a separate monthly bill. However, you can still go for the 'all-in-one option' covering supplies, parts, and preventative maintenance.
What Elements Affect a Printer or Copier Service Contract Cost?
Some of the elements that determine the cost of service contract include:
Overage
The maintenance requirements of a brand new machine are much lower than a very old copier. This is because equipment parts get worn out with age, and after some time, you will have to replace some parts, which affects the maintenance charges.
Speed and Paper Output
The required output coupled with the operation speed is essential in determining the cost of a service contract. If the equipment has a higher output and volume, the maintenance cost will be much higher.
For instance, if your business uses a printer at 80% capacity, you will incur a higher maintenance charge than a company that utilizes about 20% of the printer's capacity.
Additional Factors
Other elements also play a crucial part in determining the copier service contract price, such as:
How often does a business replace parts
Whether the copy machine is color or monochrome
If the copier spare parts are readily available on the market
The updates required in the copier and the software installed
Key Takeaway: The Cost Of A Copier Or Printer Service Contract
Office copiers are essential in any workspace, so you'll want to be clear about all details before signing the service contract to avoid incurring extra costs on repairing a piece of equipment after the expiry of the lease period.
Before signing any copier service agreement, read and understand the fine print and know the exact amount you need to pay. Or, give us a call and let us help walk you through the process. We're here to give you peace of mind to help you win more business