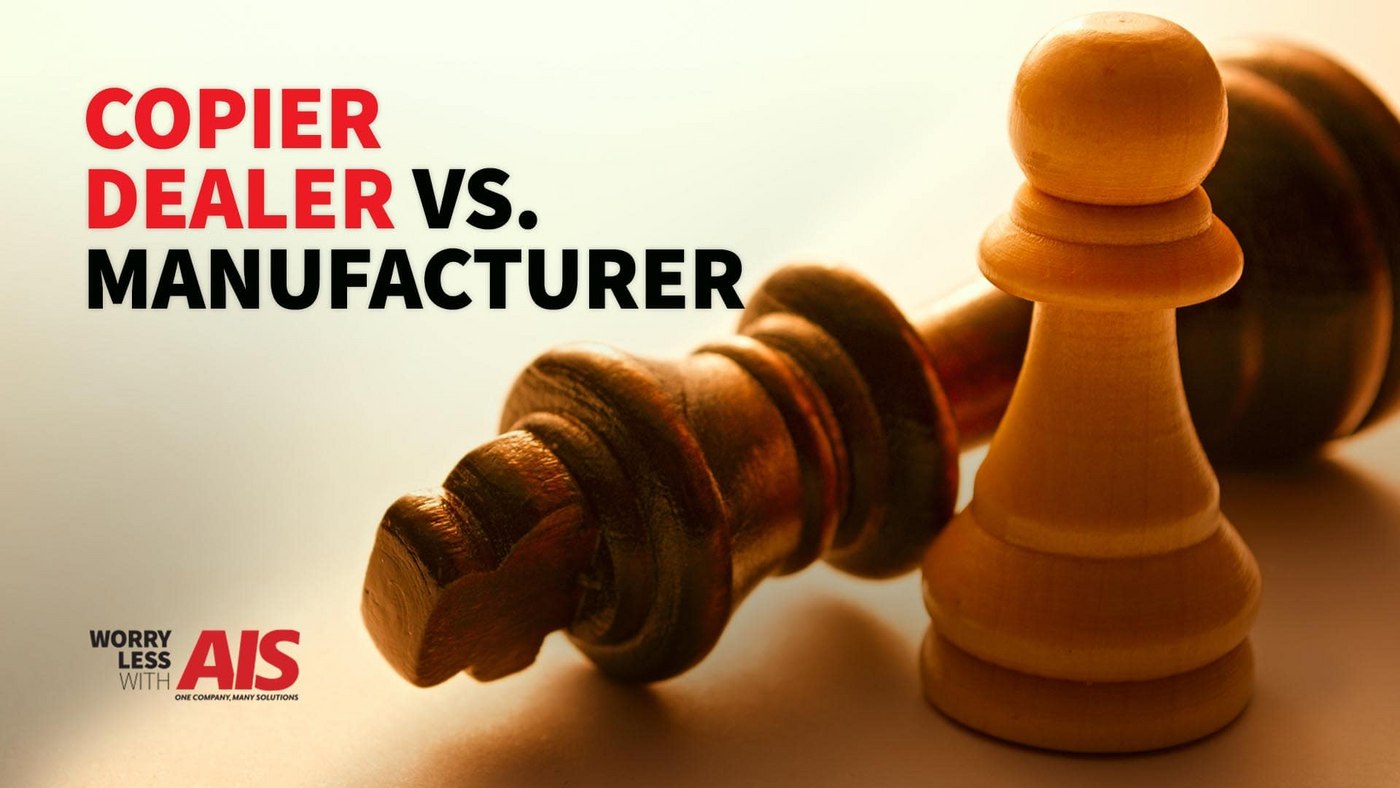 READ TIME: 5 mins.
Whether you know it or not, your office copier is one of the most critical machines in your organization. When shopping for one, you have to ensure you get it right by buying or leasing the best copier from the best supplier.
However, most people find themselves at a crossroads, unable to decide if they should purchase office copiers or multifunction printers (MFPs) from a local authorized dealer or a manufacturer.
If you are like one of them, we are here to help you out. Read on as consider pricing, support, customized solutions, quality of service, stability, and the accounts manager's experience to help you see if it is better to buy from a dealer or a manufacturer.
Dealer vs. Manufacturer: Which Is Best For You?
You've got a lot of options to choose from when looking for a new office copier—or even a new vendor to partner with. Both a local dealer and the manufacturer offer different options and products, making it challenging to choose which is best for your specific business needs.
Here are some common topics we think will give you the best idea of how these two differ so that you can become a more informed and educated buyer.
Pricing and Cost
Intuitively, most people think that manufacturers offer lower prices since the purchase does not involve intermediaries. However, this is usually not the case.
Manufacturers distribute their products directly and through dealers. However, the manufacturers offer their branch operations and dealers the same wholesale price.
Sometimes, manufacturers rely on the sales from their branch operations to support their manufacturing processes. They may end up selling copiers at a higher price than dealers to meet the demand to manufacture quality copiers in bulk.
The local dealer does not have many operations to support. They also deal with copiers from different manufacturers that offer different wholesale prices.
Your dealer may opt for small profit margins if they have another product giving them a reasonable profit. This tells you that your dealer may sell office copiers at a lower price than manufacturers.
Customized Solutions
While a manufacturer deals only one brand of office copy machines, a local dealer typically stocks different brands. When you approach a manufacturer, you have no choice but to buy what they produce. This differs from a dealer who may listen to your small business needs and recommend the best copier from the ones they sell.
Also, a manufacturer may not want to discuss products from other companies. A manufacturer may want you to buy your copier and accessories from them.
However, a dealer will willingly discuss accessories that integrate with the copier that suits your needs, even if the office copier and accessories are from different manufacturers.
Quality of Service
Most people think manufacturers are better at servicing copiers because they make them. However, this is a misconception since all copier technicians receive training to equip them with the skills needed to work on copiers.
Technicians working with dealers do a better job at servicing copiers. They are called more often to repair and service machines from different manufacturers and get more opportunities to exercise and perfect their skills.
Dealers are also easy to reach when you need your copier serviced. When you call a manufacturer, the call probably goes to their headquarters. They then have to find the nearest technician to direct them to your premises, which may take up to 72 hours for them to come to you.
This is unlike dealers who are usually located locally and receive your calls directly to reach you faster and help you in an emergency.
Your dealer may also guide you through troubleshooting your copier problem over the phone or even through DIY videos online, just as we do here: The Copier Channel.
A call to a dealer is likely to be received by a technician. This is unlike with a manufacturing company, where calls are usually received in a call center.
When a manufacturer sends a technician to service your copier, in most cases, you have not discussed the problem with the technician beforehand. Sometimes the technician sent by a manufacturer arrives to find they have not carried the right tools for the copier problem, lengthening the troubleshooting and repair time.
But when you call a dealer, they should ask relevant questions to understand the nature of the problem, then carry the right tools and equipment for the job. This hastens the repair process, ensuring your copy machine is operational faster.
Performance Evaluation
Dealers join platforms where their customer service level and performance are regulated and evaluated objectively. When they work together, dealers improve their service level. They can access objective data and benchmark standards to help them improve their performance.
Unfortunately, manufacturers tend to lack similar platforms to access benchmarks and data.
The 'Buy Local' Benefit
Most office copier manufacturers have a global presence. They engage in corporate social responsibility (CSR) activities with a global outlook to help maintain their local and overseas support. Contrary to this, your local dealer probably participates in local charities as a way of giving back to society.
When you buy your copier from a local dealer, they may do things for the community, such as donate some of the money to charity. But when you buy your office copier from a manufacturer, you may never know the people who benefit from the manufacturers' donations.
Experienced Client Accounts Managers
Most dealers give clients dedicated account managers they can contact anytime they experience a problem with their office copier. Your account manager becomes your office technology partner, reviewing your office technology and recommending solutions to keep your business competitive.
These account managers work extensively, giving them valuable exposure to different copier brands, issues, and service demands. If you are disgruntled with one technician, you can reach out to the dealer to sort out your problem.
On the other hand, you have to go through bureaucratic processes when dealing with a manufacturer. They may send different technicians each time you need support since the technician is assigned from the headquarters.
Financial Stability
You may think that because manufacturers have a global presence, they are more financially stable than dealers. However, this does not always apply. A dealer is only impacted by the local business environment, making his financial base more stable.
Manufacturers are impacted by the global business environment and changes in technology. The manufacturer may be doing well in one region, but the gains may cover losses in another area, affecting their overall stability.
The Final Say: Manufacturers vs. Local Authorized Dealers
There's a lot that goes into choosing if a local deal or the manufacturer itself is the best option for your organization. But, we hope you feel a little more educated about what each brings to the table so that you're partnering with the right company for your specific needs.
Are you looking for a reliable office copier dealer? Let's talk today! AIS is your one-stop shop for all your office machines and IT services solutions. We offer high-quality machines and services at pocket-friendly rates to help you save on your purchases. We're here to give you peace of mind to help you win more business.