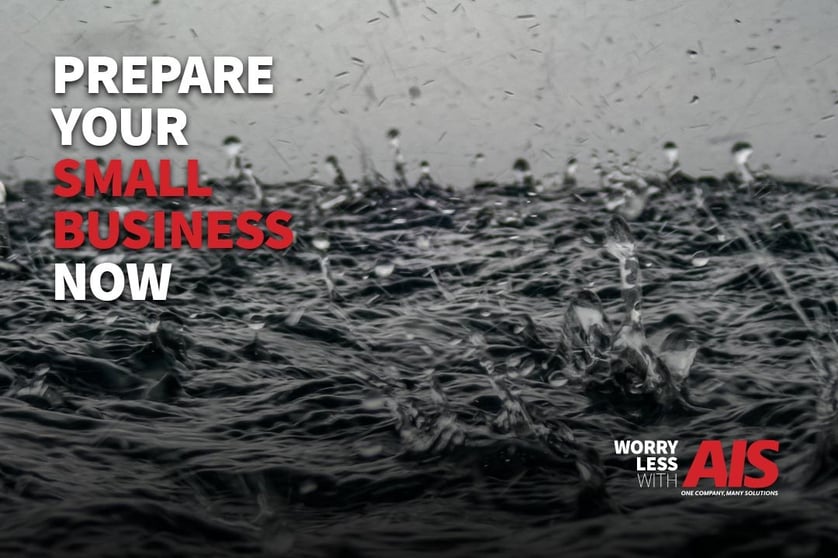 READ TIME: 6 MINS.
As many small businesses (SMBs) continue to adjust to the "new normal" of social distancing and even isolation, the constant wonder of sustainability and continuity remains unknown. "How can my small business bounce back once this is over?" The global pandemic of COVID-19 is one we didn't quite see coming—making it all the more challenging to plan for.
Small business owners across the world have an endless list of questions consuming their minds as news continues to emerge, and as the stock market continues to plunge.
"How can I continue to support my employees and my customers?"
"What if my business is unable to operate remotely?"
"How much time do I have until I have to close my doors?"
Did any of these questions hit home for you? The list could go on and on. However, a question we feel is even more important to ask right now is,
"Once this is over, can my small business bounce back?"
As a small business, we understand how difficult it is to see the big picture when you're scrambling to stay afloat each day. But, this is what sets good companies apart from great ones.
If you can take a step back, assess your current operations, recognize what's working, accept what's worsening, and then apply these realizations to future business plans… you might just surprise yourself.
We would be misleading if we said that the mindset of a small business owner is the only way to survive a novel health pandemic like this one. However, a creative, curious, and even daring mindset is undoubtedly one that will continue to take your business to the next level.
Equip Your Small Business NOW For Success LATER
As you've most recently experienced, you don't always have control over your business, especially in terms of profit and sustainability. But, you do have control over where your business goes once this pandemic is over. And, by the way— this is temporary; it will come to an end.
Because businesses will never be the same after this, your educated anticipation and forecast of what your customers might want, or are going to need, is vital. Your new awareness could potentially force you to completely restructure your entire organization—which isn't necessarily a bad thing. But, this first starts from within.
Enhance What's Working, Fix What's Not
As I mentioned earlier, it's essential to recognize the good and the bad of your current business operations. It's also important to understand the challenges your company faced before COVID-19. What good would it do only to repair one flat tire if you actually have two? Now is the time to address all of your pain points.
What obstacles have you and your employees had to endure as you made the switch from working in an office to working from home?
What tools were already in place that helped make your business transformation easier?
What processes, products, or services do you wish were already in place that could help you better support your customers?
As you brainstorm, make sure to reach out to others on your management team. Remember, you're only one person, and you may not always see what goes on behind the scenes. Your managers must give you insight into their daily operations, specific to their department and the employees they supervise. This exercise is also a great way to evaluate the strengths and weaknesses of your team members—which is my next point.
The Impact Of Your Team Members: Employing The Right People
The subject of employee retention and layoffs at a time like this is extremely sensitive to discuss, and rightfully so. The Washington Post reported that nearly 3.3 million Americans filed for unemployment benefits due to Coronavirus layoffs. And yes, you read that right… 3.3 million.
We can all agree that these statistics are devastating, and probably has you wondering, even more, about how your SMB can overcome and bounce back from a recession like this. If you've had the unfortunate responsibility of laying off an employee (or employees), know that most other small businesses are in your same boat.
As hard as employee layoffs can be, it's also a significant time to focus your attention on assessing each of your staff members. When business is good and steady, you aren't forced to evaluate your employees at such an in-depth level. But, when business is slow and experiencing cutbacks, you have no other choice but to do so.
Now, I want to emphasize something. I am by no means telling you to fire half your staff because you recently realized they haven't played a pivotal role in the growth of your business. Many of your employees have enhanced your business year after year.
After all, your business is a success because of their hard work and dedication. This is a great time to make sure you have the right staff in the right position. In addition, if you do have to trim some of your workforce it's very important that you focus on keeping your key team members in order to help you to support your current customers and generate new business when you are ready to get back to work.
What I am saying, though, is that in the event of a layoff (like many SMBs are experiencing now), make sure to assess reasonably. No great business owner wants to cut-back, but it's necessary to have confidence in your decisions when required.
On the contrary, when all is right again in the world, and business operations commence, you might find you need to do a little re-hiring. Although the thought of hiring probably feels like a super premature thought, it's actually not.
This is the message I'm trying to get across to you when we say, "Prepare now for later." I can't stress enough that there is no better time to reflect on the entirety of your organization than a time like now.
What qualities are you looking for when considering an employee for a management position?
How can you accurately identify that an employee has the skills required for their position while also supporting the culture of the company?
What are some flaws in your hiring process, and what improvements can be made to ensure you're hiring the best candidates for your business?
What goals can you put in place for each of your executives, managers, or directors that supports their growth within the company?
Does Your Small Business Have Reliable Partners?
While I'm on the topic of employing the right people, it's also worth mentioning the significance of partnering with the right vendors. Remember, your vendors are partnerships that you rely on to better support your business and customers.
What are your current vendors doing for your business right now? Are they offering special promotions to better assist your customers who are working from home? Have they offered any financial considerations on their products or services to help you weather this epic storm?
Remember, in a true partner relationship, we support one another. This is not any different to what's happening with our friends and family members at home.
Again, now is a great time to evaluate the reliability of the vendors you partner with and how they are either helping or not hurting your day to day business operations.
Plan, Plan, Plan. And Then, Plan Again.
Earlier, I said that planning for an unimaginable disaster like COVID-19 is almost an impossible task. But, I bet you've thought of a few things you could have done differently beforehand that might have made this situation a little easier to endure.
Believe it or not, many business plans can always come in handy, regardless of what pandemic sweeps our nation. Over-planning is one of the best ways your SMB can remain disaster-proof, and once again, encouraging you to prepare now for the future.
Take a look below at some great planning initiatives you can implement company-wide:
Maintain a Strong IT Infrastructure. How do you plan your current and future IT needs? What happens if your network can't support remote employees during a time of social distancing? Is it just as secure as if they were in the office? Make sure your network and connectivity remain strong and updated as new technology strategies and platforms emerge. Learn more about IT planning and the benefits of an IT roadmap by reading our article, Managed IT Services: The Key to a Successful IT Roadmap.
Nurture Your Expenses By Accurate Budgeting. It shouldn't take bad economic times for you to have complete visibility and understanding of your expenses and how your business is spending its money. Just as you do with your personal expenses, budgeting for your business requires continuous planning and adjusting. Many small businesses severely regret doing so as they scramble to find extra funds. This is the perfect time to take a good look at all of your expenses to determine the difference between what your business needs or wants.
Structure Your Brand For Growth.

Regardless if you have a team of marketers that promote your brand or not, your business has a brand or identity. Now is a time you may be realizing that your brand isn't as strong or recognizable as you thought. The more time you spend planning different brand approaches, and how to raise awareness of your company within the industry, the better prepared you'll be when you're compelled to rely on your brand to carry you through.
The Final Say on Preparing Your Small Business
Amid everything going on right now, it's easy to feel overwhelmed or even confused about best practices or strategies that are best for the continued success of your business. In times of uncertainty, it's always important to remember you have options, especially as you plan for the future.
It's never too early to think about the changes or modifications you'll need to make in the coming months, as well as creative ways to support your employees and customers further.
Every SMB will experience some loss during this time. But, it's up to you to get ahead of the curve by deciding what actions you will take now that support your business in the future.
One of our goals at AIS is to inform and educate our readers and customers on best practices for small business success. Our business technology consultants are dedicated to providing you with products and services that enhance your company, allowing you to work more efficiently. To learn more about preparing your business for the future or any of the services we offer, reach out to us here. We're here to give you peace of mind to help you win more business.