Work From Home (WFH): Stay Connected With Customers and Employees
March 26th, 2020 | 6 min. read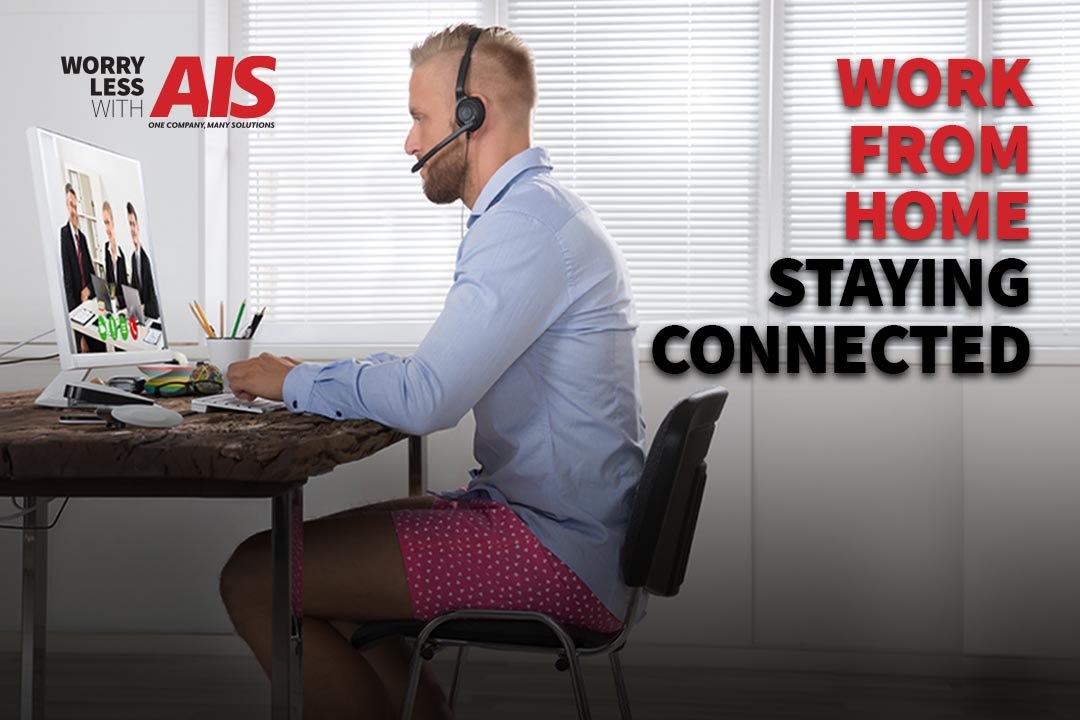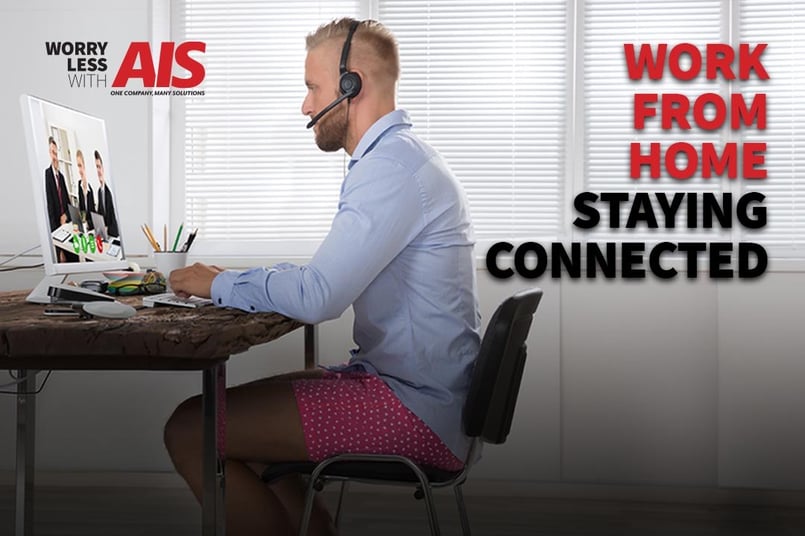 READ TIME: 5.5 MINS.
Isn't it strange how life has changed so quickly in just the past two weeks? Most of us went from driving into the office each day to remoting in from our couch. Adjusting to a work from home (WFH) and social distancing policy is relatively new to most businesses and can feel tricky to navigate effectively.
As the novel COVID-19 pandemic continues to escalate, we have no choice but to get used to a brand new way of working and living. With our office now located where we typically eat, spend time with family, and break away from the stresses of work, it's difficult to find the work life balance.
What might seem even more difficult is finding the best ways to remain connected with your employees, co-workers, and customers. Sometimes, it's even challenging to stay connected with employees when you're both present at the same office. So, how can you make it work from home?
Even if your company isn't working remotely, many of your customers probably are, right? Although your business has specific needs pertinent to what you produce or the industry you're in, most of the questions you're asking are relatively the same:
"What tools are best for virtual team collaboration?"
"How can I continue to support my customers and practice great customer service if I can't see them face-to-face?"
"If my employees aren't in the office, how can I measure their productivity?"
Let's be real; the list can go on and on. But, the common ground that we're hearing continues to circle back connectivity. What new steps do you need to take, and what new tools should you be using to make sure you remain connected with employees and customers?
The good news for you is that we've got your back. We're educating you on some of the best practices and tools you can begin to implement to ensure the connection with your employees and customers isn't lost.
Work From Home (WFH): We Can Be Alone, Together
If you've read any of our previous articles, you've probably noticed how much we stress the importance of taking a proactive approach when it comes to the technology needs of your business.
Unfortunately, in a situation like the one we're in now, you had little (or no) time to prepare. Many of us scrambled to set up our home offices while trying to finalize last-minute projects at work. The thought of staying connected was simply an afterthought.
Technology Tools For Remote Workers
We've recently seen popularity in video chatting and conferencing over the years, and it's going to pick up—especially now.
One of the best ways to hold meetings virtually with your team or your customers is by using video. Even when you're unable to meet face-to-face, video allows you to connect in almost the same way.
Below are some great video conferencing tools that are also offering promotional deals. Make sure to ask your IT provider if they partner with these companies because it's always important to have options.
Intermedia®: Intermedia is a leading one-stop-shop for unified communications, exchange email, VoIP, file sharing, and other business cloud services. Through their programs, they are offering:

AnyMeeting Pro®: an online video conferencing and meeting tool for businesses of any size. It's available on desktop and mobile devices so you can host any meeting anywhere. An UNLIMITED amount of licenses of AnyMeeting Pro is available for FREE through December 31, 2020.
Webinar Pro enables companies to hold larger live broadcast events for up to 200 people, such as corporate all-hands meetings, webinars, lectures, religious services, and other virtual events. One FREE Webinar Pro License is available for your business and each of your business customers.



RingCentral®: A cloud-based communications and collaboration software for today's mobile workforce. Their softphones are an all-in-one desktop solution with fax, text, and video conferencing. RingCentral is offering three months FREE for their Softphone VoIP calling services.


Microsoft® Office 365®: All MS Office E1 Licenses are FREE for 90 days. The E1 package includes its web-based office apps and business services. This license includes email, file storage and sharing, meetings, and instant messaging. This also includes their collaboration tool and platform TEAMs.


Lifesize®: Lifesize® is a leading provider of 4k video conferencing solutions, applications, and collaboration tools for business. Through their program, they are offering a FREE six-month standard subscription to the LifeSize video conferencing platform so you can have unlimited meetings (90 min./call), host up to 100 participants, meet for up to 24 hours at a time, access to their centralized management console, online and chat support.
By the way, all of these tools work on multiple devices so you can use your PC, laptop, tablet and/or smartphone.
Define Team and Individual Goals
As I mentioned earlier, many businesses wonder about the best ways to keep track of employee productivity if everyone is working from the comfort of their home.
One of the best ways to ensure you and your team members are on the same page with project completion is by implementing goals, long term, and short term.
As you know, goals give us targets to aim for, while also helping us stay organized in prioritizing items on our ever-growing to-do list. Having a set of goals that you and your team members share allows room for collaboration, communication, and, once again, connectivity between each other—-and they will give your team a familiar routine to keep them productive as if they were working in the office.
It's also beneficial to attach deadlines to goals that are high-priority or time-sensitive (just like you do at the office), to make sure your employees are working efficiently towards the final product. Deadlines help keep employees on the right track while giving you the confidence that the tasks are being completed as they work from home.
Over-Communicate, But Do So Appropriately
Because of the need to feel connected to one another, you've probably heard many businesses say the term "over-communicate." In many instances, this holds much truth and value. But, it's also important to remember when to over-communicate and when to practice regular or standard communication skills.
As a work from home employee or manager, remember that you still have normal hours of operation. Just because your business has shifted to remote work doesn't mean you should expect your employees to work around the clock.
Make sure you're still practicing the normal work hours to the best of your ability. Sticking to your normal work hours ensures your employees are getting the mental breaks they need.
Of course, there are always exceptions, and certain instances may require employees to work late or put in extra hours on the weekends. In this case, you may want to provide employees with a more flexible schedule that works for you and them.
But overall, maintaining communication only during regular business hours shows you care about your employees; and that you're allowing them to take a break from work as they normally would.
Another part of communication that is helpful when you and your employees are working remote is the use of instant messaging. Applications such as Microsoft Teams or Slack® allows your staff members to communicate with one another in an instant.
For simple questions or brief updates on projects, an instant messaging platform is a great way to ensure smooth communication between you and your team members.
Learn more about instant messaging by reading an article published by ezTalk, Benefits of Instant Messaging in the Workplace.
The Final Say on Connecting in a WFH Environment
I've barely scratched the surface on the ways you can stay connected from your home office. But, it's important to remember that even in the most challenging times, there's always another way to accomplish your goals. You just have to get creative and open to trying new things!
At AIS, your success is our success. One of our primary goals is to provide you with the tools you need to keep your business on its continued path of growth and success. The more educated you are on the options available to your company and employees, the easier time you'll have adjusting to your new environment. For more information on work from home connectivity or any of the products we offer, reach out to us here. We're here to give you peace of mind to help you win more business.
A true southerner from Atlanta, Georgia, Marissa has always had a strong passion for writing and storytelling. She moved out west in 2018 where she became an expert on all things business technology-related as the Content Producer at AIS. Coupled with her knowledge of SEO best practices, she's been integral in catapulting AIS to the digital forefront of the industry. In her free time, she enjoys sipping wine and hanging out with her rescue-dog, WIllow. Basically, she loves wine and dogs, but not whiny dogs.