A3 vs. A4 Copier or Printer: What's The Difference?
September 22nd, 2021 | 4 min. read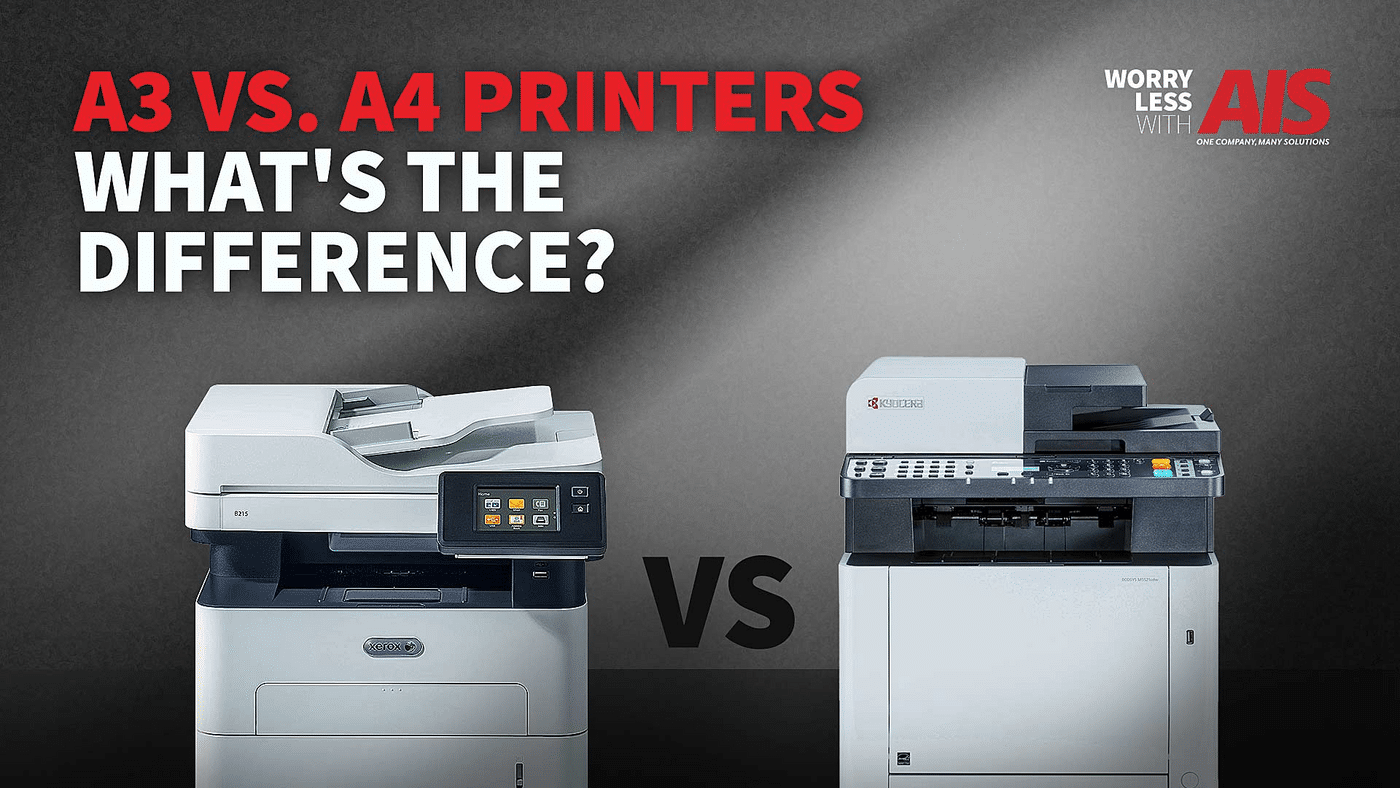 READ TIME: 4.5 MINS.
When planning to lease or purchase a copier or multifunction printer (MFP), the many options available in the market can be overwhelming. If you are new to the game, the technical terms used can be even more confusing to determine the suitable machine for your needs.
There are higher chances that you might have stumbled on either A3 or A4 printers during your market research.
The two terms refer to different paper sizes that a print machine can handle. The American National Standards Institute (ANSI) is the organization that defines these paper sizes and is responsible for defining the paper sizes in all other nations.
This article will go into more detail to bring out the clear difference between the A3 and A4 printers and what to consider for your business.
A3 vs A4 Printers: What's The Difference?
These two terms refer to paper sizes that an MFP is capable of printing. Here are the differences between an A3 and an A4 model:
A3 Printers
A3 printers can print a greater and larger variety of paper sizes since they can handle paper sizes of up to 11.69 x 16.53 inches. This is close to a ledger-sized paper, which is 11" x 17". With an A3 MFP, you can comfortably handle A3, legal, ledger, small A4 sizes, and other small-sized papers like envelopes and postcards.
Since A3 MFPs can handle various paper sizes, this machine is quicker than the A4 printer. Additionally, it has a higher page per minute (ppm). You'll also notice that the A3 is a larger machine, so it has a larger ink cartridge. As a result, you will likely save money on ink and toner and replace fewer consumables in the long run.
Also, an A3 printer can handle more workload than an A4 printer since it's larger. For this reason, some business owners will go for this printer. You'll also notice that the actual footprint on an A3 printer is bigger than on an A4 machine since it produces larger documents.
A4 Printers
The A4 prints paper sizes 8.27 x 11.69, similar to 8.5" x 11" on US letter-sized paper. A4 MFPs are more compact, and they can handle letters or even select smaller-sized paper such as envelopes and postcards. However, you cannot use it to print A4 or ledger-sized papers.
In most homes or offices, you will find that the A4 printer is the most popular because it can print documents of typical letter sizes. Also, the consumables used with this printer, like paper and ink, are commonly found.
How To Determine the Right Machine For Your Business
Before you purchase the printing machine that best suits your office needs, you need to consider multiple factors in addition to the paper size capabilities. Below are a few things to consider:
Machine Size
You must keep in mind the available space in your office. The size difference can determine what to purchase between an A3 and A4 machine for your business.
An A3 printing machine occupies a larger space than an A4 device. This is because the A3 machine has to accommodate handling paper sizes of 11 x 17, resulting in a larger frame. Although the A3 machine takes up more of your office space, the size allows for more solid construction and more durable parts.
On the other hand, A4 devices are smaller than A3 because they handle a smaller paper size. These machines can range from standalone devices with multiple drawers to smaller desktop machines that take up a smaller office space.
If you are running out of space or every square inch of space available in your business is crucial, you might want to consider the smaller A4 printer. However, note that an A4 MFP is not just a desktop printer.
Machine Functions
You should also consider the vital functions you'll want to use in the printer. Ask yourself whether your business needs finishing capabilities such as stapling, folding, or 3-hole punching.
If you plan on creating 3-hole punched documents or booklets, you will most likely go for an A3 machine. Most of the A3 devices have several finishing products and optional equipment accessories.
For the A4 device, it's much more challenging to include the finishing option because of its smaller size. Additionally, there are limited equipment accessory options for A4 machines, such as stapling.
Number of People Using the Printer
Another crucial part to consider is whether you want the printing machine for your personal home use or your entire finance department. Depending on your intended use, it will play a key role in picking one device over the other.

For example, if you intend to use the printer while handling larger projects or with larger teams at the workplace, the A3 machine is a better choice because it has a higher PPM.
Price Difference
Price is a significant consideration, especially if you intend to use the printing device for business purposes. If you plan to purchase the A3 machine, you will incur a higher base cost because the machine has greater capabilities.

However, you also need to consider the cost of supplies and service because it significantly impacts the overall costs.
Using an A4 machine will make it challenging to keep costs low because the service and supplies are generally higher. Additionally, you will have to regularly replace the ink and toner because the A4 printers don't have a high page yield.
As a result, you will incur more costs per page when using an A4 printer.
Related Article: Which Printer has the Cheapest Ink?
Key Takeaway: A3 vs. A4 Printers For Your Business
The article above outlines the significant differences between the A3 and A4 printers, and we hope these key points can help you purchase the right option that best suits your needs, whether at home or in your business.
The best way to figure out the best choice between the two devices is to consider your anticipated page volume and work environment—so make sure you speak with an experienced office technology company like us, who can help you achieve your goals. Make sure to reach out to one of our business technology consultants today to learn more. Better yet, use our interactive copier and printer buyer's guide to find the right A3 or A4 printer for you. We're here to give you peace of mind to help you win more business.
A true southerner from Atlanta, Georgia, Marissa has always had a strong passion for writing and storytelling. She moved out west in 2018 where she became an expert on all things business technology-related as the Content Producer at AIS. Coupled with her knowledge of SEO best practices, she's been integral in catapulting AIS to the digital forefront of the industry. In her free time, she enjoys sipping wine and hanging out with her rescue-dog, WIllow. Basically, she loves wine and dogs, but not whiny dogs.