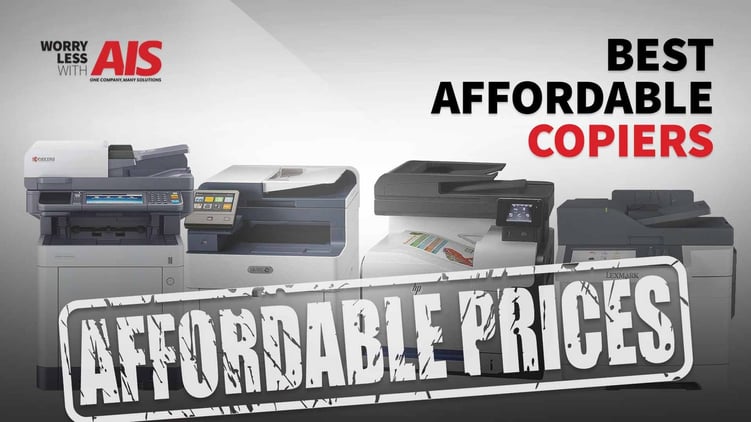 Read Time: 5 mins.
As we near the end of the year, many of us are making some final purchases for our small business or home office. Or, maybe you're starting to plan for upcoming technology investments once the new year begins.
Whatever the case may be, making big purchases during such an uncertain time isn't always easy. So when it comes to your office technology solutions, maybe you're curious about finding the best affordable copiers and multifunction printers (MFPs).

Your old copy machine sitting in the corner just isn't as young as it once was. Whether your budget is ready for it or not, it might be time to upgrade your office equipment sooner than planned.
But don't stress! We're giving you some insight into some of the best affordable copiers and MFPs on the market right now.
Best Affordable Copiers For All Work Environments
We've been in the office technology space for almost 20 years, so we've just about seen it all. From print speeds to customer satisfaction, a few devices continue to stand out over and over.
Please note that we've listed devices from two of the most notable copier manufacturers, Kyocera and Xerox. These brands own the majority of the market and stand out year over year in reliability, satisfaction, and advanced features.
Below are a couple of articles you may find helpful if interested in learning about what each brand can offer your business and employees:
Kyocera ECOSYS M5526CDW Wi-Fi All-In-One Color Printer
If you're looking for a device that can work well at your large or small office or for those employees working remotely, this multifunction printer (MFP) is a great option to consider.
An MFP or all-in-one printer means that you can print, copy, scan, and fax. With this particular model, you even can connect it to your work or home Wi-Fi network—so you can place it wherever you need it.
The neat thing about this printer is that it's powerful enough to handle various projects but compact enough to sit on your desktop. You can read more about the device here.
Here are some of the specs:
1200 x 1200 dpi (dots per inch)
Standard: 300 Sheets
27 ppm (pages per minute)
When partnering with an office copier provider, you should have the option to purchase or lease your printers. So that we can give you an idea of what you'd pay, this MFP is affordable at a purchase price of $725 or leased with a payment as low as $50 per month.
Xerox WorkCentre® 6515 Color Multifunction Printer
If you aren't entirely familiar with the Kyocera brand, I can almost bet that you've heard of Xerox… right? Xerox is one of the most prominent industry leaders in office technology solutions, and their printers prove just that.
This particular device is also a color multifunction printer—very similar to the one we listed above. Whether this device is used for a shared location or a single user at a desk, it's a reliable and efficient machine.
What many customers love about this printer is the easy-to-use and fully-customizable display screen. The display screen has some incredible features, like allowing you to preview any documents you're currently scanning or copying for increased accuracy.
You can read more about the device here and view some additional specs below:
1200 x 2400 dpi
Standard: 50 Sheets (850 sheets with additional paper trays)
30 ppm
When thinking about your leasing options, this MFP is affordable at a purchase price of $480 or leased with a payment as low as $50 per month.
Kyocera ECOSYS P3145DN Wi-Fi Black & White Printer
Maybe you're looking for a device that only prints and don't need a multi-functioning color machine. In that instance, the Kyocera eCOSYS P3145DN is the perfect alternative when compared to the ones above.
Although this desktop device is a little on the smaller side, it still allows for wireless connectivity and integration—something so many of us are wanting while working from home (WFH).
If you don't rely on your output device for anything more than printing a few documents or reports each day, you can skip the MFPs and still receive great satisfaction from an efficient and quick printer like this one. Read more about the device here.
Below are some additional specs:
600 x 600 dpi
Standard: 600 Sheets
47 ppm
This printer is affordable at a purchase price of $525 or leased with a payment as low as $50 per month.
Xerox VersaLink B400 Black & White Laser Printer
Just as we did with the color multifunction printers, we want to give you a comparable black and white printer as well.
The Xerox VersaLink B400 is a reliable and easy-to-use printer for employees who just need the printing basics. This is not to say that the device isn't advanced, as it also includes wireless printing and a 5-inch color touchscreen.
If your employees are coming into the office, but you want to practice safe social distancing, this printer is a practical option as it's designed for workgroups of 3-15 users. Meaning, you can purchase a few of these devices for your office for two or three employees to share. Click here to learn more about this device.
Below are additional specs:
1200 x 1200 dpi
Standard: 150 Sheets
47 ppm
This printer is affordable at a purchase price of $415 or leased with a payment as low as $50 per month.
Your Next Steps In Finding The Best Affordable Copiers
Now that you're a little more familiar with various models of printers and MFPs, it's time to make the decision. But, what's the best way to go about doing so? Follow these simple steps:
Reach out to your current office technology provider about your options. If you don't have a technology partner or think your current one isn't cutting it, read this article: How To Find The Best Copier Companies Near Me.

Learn the differences between purchasing and leasing a copier or printer. Read our article to determine which is best for you, Should You Lease or Buy Your Next Office Copier? Top Benefits of Each.
Don't hesitate to reach out to us—actually, we hope you do! We're dedicated to providing our readers and customers with information that supports your business growth and operations. All of our office technology solutions are designed to make your workday a little easier. If you'd like to learn more about the best affordable copiers, multifunction printers, or any of the other products and services we sell, get in touch with us today. We're here to give you peace of mind to help you win more business.