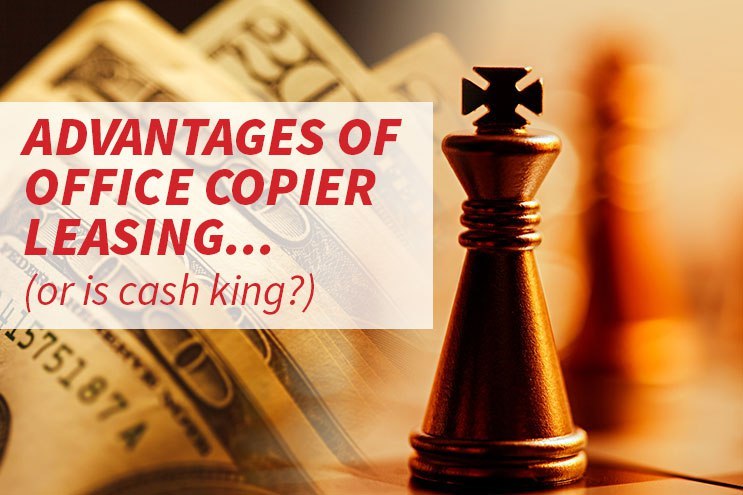 What Are The Advantages of Office Copier Leasing—or is Cash King?
Leasing an office copier can provide a business a number of advantages, including: one low monthly payment, keeping your capital for other business expenses, no down payment, and easier upgrades just to name a few.
To find out more about the pros and cons of buying or leasing a copier, take a look at our article: Copier Lease or Purchase: What's the Difference?
Cash has some Obvious Advantages
If you have plenty of cash laying around in your business bank account you can always pay cash for your copier. This can save you a few extra leasing points and save you a few dollars. The mechanics of a purchase vs. lease deal are similar to purchasing a car. If it makes sense to purchase it, you should. They are both going to last the same amount of years. Other advantages of a purchase are it will allow you to do whatever you want with the device and it can be a great tax deduction.
However, most small- to medium-sized businesses (SMBs) today feel that they can put their cash to other more profitable areas of their business like marketing, inventory, technology, etc.
These areas can actually increase your business, unlike a large capital purchase will, it's a good idea to put your cash towards them.
To learn more about the costs of a copier, read How Much Does a Copier Cost? A Quick Overview.
Is Leasing an Office Copier Right for My Business?
That's the $64,000 question I think we all want to know.
For those businesses concerned about what it costs to maintain and repair a copier, it may be wise to consider leasing rather than purchasing outright. There are a number of reasons you should consider leasing a copier. These include:
One simple, low cost monthly payment

No capital outlay

No down payment

More frequent device upgrades
One of the main advantages of leasing a business machine is that service and repairs are usually included in the negotiated price. This is all included in the service contract. Service contracts are usually based on a "per page" price. One price for black and white and another price for color. Make sure you compare these prices. There could be a large difference between the different copiers or between each of the different authorized dealers you may be getting a bid from.
There are many other advantages to leasing a copier for your business.
Modern Performance and Features
When you purchase an office copier, it's an investment. That investment has to last at least five years, and in many cases, a business is expecting 10 or even 15 years. A downside to this long-term purchase is that technology improves rapidly.
Within just three years, your purchased copier likely isn't as fast as the new copiers on the market, and it probably lacks some features that would improve productivity. When you lease, you can lease on a short-term basis and have the option to upgrade your copier. This way, you always have the latest hardware and software that can be used for your business. This can make a big difference in overall costs, production, and labor. All of these add up.
Initial Expense and Budgeting
Capital is another important consideration for any business. Business machines are expensive. Many businesses have to take out loans, and then the down payment on that loan and its interest becomes a factor. Leasing a copier doesn't require the same upfront cost. Leases are often handled on a monthly basis, and the first payment is usually the same or close to the amount of subsequent payments.
Many times the last payment can be as little as $1 for you to own the copier at the end of the lease. Knowing exactly what you'll pay each month is a big benefit for budgeting as well. What do you think happens when you have purchased your copier and then have to replace an expensive part a few years later? Typically, businesses do not budget for these additional expenses. There's no need to budget for a potential repair if that service is included in your lease.
Tax Advantages
Leasing business machines can provide tax advantages as well. If you purchase a copier, you usually can only deduct a set amount each year based on a depreciation schedule (a calculated amount each year based on the purchase price and a set number of years), which usually means 40 percent of the purchase price in the initial year and then 25 percent in subsequent years. Leases, however, are pretax expenses. You can deduct a lease payment each time it's made. That means that you'll deduct the full price of the copier faster. It also means you'll be able to deduct maintenance, repair, and other services as well. Another important reason that you should be leasing your next copier.
As you can see, it makes a lot of sense for you to consider leasing a copier. It's important for any business to weigh all considerations and make the right choice for your business. If you are going down the path of leasing a copier and you want to know who may be the best leasing company, we've done the homework for you and picked the Who's the Best Copier Leasing Companies That You Can Trust?
At AIS, we do our best to provide all of the information to our clients so that they can make informed buying decisions. We love working with the most educated clients and we welcome them getting bids from multiple businesses before coming to us so that we can show them how they may be able to save more costs and improve their paper workflow. Interested in learning more about how office technology can provide you peace of mind and help you win more business? Then make an appointment with one of our business technology consultants. You won't be disappointed.
Visit our Office Copy Machine Ultimate Resource Page for additional info on pricing and costs, and just about anything else copy machine related.