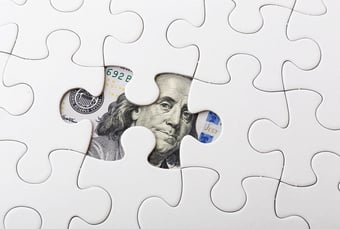 OK, the first difference is obvious, either you own the equipment or you pay a monthly fee to lease.
Let's do a quick rundown of the pros and cons of leasing or buying. Before we start, I'll point out that if you're a small business, with fewer than 700 or so copies per month, it will probably make the most sense for you to buy a multifunction device from an office equipment store – or go to Fedex when you need to make copies.
Buying a Copier
Buying a copier can be a good deal for you in the long-run. Copier machines, if properly serviced and maintained, can contribute to your business for years.
How much is a copier? This is almost impossible to answer definitively – manufacturer incentives, functionality, add-ons (additional paper drawers, more finishing options, etc.), device speed, the copier dealer you work with, etc. all affect price. In general, price breaks down into three major categories:
Low-end copiers with 20 ppm speed and a 10,000 copier/month duty cycle start at $1,500.
Mid-volume copiers hover a few thousand dollars on either side of $10,000. These have speed of 35 ppm and monthly duty cycles in the tens of thousands.
High-volume copiers are expensive – $45,000 – but with +70 ppm and duty cycles over 100,000 copies per month. (Faster isn't always better. It's best to match speed and duty cycle to your actual needs rather than buy more than you need. Little known fact: copiers also have a minimum duty cycle. Running equipment below this threshold can cause the copier to break.)
Pros of buying a copier:
No fees or interest charges from a copier lease.
Copiers are reliable, so you could have equipment for several years after a lease would have ended. The only impact on your budget would be for supplies (which you have to pay for anyway) and either a maintenance contract or repairing on a break/fix basis.
Do whatever you want with the copier
You control the device's hard drive, ensuring your information stays secure.
Tax deduction.
Cons of buying a copier:
Risk of technology becoming obsolete.
$10,000 (or more) up-front investment could be more than a small business can afford.
No initial training (unless you pay for it).
Have to buy toner – and risk over (wasting money) or under buying (slowing productivity if you run out).
You have to dispose of the copier – sell, donate, recycle.
Be careful of buying a copier on eBay as it's easy to buy a lemon with no way to confirm the device's service record, page count, and other elements that could make a good price a bad decision in the long run. If you decide to sell a copier you own on eBay (or anywhere), be sure to remove or digitally shred the copiers hard drive and also reset any predefined workflows on the console to remove any customer information on the device.
Copier Leasing
You lease a copier(s) (printers can also be leased) for a fixed term (most frequently 36 months) at a predetermined number of pages (you have to pay if you print/copy over your contract number, these are called overage fees). At end of the lease, you can choose to purchase your copier for either fair market value or $1 buyout (which is based on a slightly higher monthly lease payment). You can also choose to engage in a new lease with the newest equipment.
Pros of leasing a copier:
Simple budgeting – pay the same rate each month.
No capital investment.
Potential tax benefits.
Maintenance can be included.
Able to regularly switch to the latest, cutting-edge technology.
Print assessment – a good managed print services partner will help identify best placement for equipment as well as determine your real needs: color or black and white, number of pages per month, and more. Note: This is NOT part of every copier leasing companies capabilities.
Cons of leasing a copier:
You could be locked into a contract.
Automatic yearly increases in the contract.
Paperwork and credit check.
Higher long-term cost if you purchase the copier at the end of the lease (exactly the same as financing a car).
Copier Rental
Copiers and printers can also be rented for short-term needs – conferences, for example. Or Presidential debates, we're providing equipment for the debate this October 19th.
Like everything, the Devil is in the details. Sometimes it will make sense for a company to buy their copiers. Sometimes it won't.
We're here to help you figure out which way you need to go. We offer copiers and printers to buy or lease, so we work on the best answer for you (not for us).
Visit our Office Copy Machine Ultimate Resource Page for additional info on pricing & costs, and just about anything else copy machine related.