Who's the Best Copier Leasing Companies That You Can Trust?
March 1st, 2018 | 5 min. read
By Gary Harouff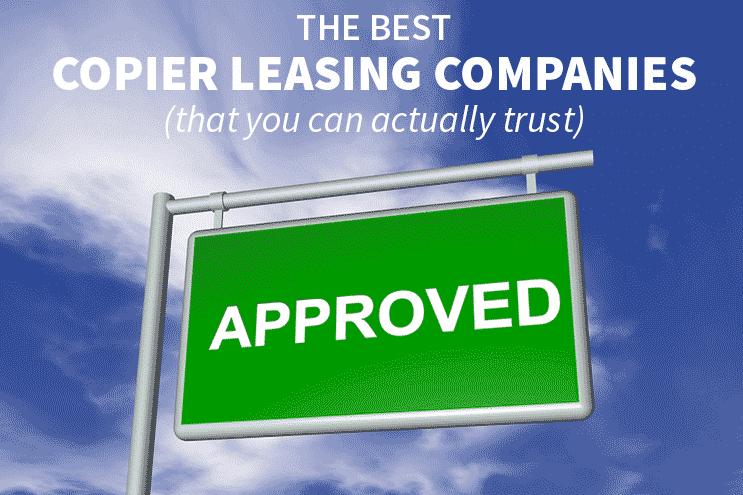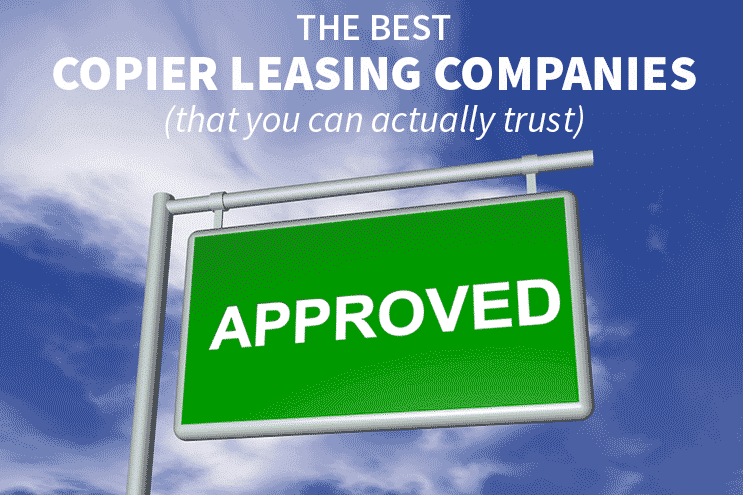 Ok, so you decided you need a new copier. Check that off the list.
You've done all the right things: You've figured out what type of copier or multi-function printer (MFP) you need. You've met with manufacturers and/or authorized dealers, and they've provided you bids.
Now, how are you going to pay for it?
We've mentioned this before, buying a copy machine is just like buying a car. It's an expensive purchase. You don't go through this process very often (every 3 to 5 years), but this is a sizable capital purchase for any business. Depending on the size of the copier and all of the various options you've decided on, this could be over $10,000.
The bids that you've received likely have a total purchase price or a low monthly lease payment. If you're interested in learning more about leases, then read our article: Purchasing vs. Leasing a Copier: Which is Best for My Business? If you're a growing business, you may opt for the lease so you can keep your capital for other business needs. You're not alone.
Did you know that most companies lease their copiers or MFPs for this very reason? Over 90% of the businesses we work with do just that. They go with a lease. These are called equipment financing leases. They are usually provided by authorized copier dealers or manufacturers and a business can't get them directly from a leasing company. You need to go through a dealer that has a relationship with the leasing company.
What about the banks? Are they a viable alternative for copier financing?
You can get what is called a conventional loan for your copier from your bank or your favorite financial institution, but they come with a down payment (a lease won't), they may tie up your other lines of credit, and the monthly payment is usually higher.
Another downside to a conventional bank loan for a copier is that most of the time they have a variable rate. This will fluctuate with the economy, good or bad. With a lease, you usually have a fixed rate so even if the interest rates go up, you are still paying the same rate.
Want to learn more about equipment loans and if they are right for you, read this recent Forbes article: What Small Business Owners Need to Know About Equipment Loans.
So how do you know the company you're purchasing your copier from is working with the best leasing company? Well, if you're like most businesses, you don't. Just like with a vehicle lease, you are fixated on the cost, the rate, and more importantly, the monthly payment. They are going to put you into a lease with the company that they have the best relationship with, matches best with your credit, or other criteria they choose from. You really don't have a choice. Or do you?
We know you don't have the time to research the best leasing companies. You certainly may not get to make a choice of which leasing company you would like to do business with. Especially once you've settled on a price and you have a copier contract in front of you just waiting for a signature. So we've decided to do some of the legwork for you. Here's our list.
Who are the best copier leasing companies?
The following finance companies do a great job in providing lease financing for office equipment.
Great America
Founded in 1992, Great America is based in Cedar Rapids, Iowa. In 2009, they surpassed over $1 billion in assets and have a variety of leasing programs. They are a popular leasing company with many authorized copier dealers.
Wells Fargo
Wells Fargo has been ranked as the largest bank in the U.S. equipment finance industry. They are managed by a holding company based in San Francisco, California. Most recently, they acquired the Equipment Leasing division from GE Capital in 2016. They have very stringent borrowing guidelines, and once you meet them they can get the financing you need for your business.
Marlin
Marlin Business Services Corporation is a publicly traded bank holding company. Their funding comes from their wholly owned subsidiary Marlin Business Bank. They have provided $4.5 billion in financing to small businesses with a variety of financial programs.
LEAF
LEAF Commercial Capital, Inc. was purchased last year by People's United Bank, N.A. making them the sixteenth largest bank-owned equipment finance business in the U.S. LEAF is headquartered in Philadelphia, Pennsylvania. They provide financing for office products, telephony, technology, medical, and light industrial.
Now, if you like the list above, what you can do is ask the companies that you are considering on purchasing your next copier from who they do their lease business with and request these leasing companies. Make sure you do this during your initial research when choosing the best copier company as we've reviewed in this article. Although it was written for Las Vegas, the check lists and questions can be applied to any company in any city.
Most of the leasing companies do not offer their services or programs directly to businesses, so you want to ask for their financing through the company that you are purchasing your copier from.
What is an in-house leasing program?
Sometimes, your local authorized dealer or manufacturer may have their own in-house leasing program. This provides the flexibility to support local businesses that may not meet the requirements of commercial based programs. If your business credit is a little low and you don't meet the requirements of one of these programs, ask your authorized dealer if they have an in-house program.
At AIS, we believe that every client has unique needs. That's why we offer our own in-house financing program. We know that not all businesses are the same and not all office technology businesses are either, so we do everything we can to meet the needs of our client's in helping them achieve their business goals.
If you are interested in learning more about our in-house financing program or if you just want to have a conversation about your business needs, contact us and request a meeting with one of our business technology consultants. Let us show you how we are different and how we can help you put business technology to work for you.
As President and founder of AIS, I am passionate about growing our business and serving our customers. I'm proud that we are considered one of the fastest-growing companies in America. We have been named by Office Dealer magazine the elite dealer of the year and most recently by ENX Magazine as an elite dealer for 2017. Our partnership with Kyocera is strong and we have been an elite dealer for them. We recently became an authorized dealer of Xerox in their Document Technology Partner Program. Before founding AIS, I was President of Toshiba Business Solutions. I enjoy staying active, both physically and professionally. Charitable endeavors include: The Elizabeth Glaser Pediatric AIDS Foundation, Safe House, Christian Children's Fund as well as other faith-based charities.