In The News: Manufacturer Spotlight—Xerox Machines
April 29th, 2022 | 3 min. read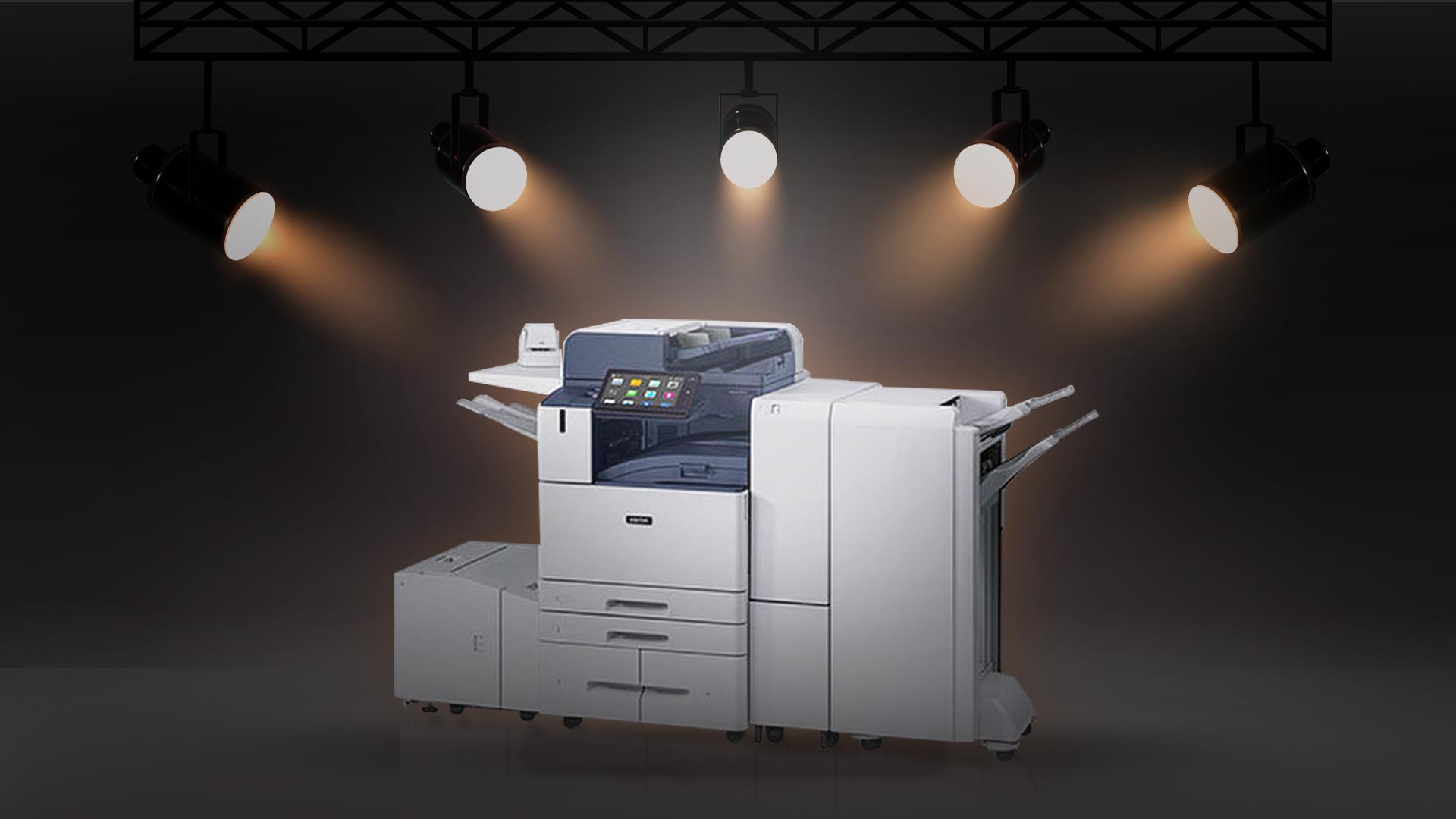 READ TIME: 3.5 MINS.
Xerox Corporation is a major American corporation—credited with being the first to manufacture xerographic plain-paper copiers. Since its founding in 1906 as Haloid Company, Xerox has redefined the workplace experience by providing industry-leading technologies and innovations.
These include office copiers that have established Xerox as a trusted workplace and digital printing solutions provider whose solutions facilitate better communication, connection, and work within organizations.
In this article, we're giving you some newsworthy insight into the brand itself so that you can make a well-informed buying decision when searching for a new office copier or printer.
The History of Xerox
The debut of the Xerox Copier came in 1949, a machine that required much of the processing to be done manually, somewhat messy, and unfortunately, too prone to mistakes.
It wasn't until 1970 that Xerox faced actual competition since IBM introduced its first office copying machine. The latter was not as fast or sophisticated as the Xerox copiers, but they had a sturdy build and were backed by IBM's reputation.
In 1981, Xerox started releasing new products, including the 1982 10-Series copiers. In 1989, Xerox released its computer workstations and software to add to the laser printers resulting from more than $3 billion spent in research and development throughout the 80s.
In 1997, Xerox bought out its European partner. A year later, the company acquired XL Connect Solutions Inc., and in 2000, Tektronix, Inc.'s color printing and imaging unit, just as red ink became popular.
Why Purchase or Lease a Xerox Machine?
Xerox has become synonymous with digital print technology and related solutions, and it's easy to see why. The company's products and solutions support the work processes of its customers by providing them with efficient, cost-effective printing and communications infrastructure.
This customer base is quite broad, ranging from SMBs to Fortune 100 companies which put the company at a valuation of $17.6 billion.
Its offerings now include digital systems that encompass color and black-and-white printing and publishing systems, digital presses and multifunction devices, laser and solid ink network printers, copiers, and fax machines.
The company's service expertise includes helping businesses develop online document archives, analyzing how employees can effectively share documents and knowledge within the copy ecosystem, and building web-based processes that facilitate the personalization of direct mail, invoices, and more.
Watch: Xerox Product Review 2022
Finally, Xerox also offers associated software, support, and supplies, including toner paper and ink. While all of these are pretty great, what makes Xerox stand out as a brand is Xerox's worldwide support network of people, processes, and technologies.
The company reiterates its commitment to ensuring that your investment in Xerox technology pays off. They are dedicated to providing that your business keeps running and that they deliver the personal attention you deserve for a quality copy experience.
Related Article: Think You Know Xerox Products and Services? A Review of Xerox Copiers and Printers.
What's The Future of Xerox
Xerox is looking to leverage its history of designing breakthrough technologies to ensure it curves a place for itself in the future office ecosystem.
Coming into 2022, Xerox CEO John Visentin had projected the establishment of three separate businesses: software, financing, and innovation. Having these businesses different means that Xerox will be better equipped to offer its customers greater flexibility, visibility, and focus.
With Xerox copy machines, you get a comprehensive experience. Unlike other vendors, Xerox ensures that all aspects of the Xerox experience, including Xerox equipment, Xerox service, Xerox approved lease, Xerox parts, and supplies, among others, are all taken care of.
Related Video: How Much Does a Xerox Cost?
Besides, you get at-hand service technicians who boast of an average of 12 years of tenure at your disposal. But most appealing is that you get to leverage the offerings of Xerox's exclusive, concurrent multitasking technology that makes Xerox products the most productive in the world.
The Final Say: Xerox Machines and Your Business
As you consider the investment for office copiers and printers for your organization, be sure to consider Xerox. With Xerox machines, you get to have an unlimited number of pages scanned in a single file, innovative kit technology that allows you to maximize your equipment uptime, and advanced scan-file compression technology that doesn't compromise quality.
AIS is a certified Xerox partner and dealer and one of the most successful product lines we offer to our valued customers. To learn more about Xerox products or any of the other products and services we offer, please reach out to us today. We're here to give you peace of mind to help you win more business.
A true southerner from Atlanta, Georgia, Marissa has always had a strong passion for writing and storytelling. She moved out west in 2018 where she became an expert on all things business technology-related as the Content Producer at AIS. Coupled with her knowledge of SEO best practices, she's been integral in catapulting AIS to the digital forefront of the industry. In her free time, she enjoys sipping wine and hanging out with her rescue-dog, WIllow. Basically, she loves wine and dogs, but not whiny dogs.