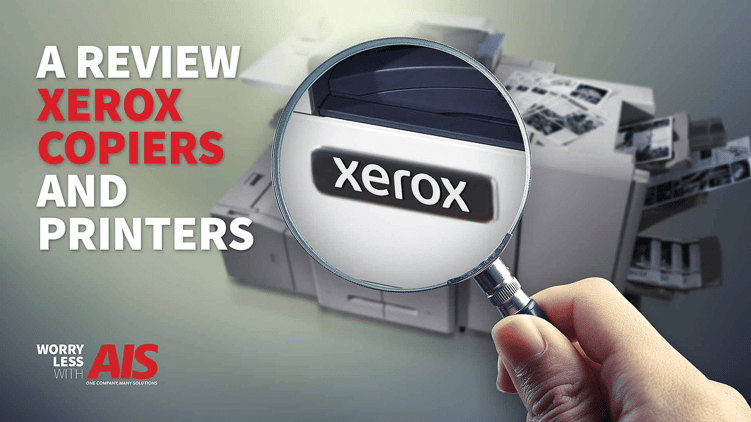 READ TIME: 4.5 MINS.
Based in Norwalk, Connecticut, Xerox Holdings Corporation has set itself apart as the ultimate print and digital document products and services provider to businesses in over 160 countries.
Other than this niche, the American conglomerate offers various services, including content management, document outsourcing services, and imaging. Still, the company is best known for its photocopying, making it an icon within the field.
We review some of Xerox's most iconic product lines, which include its top-of-the-range multifunction printers (MFPs) and copiers.
Related Article: Kyocera vs. Xerox: Learn The Benefits and Differences.
The History of Xerox
Xerox is a trademark, right? But, Xerox did not start as the household name that it is currently. At its establishment in 1906 in New York, the company went by The Haloid Photographic Company.
In 1958, the president, Joseph C. Wilson, changed the name to Haloid Xerox, which later evolved to Xerox Corporation in 1961. This evolution was meant to consider the invention of their resident physicist, Chester Carlson, who came up with the proprietary technology Xerox is founded upon.
It would be prudent to mention that the company introduced its first copier, aptly named "Xerox," in 1949.
This commercial production based on Carlson's invention saw the company grow to 18 regional offices, expand its workforce to 200 sales staff and build its factory in Webster, New York.
Today, the company has grown to have offices worldwide and expanded its portfolio to include various hardware, software, and other print professional services.
Related Article: Who is Kyocera? History, Recognition, Reliability.
Review of Xerox MFPs
Xerox has perfected the manufacture of office equipment that includes scanners, printers, and multifunction systems throughout the years.
They have managed to set themselves up as the go-to for scan, print, copy, email, and fax solutions. Most significant in their line of products is their multifunctional printers that offer advanced security, sophisticated tools, and reliable paper handling.
These MFPs devices have Wi-Fi connectivity and mobile print capabilities. Besides, they come with cloud-connected apps and tablet-like touchscreens that translate to an easy-to-use interface.
The Versalink Series
The Versalink Series include the C400 that is the go-to high-spec printer for small businesses (SMBs). This printer is known for producing high paper quality with premium features.
Within this series, there is the C405 color MFP that is best for busy offices. In hindsight, this is a sizable multifunctional beast that makes it possible to handle hefty workloads. Additionally, there is the C500 color which is famous for high-quality duplex printing.
An additional product within the Versalink series is the C600 which offers top performance, superb output, and ConnectKey app support. As part of the series, customers have the C7000DN printer praised for its strong security, print quality, and easy connectivity.
After this product, the corporation released the C7020D that critics cite as having the lowest total cost of ownership, yet it performs competitively within the print environment.
Finally, consumers choose the Xerox AltaLink within this series, which can ensure that the users align with even the most stringent security standards currently in play.
Overall, the Versalink Series MFPs offer A4 paper support and touch screen capabilities that enable the user to copy, scan, print, and fax while still benefiting from the cloud capabilities on offer.
These can comfortably print between 5,000 and 25,000 pages per month, making them perfect for small to medium-sized businesses. As they come with the Xerox ConnectKey technology, users can print from anywhere with an Internet connection.
The WorkCentre Series
The first printer within the WorkCentre series in the 6515 Color Laser MFP boasts impressive graphics, images, and printed text that critics cite surpasses expectations.
The printer is also known for a speedy, quality output, making it a powerhouse when you want crisp color print quality from an interface pretty much like a mobile tablet.
The following installation within the WorkCentre series is the C405 Color Multifunction Printer that offers significant productivity while still ensuring secure access to documents even when high volumes of copy are being worked on.
As they have connectivity capabilities, users can access the data and workflows from any location with an Internet connection.
The last MFP within this series is the WorkCentre 6515 Color Multifunction Printer, best for work teams of two to seven users. If you are looking for incredible color quality with easy integration, the 6515 is the printer for you.
While it lacks when it comes to two-sided outputs, it makes up for this with the multi-touch interface that gives users a mobile-like user experience.
Overall, the WorkCentre Xerox Series is the perfect innovative workstation that the entire office can rely on. Users have a paper capacity ranging from 700 to 2350, whereby they can copy, scan, print, fax, and, when needed, email directly from the machine.
As the MFPs are FIPS 140-2 compliant and come with 256-bit encryption backed by the McAfee Embedded protection, users get a printer that keeps their networks safe and secure.
The Xerox ConnectKey Technology
In a bid to make themselves competitive, Xerox incorporates a suite of downloadable apps that translates to greater functionality in the devices that are ConnectKey-enabled.
Using these applications, it is possible to scan directly to the Cloud or translate the document being worked on into 35 different languages.
A neat capability enabled by said technology is the ability of the Xerox copiers and printers to adapt to the way your business works either at the workstation, virtually, or through the Cloud.
This translates to the ability to customize your MFP to meet the specific needs within your office.
The Final Say on Xerox Products
What office copiers and printers to go for is a critical business decision, especially as you likely want a solution that creates a more effective workflow. These can transform the experience of how people work and can support the growth of your business.
Overall, as a business owner or office manager, you want to incorporate smarter workflow solutions that help everyone work smarter and more securely.
To learn more about our products and services, make sure to reach out to us here. We're here to give you peace of mind to help you win more business.