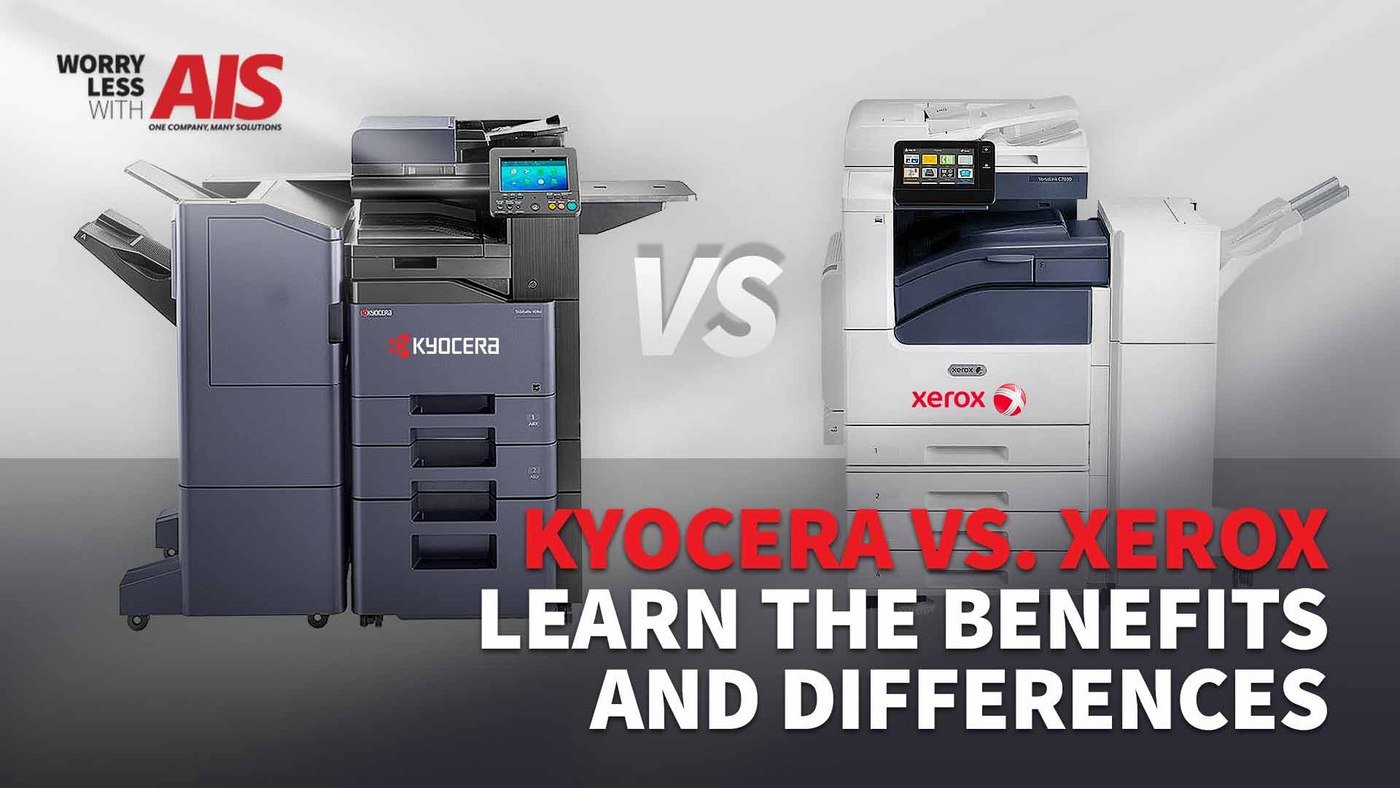 READ TIME: 4 MINUTES
Kyocera and Xerox remain some of the most popular office copier and printer devices on the market. Walk into any office, and you will most likely find employees utilizing either (or both) of these brands.
Both brands are well-known for their copiers and multifunction printers (MFP) that offer printing, copying, scanning, and faxing functions in a single machine.
It's common for people looking to buy a copier or printer to find themselves at a crossroads concerning these two brands since it is hard to decide which one makes better machines or business sense.
That is where we come in. In this article, we will explore Kyocera vs. Xerox to help you learn the differences and benefits of each. Let us begin by discussing each of these brands to identify which product line is best for your company, employees, and printing demands.
Xerox Copiers and Multifunction Printers (MFPs)
Most of us have at least heard of the name "Xerox" but might have felt unfamiliar with their products and services. Here are some background and essential points to consider about the company and brand.
The History of Xerox
Xerox has been in operation since its inception in 1906, when it opened as the Haloid Company that manufactured photographic papers. Xerox acquired xerographic imaging rights in 1947 and rebranded to Haloid (film process) Xerox in 1958.
The brand gained popularity as it continued to develop advanced production machines such as laser printers, word processing machines, Ethernet networking, and digital photocopiers.
This made the company extraordinarily recognizable and awarded for its outstanding services and products, especially in the 1990s. However, its revenue base has shrunk, but its machines remain a preference for many businesses and organizations worldwide. And you have to consider that they've become a "household name."
The Copier or Printer Lifespan
The device lifespan is among one of the strengths that set Xerox apart from competitors.
Xerox machines last long, and the quality of the paperwork does not deteriorate as the machine ages. To almost all consumers, the longevity of the device continues to be a valuable feature.
Technology Advancement
Xerox is a leading innovator with several advancements in technology. They have an automatic replenishment system by tracking their customers to send them new supplies when needed.
Their remote printing function has made it possible for users to work away from the machines but still send and print documents virtually. Some Xerox devices even have touch screens so that users can operate with their Stylus pen with an easy-to-use interface.
Ample Security
Xerox machines come with advanced security features. McAfee protects your machine from unauthorized access while Cisco detects and deters malware.
Top Benefits of Xerox Copiers
Although we can't list them all, here are some of the top benefits many of us love about Xerox products:
They are high-quality copying and printing machines. You can expect clean and clear copies when using Xerox machines.
They make powerful copying and printing machines suitable for commercial workplaces with huge paperwork needs. If you have a commercial printing company, Xerox machines will serve you well.
They have a swift warm-up time. You will not have to wait long for the machine to warm up before you can operate it since it takes a few seconds to be ready.
They are compatible with various paper types.
They are a

green company

that makes machines that meet environmental standards. Xerox is committed to lessening the carbon footprint.
Extensive color registration resulting in the highest quality color output available.
Kyocera Copiers and Printers
History
Kyocera was founded in 1960 as a TV ceramic insulators making company. In 2000, the company acquired Mita Industrial Company to become Kyocera Mita Corporation that later became Kyocera Document Solutions Corporation.
Today, they are a leading producer of multipurpose printers, copiers, cartridges, and toners. Although they have been in copier machine production for a few years, they have become among the most successful copier brands.
The lifespan of Kyocera Devices
Kyocera has one of the most durable machines. They make silicon-based, ceramic drums with an extended lifespan.
The drums come as a separate unit from the toner so that you can replace the toner and leave the drum in place, lengthening the life of your Kyocera machine.
Technology Advancements
Kyocera's machines also come with apps that allow you to interact with your copier and printer remotely. This is especially significant when you need devices to support your work from home (WFH) or remote environment.
All Kyocera machines have familiar drivers that make it easy for you to install them on your computers. The Pinpoint Scan application facilitates offsite access of scanned and copied documents. To give you a better experience, they can customize your ink to match your taste.
Ample Security
Kyocera machines have a Hybrid Platform for Advanced Solutions (HyPAS) that makes them highly flexible. Some of the embedded technologies include Secure Print Release and AccessLock that help you control access and use of the machines.
Top Benefits of Kyocera
Just as we did with Xerox, here are some of the top benefits many of us love about Kyocera products:
Kyocera machines have made a name for being affordable without compromising the quality of the documents they produce.
They customize colors to match those used by other photocopiers.
The machines allow remote operation.
They are sustainable since they are incorporated with ECOSYS to reduce the impact on the environment. They also use eco-friendly raw materials.
Kyocera copiers and printers are suitable for home-based or small to medium-sized offices; they're ideal for everyday use.
The machines are durable. You will experience minimum downtimes so that you can carry on with your work without interruptions.
Xerox vs. Kyocera: Here's The Bottom Line
Xerox has an imposing brand recognition built over the years. However, Kyocera is coming up fast even after being in operation for a shorter duration. Both companies make high-quality, reliable, and durable copiers and printing machines.
Depending on your needs and preferences, you may consider Xerox for larger productions and Kyocera for everyday scattered printing or photocopying jobs.
If you are not sure about the best copier or printer for your office, AIS is here to help you out. We will also help you understand the supplies you need to keep your printer or copier running efficiently. Even if you are not sure how you can use the apps and software that come with your copying and printing machines, we will take you through them to maximize the benefits of your copiers and printers. Contact us today, and let's start a conversation. We're here to give you peace of mind to help you win more business.