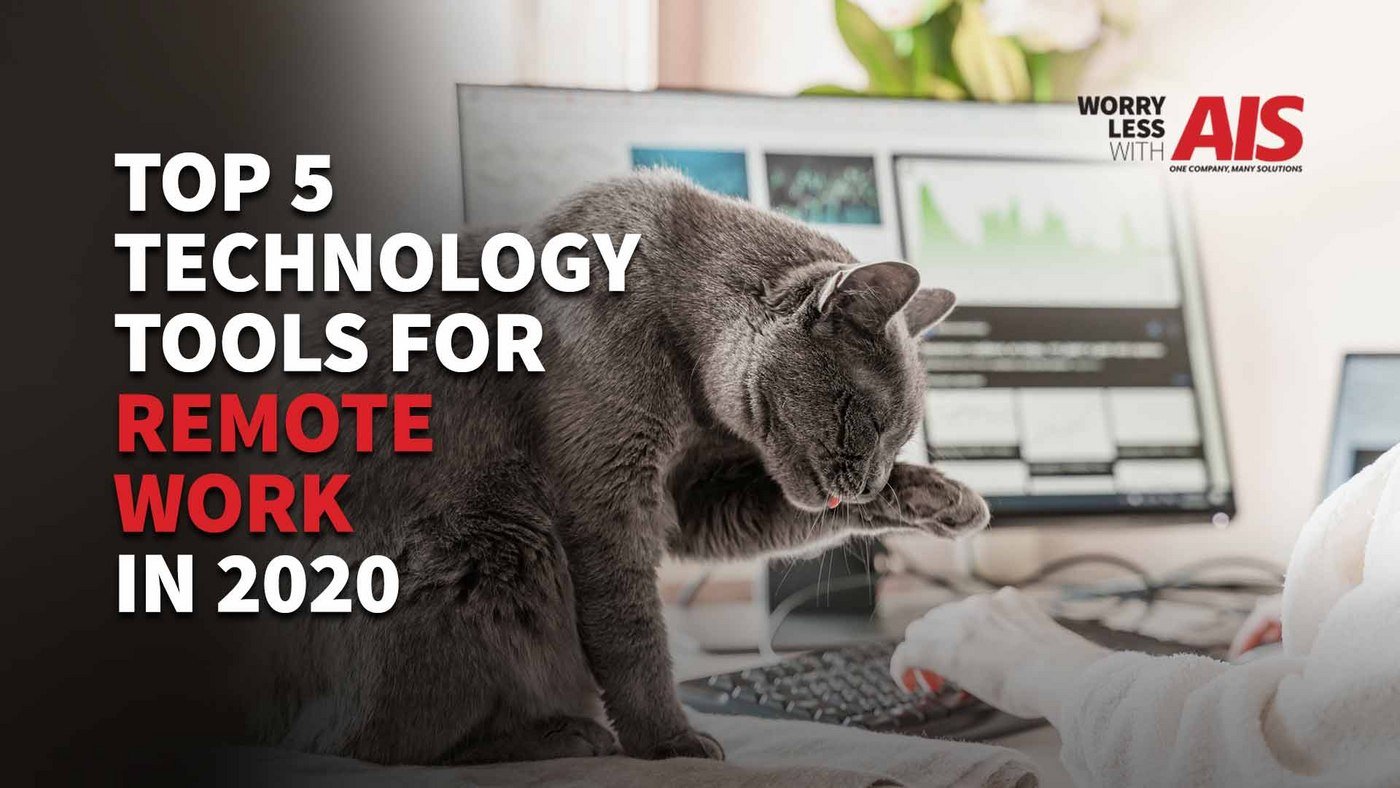 READ TIME: 5.5 MINS.
The jury already decided, and the verdict is in. Working from home (WFH) is the future of enterprises. By the end of 2019, Forbes reported that 40% of the workforce were non-permanent workers, working remotely from home-- a trend that is only likely to continue through and post-COVID-19.
What you may wonder is how remote work will function for you. Our business operations and strategies continue to shift, leaving many curious about the top tech tools for remote work in 2020.
For example, what tools will you and your business need to make remote work efficient? You may also have questions about Managed IT services and Phone Systems and how they also work and integrate into your business.
What Tech Tools Do I Need To Make My Remote Work Efficient?
Apart from coffee, which every business owner knows is a staple in remote work, many are in the dark about what they need to kick start their projects from home.
At this point, you may have realized that there is more to working from home than a stable internet connection.
1. Office Phone System: Never Missing A Call
One of the most crucial parts of your remote-work setup is communication. The simple passing of information from one point to another is what stood between many businesses and remote work. Luckily for us, technology has spent the last few decades catching up. And real fast.
Your phone system is the structure that enables your business to connect to phone lines and internet servers. We all know that without an internet connection, your work from home plans are dead on conception.
After you realize the importance of an office phone system, the next step is choosing the phone system that will work right for you. There are three main types of office phone systems:
On-premise: An on-premise (on-site or on-prem.) phone system requires you to buy the necessary hardware and have them physically at your business premises or each employee's desk. An on-premise phone system sometimes includes steep costs upfront and maintenance costs that you may find too overbearing for your business.
Off-premise: An off-premise office system requires no installation of physical hardware on your premises. This may be one of the best options for your WFH team members. An off-premise phone system exists in a cloud, and you pay for the phone services through monthly or yearly subscriptions. The best part is that there are no maintenance or depreciation costs.
VoIP phone system: A VoIP system is the future of phone systems. One way for your business to change with the tide is to acquire a VoIP system for its remote work platform. A modern VoIP system enables your business to integrate with platforms such as CRM software, E-Mail, and remote employee training.
2. Managed IT Services
Most businesses that adopted remote work once had a department dedicated to information technology. You might be asking, "Now that my business is going remote, where does that leave my IT department?"
Managed IT services is a godsend to several businesses who shifted to remote work. It replaces those few employees of yours who worked on your IT issues. You now outsource your IT department to a Managed Service Provider.
A Managed IT Service Provider performs the tasks your IT department was once responsible for, such as network administration, hardware installation, and software installation. Not to mention security monitoring and data compliance regulations are also something an MSP can help monitor.
Here are a few reasons why your business needs a Managed Service Provider (MSP):
Broader Scope of Experience: Running your IT department, especially with experienced staff, is a costly affair. Most businesses resort to hiring rookies or a few staff. For just a small subscription fee, MSPs enable you to access a team of specialized and experienced IT employees.
Variety: No single business can hire all subsets of an It department. An MSP, on the other hand, is specialized enough to do so. Outsourcing your IT department to an MSP exposes your business to a wide variety of IT experts.
Constant Maintenance and Monitoring: An MSP does not take lunch breaks or vacations. Outsourcing your IT department will offer your WFH department a 24/7 IT service.
3. Office Copier or Multifunction Printer (MFP)
If there's anything that has stood the test of time and the recent technological breakthroughs, it's the printer. Your work from home projects probably requires a multifunctional printer as papers aren't going away any time soon.
Even though most of your documents are sent through email or instant messaging platforms, print and physical copies will always be a necessary backup. There isn't a virus that can wipe out all the papers in your file.
Some of the considerations to make when choosing the best office copier should include:
Security features
Black and white or color copying
Paper capacity
Updates and remote services
4. Virtual Private Networks (VPN) and Security
Once you have committed to having part or all of your workforce work from home, security becomes an instant concern. Are there any risks associated with passing your business data from separate locations?
You guessed right; there's a lot of security concerns. Some of these include spyware, ransomware, malware, and hacking.
The information you pass between your enterprise and employees is valuable and has a price. It's valuable to your competitors, to fraudsters, and even the internet platforms you use.
In the wrong hands,' people will use your business data against you. That's why you need to consider a VPN for your remote work operations.
Related: What is a VPN?
A VPN will make it an uphill battle for anybody trying to intercept or even make sense of your remote work operations.
5. Video Conferencing Technology
Last but not least is a video conferencing software. Once in a while, your remote working employees will need to assemble for a face-to-face meeting. Your team members will need this for project planning, management, and supervision.
This is where a good video conferencing software comes into play. You have to ensure that it is both secure and efficient. The most popular ones are MicrosoftⓇ Teams, Zoom, and Skype.
However, the market is awash with thousands of this software; it won't be long before you find one that fits your business.
The Final Say On The Best Tech Tools For Remote Work In 2020
It's a tricky time for all of us right now, especially for businesses struggling to adjust to new and remote ways of working. As you continue to learn the best ways to serve your customers and equip your employees, remember the essentials of what your business needs.
Take some time to research office technology providers who offer bundle deals on leading technology tools so that you can take advantage of having your resources all in one place.
At AIS, we must inform and educate our readers about the best ways to stay connected while also growing their business. Even in times of uncertainty, there's still an opportunity for businesses of all kinds to excel and continue on their success path. To learn more about WFH technologies or any of the products and services we offer, reach out to us. We're here to give you peace of mind to help you win more business.