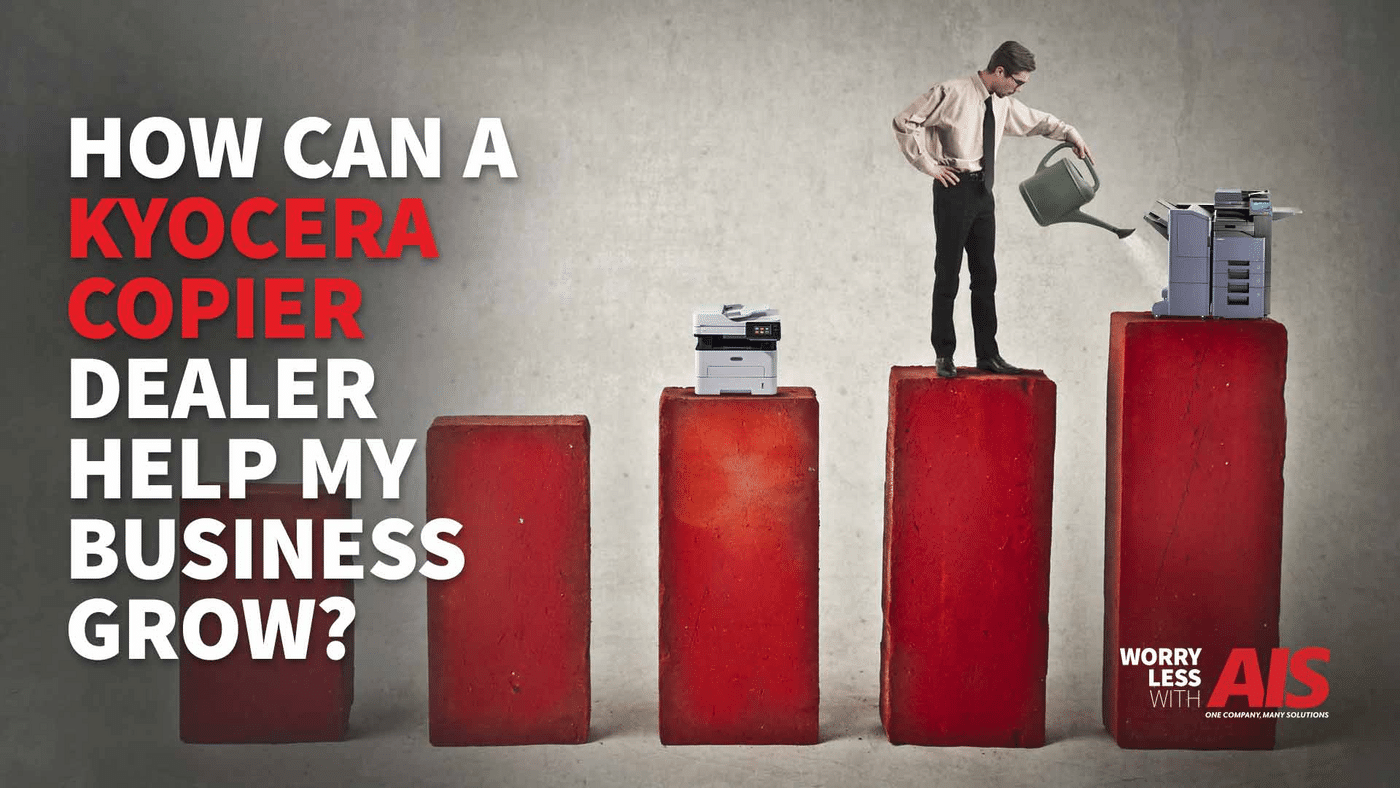 READ TIME: 4.5 MINS.
If you don't have access to the latest equipment or software, you may struggle to provide top-level customer service. Kyocera copiers offer top-quality performance, reliable service, and outstanding features at affordable prices, which makes them an indispensable part of the workplace.

If you want to sell or lease these innovative devices in your area, then you need the assistance of a Kyocera dealer. Kyocera copier dealers are responsible for providing high-quality service and support to clients.

You can increase sales and revenue by leveraging their expertise in marketing, servicing, and selling new and refurbished machines. In addition, you'll benefit from the professional image of having a Kyocera representative.
How Do Kyocera Copier Dealers Work?
Kyocera dealers help businesses by offering services ranging from product sales to service centers. Your business can purchase Kyocera copiers for resale or use.

A Kyocera dealer will provide you with a free orientation, including information about the features and usage of your particular copier or printer.

A trained and certified technician can troubleshoot any issues that may arise while using the device. They're also qualified to repair and maintain your unit should anything go wrong.

Dealerships often offer discounts for extended warranties on specific models. Warranties cover accidental damage and long-term maintenance costs. When you work with a Kyocera dealership, they'll help you understand which model best suits your needs.

Additionally, dealerships typically sell replacement parts for office copiers and printers to clients. They often charge a fee for labor involved in repairs.

Kyocera copier dealerships have many advantages over independent business owners. Not only do they provide training, free technology upgrades, and extended service plans, their staff members are well-versed in the industry and know how to help small businesses succeed.
1. Kyocera Copier Dealers Provide Comprehensive Warranties
Kyocera dealers understand that running a successful business takes more than selling high-tech electronics. While your machine may not last forever, you don't have to worry about paying thousands in repair bills.

In addition to offering extended warranties, the Kyocera copier dealership offers free servicing for up to three years from the purchase date—so you can stop worrying about costly repair bills.
2. Kyocera Dealers Give You A Wide Range Of Marketing Tools
Once you purchase the right product for your business, Kyocera dealers will train you on its usage. You'll get answers to installation, setup, troubleshooting, and maintenance. When you buy a Kyocera copier, you get access to a wide range of marketing tools designed specifically for small businesses.

Kyocera's programs allow you to create custom flyers, brochures, and calendars. There are templates included in each program that can be customized and shared with colleagues.
3. Customized Solutions
Kyocera dealers excel at providing customized solutions. From business cards to point-of-sale systems, they can get you everything you need to run a successful business.

You get professional advice about; what marketing strategies work, what kinds of promotions drive sales, and what advertising campaigns bring the most significant ROI.

Even if you don't have any specific ideas, our experts are happy to help you brainstorm some great options.
4. You Get Great Sales Opportunities
Kyocera dealers benefit from exclusive pricing and incentives programs explicitly designed for them by Kyocera. In addition, they have access to competitively priced replacement parts and accessories, software licenses, and even discounts on upgrades.

Because of Kyoceras' product distribution system, you can offer great sales opportunities to customers by receiving wholesale pricing on most products from Kyocera dealers.

Kyocera copier dealers keep you updated on the latest consumer trends and help you set yourself apart from the competition with innovative new technologies.

5. Kyocera Dealers Have a Strong Network
The Kyocera dealer network includes regional distributors, wholesalers, contractors, and installers. Distributors distribute products to retailers, while wholesalers buy wholesale goods from manufacturers and resell them.

Contractors perform installations, repairs, and custom orders. Installers are responsible for assembling and installing products purchased directly from manufacturers.

A few Kyocera dealers, like us at AIS, are authorized to sell its products online. As with all online vendors, these individuals must comply with various legal requirements and obtain a license. Licensing laws bind them to protect consumer privacy.

Kyocera's network of dealers helps businesses, whether big or small. A dealer network enables you to target new markets you couldn't otherwise reach. Your products have become known throughout the industry, and people know they can rely on you for dependable service.

Many of these companies would not be able to function without the support provided by Kyocera. Dealers help local businesses create successful operations.
6. Kyocera Dealers Provide Outstanding Customer Service
Kyocera-licensed sales staff is always willing to answer customers' questions about our products and their work.

In addition, they ensure you receive the best possible price for your equipment and can help you find financing options if your budget does not allow you to purchase what you need right away.

Reputation means something different to each business. To some, it represents the brand image and the way they want to be perceived by consumers. Others think it is the trustworthiness of their workers.

When it comes to Kyocera, dealers strive to maintain their reputation. It involves treating employees well, developing supplier relationships, and offering innovative solutions. By earning the confidence of their clients, Kyocera dealers demonstrate that they are committed to excellence.
7. You can Grow With Kyocera Dealers
When dealing with manufacturers, many small companies lack the knowledge and expertise to manage their projects. Because dealers specialize in selling Kyocera products, they have the experience and skills to create a successful partnership between vendor and buyer.

So, whether you're looking for new growth opportunities or trying to secure existing ones, your Kyocera dealer can help you achieve your goals.
The Final Say: Kyocera Copiers Dealers and Business Growth
Your business may evolve, and so should your dealer. At AIS, our dedicated sales teams help guide you through each stage, and we provide basic training to build your knowledge base.

Working with a Kyocera-authorized copier dealer will allow you to take advantage of factory warranty services. Warranty coverage varies by region, so check your local laws before purchasing any Kyocera products. Additionally, most Kyocera dealers are near major cities. To learn more about Kyocera copier dealers, make sure to reach out to us today. We're here to give you peace of mind to help you win more business.