How Can Local Copier Dealers Service Companies Nationally?
December 6th, 2021 | 4 min. read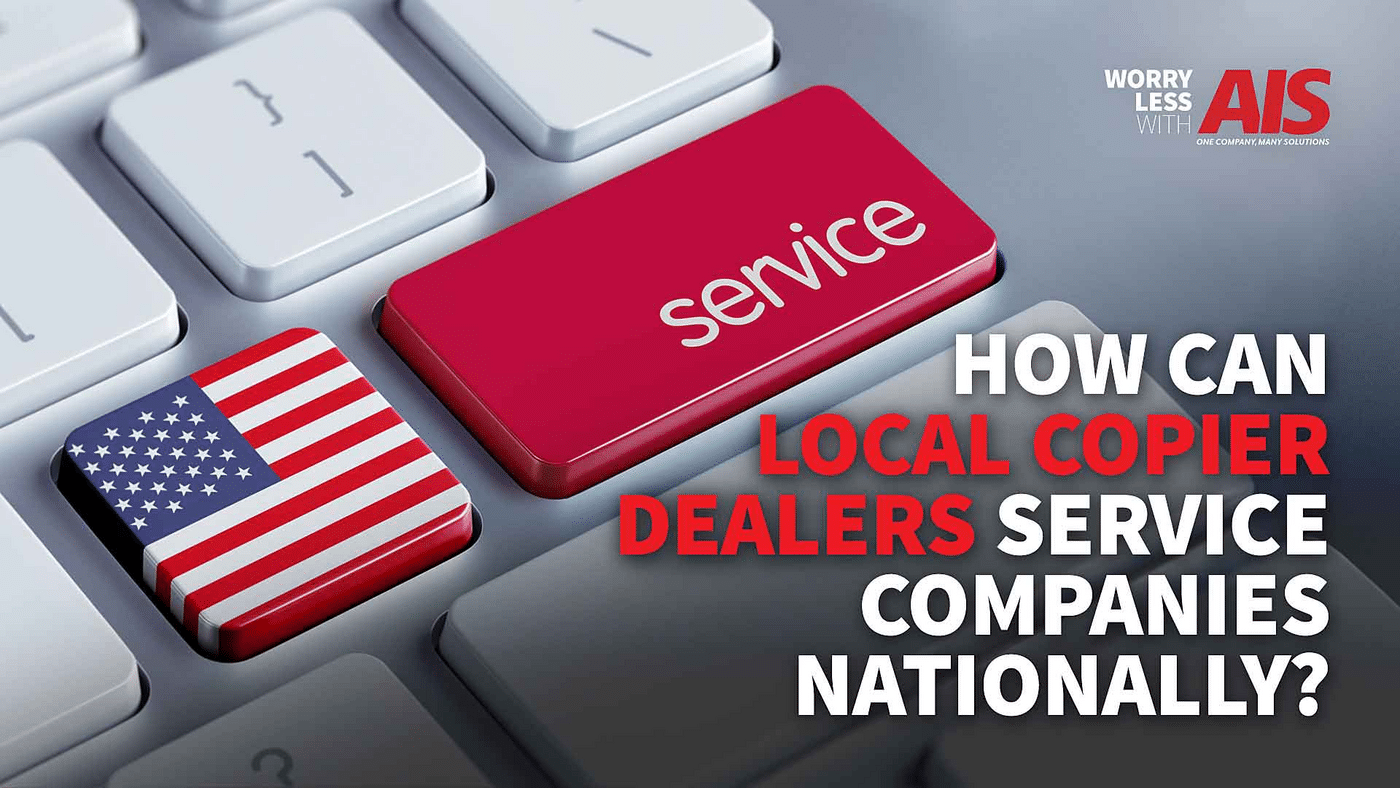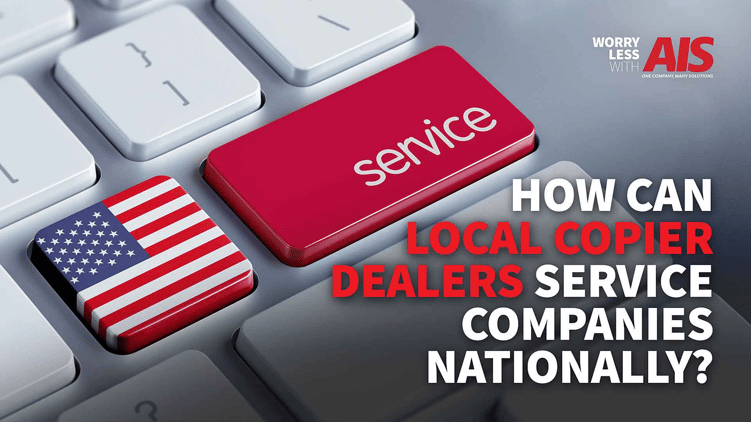 READ TIME: 4.5 MINS.
As a business reliant on office copiers and multifunction printers (MFPs) for business processes, you are prone to assuming that dealing with a national or international partner would ensure that you get the highest quality services.
What's more, dealing with a manufacturer would ensure some cost-saving. Specifically, the manufacturer might sell out their units at a lower price because oftentimes they are most interested in the total number of units sold, and as such, might price the same cheaper.

Besides, these companies might end up absorbing their service costs, thus lesser copy costs on the business end.
At best, this is a fallacy. Local copier dealers stand to help national manufacturers through perpetually slow service. While the local dealer does not have the reach that the manufacturer might have, they have a greater stake in ensuring that businesses within their localities survive and even thrive.
Industry experts point to the fact that while national companies are keen on reducing expenditure by particularly cutting the staffing costs in the area of customer service, local copier dealers seem to be doubling up on their staffing.
Why It's Smart to Partner with Local Copier Dealers
In the past, cutting out the middleman was considered good business practice. However, in today's economy, middlemen are part of what makes product and service delivery possible.
Why then would a national company bring local copier dealers onboard?
Custom Solutions
A large conglomerate with multiple storefronts and even more branches in different states lack the time. In most instances, they are willing to develop or maintain printers and copiers based on the specific requests of their multitude of customers.
As discussed, manufacturers rely on the volume of sales to stay afloat. This translates to a lack of care for the customers' specific needs. For a business looking to include a copier or MFP from the company, this represents a loophole as it would then mean that your particular needs are not considered by the brand you chose to partner with.
It is the complete opposite for the copier dealer. The business model adopted by these market players is one in which there is a commitment to ensuring that the customer finds value in their offerings. Specifically, the customer seems to be at the center of everything these local dealers do.
It can be theorized that this insistence in having the customer at the core of their business practice is because these businesses rely on repeat customer business to thrive.
As the customer takes the copier from the national manufacturer to the local dealer, they get the very best service and parts. That then translates to greater customer satisfaction, which means more sales of the copiers or MFPs from the national brand.
Top-Notch, Quality Service
In the past, it was theorized that when a business works with a national manufacturer, they will likely get the best quality service. The industry thought that if they needed prompt troubleshooting or service assistance, the national company had the expertise to quickly get the copiers up and running and avoid any further downtime.
That is not the case.
For starters, the local dealer is, in fact, local. This translates to fast dispatch of the technician you need. These local technicians can also tackle any problems you encounter as they arise, which will ensure that there are no interruptions in business processes.
Besides, you do not have to pay for the trip fee that might be part of your original service agreement.
Also, most local vendors will take their technicians to train at the same facility where technicians from the manufacturers go.

This means that the quality of service a business gets from the local technicians is of the same quality as that from the national company. Besides, they get ongoing maintenance and troubleshooting at a snap.
Experienced Account Managers
With local businesses, the enterprise can almost expect to retain long-lasting employees. These employees can build strong working relationships with the local clients that buy their copiers from the national companies. This translates to more significant insights into the client's unique business goals.
For the national companies, their customers get an experienced account manager that can provide them with the best solutions for their clients. Besides, this combination of experience and a strong relationship would mean cost-saving and overall better customer service.
Local Billing Support
As discussed, national companies are more inclined to increase the unit sold and thus increase the price of the shares. This is mainly because these companies are answerable to their shareholders.
In chasing this revenue goal, there will likely be some disparities in billing. Unfortunately, these companies are also so keen on reducing running costs and staffing costs that local businesses might not get the support they need when it comes to billing.
The local dealers step in as it would be easy for the business to call and speak to a local billing professional. This translates to faster fixes of any errors in the bills that have been sent out. For the national company, their customers enjoy better customer service.
Concisely, local copier dealers offer best-fit solutions to the local customer as they are much closer to the end-user. What's more, the local businesses benefit from the business relationships formed with the employees within the local dealership.
Additionally, the local dealers can dispatch technicians faster, resulting in less downtime. Besides, these vendors can take care of the custom issues that the customer might have, which cannot be said for the technicians from the manufacturers.
The Final Say: Partnering With A Local Copier Dealer
For the local customer, having a local copier dealer partner with them means that they get greater customer service regarding responsiveness and service quality, billing support, and account management. For the national company, they can effectively sell more units as their customer base ends up more satisfied with the products and services they receive.
Understanding the partnership between local dealers and national companies provides a unique opportunity for businesses to rip benefits. If you're searching for the best tips and tricks to yield from these partnerships, make sure to reach out to us today. We're here to give you peace of mind to help you win more business.
A true southerner from Atlanta, Georgia, Marissa has always had a strong passion for writing and storytelling. She moved out west in 2018 where she became an expert on all things business technology-related as the Content Producer at AIS. Coupled with her knowledge of SEO best practices, she's been integral in catapulting AIS to the digital forefront of the industry. In her free time, she enjoys sipping wine and hanging out with her rescue-dog, WIllow. Basically, she loves wine and dogs, but not whiny dogs.