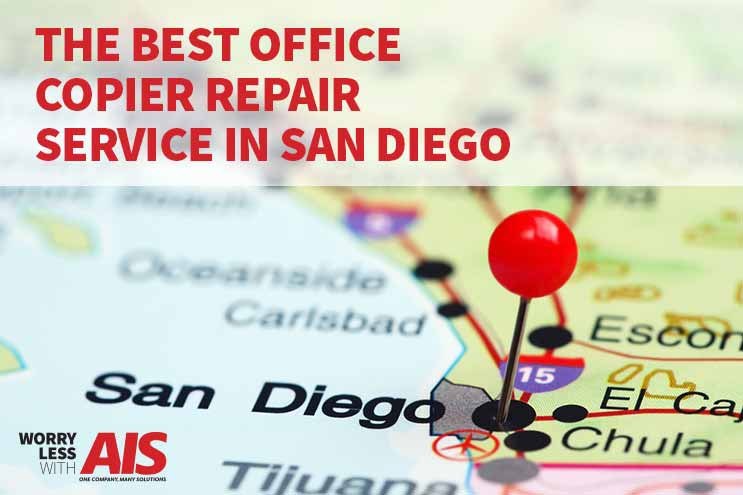 It's Monday morning, and your office copier broke again, leaving you stranded to find the best office copier repair service in San Diego.
You've got presentations to print and meetings to run, and you don't have to time to sift through copier repair companies online.
Have you ever been in this situation? If so, know you aren't alone. We've all been here, rushing to find a service professional or "repair technician" to help us with our broken office equipment. Looking for the best office copier repair services in San Diego is probably challenging for you.
There are so many options out there. It's hard to determine which company is the most reliable with the most certified technicians.
It's important you first learn the different types of office copier repair services and companies, and what each can do for your business.
Before you learn about different copier or printer repair companies, read our article, How to Fix a Broken Copier for more information on copy machine breaks and malfunctions.
Office Copier Manufacturers or Local Authorized Dealers
When looking at your options in San Diego, you have a couple of different types of companies to choose from to assist your copying needs. Your first option is selecting the manufacturer of an office copier brand.
Living in a relatively large metro area or city, like San Diego, gives you even more options when looking for a manufacturer that has some business presence with a sales office close to you.
Here's a quick list of some of the more common office copier manufacturers:
Xerox: A USA brand and company with headquarters in Norwalk, Connecticut. They are a household brand synonymous with the name "copy machine." They have one of the broadest ranges of color copy machine models.
Kyocera: Based in Japan with sales offices all over the US, Kyocera began as a ceramic company that has adapted its ceramics to the manufacturing of copiers based on their ceramic drums. These drums allow Kyocera to offer more extended warranties and longer periods between service.
Canon: Canon is a Japanese company with headquarters in the US. Canon was an early maker of copy machines. They specialize in optical, imaging, and camera products. They are one of the most popular brands in photocopying.
Konica Minolta: Another Japanese company that began, and is well known, in the photo or camera imaging business. All of their photocopy machines use a single platform called "Bizhub."
Sharp: Known for their consumer electronics. Sharp began making belt buckles in Japan long before copiers. In 1962 they established their first overseas subsidiary in New York City selling home appliances. They are now a leading manufacturer of TVs, microwaves, and office copiers.
Ricoh: A Tokyo, Japan-based company with regional headquarters in the US as Ricoh USA, Inc. for the last 50 years. They introduced the fastest digital color printer (15 pages per minute) in 1990.
Because San Diego is such a heavily-populated city, do some research on any authorized office copier dealers that services any of the machines listed above.
These local companies may represent one or more different copy machine or multi-function printer brands of equipment and have built their business on servicing local businesses providing exceptional price and service.
To learn more about trusted and authorized copier companies in San Diego, read our article, 5 Best Copier Companies in San Diego.
Something important to take note of is the wholesale price of dealers and manufacturers. Both authorized local dealers and manufacturers all receive the same wholesale price.
In most cases, it's easier to achieve more competitive pricing from an authorized dealer since they have lower overhead.When it comes to service, depending on the size of your large or small business, you may find the overall service of an authorized dealer is better, since you may be considered a small fish to the larger companies in your city.
Best Office Copier Repair Services: Questions to Consider
While you begin to speak with different office copier, color copier service, or printer repair companies, it's essential you aren't just listening to the services they offer, but also asking questions as well.
Asking most of these questions when speaking to each company should give you the answers you need.
1. What are some of the different features and add-ons that come with any the copy machines you sell?
It's important you jot down a list of all the features you are expecting your new copy machine to do?
If multiple companies bid for your business (which is a great idea to get the best price), make sure you have all companies bidding with on same features, such as speed, cost per copy, stapling, and scanning.
2. Do you offer both a lease or purchase price? What's the total lease price or purchase price? What's the length and the interest rate on the contract? Is there a buyout at the end of your lease or do I keep the copy machine or multifunction printer?
Just like an apartment, learning the terms of your lease is vital. We know money is on your mind when making your copy machine purchase.
It's important you remember to ask questions about payment and contracts up-front, instead of waiting until the last minute.
Before you pick up the phone to call any office copier repair company, make sure you know what can your business afford.
3. Are there extra charges for services like scanning?
Scanning and faxing are both extra charges you should remember. It might not be something that first comes to mind, so it's essential to jot this question down on your list.
There's usually extra fees that come with scanning or faxing features since there are moving parts in the scanning mechanism of a copy machine.
4. Is there a warranty? What does the warranty cover?
Warranty, warranty, warranty! We can't stress this enough. Even though warranties come as an added expense up-front, a warranty can save you some serious money if something were to break.
Let's face it; we're talking about copy machines. Of course, something is going to break. You deserve peace of mind when you purchase your office copier.
Knowing your expenses are covered by the manufacturer or authorized dealer is priceless.
To learn more about the benefits of purchasing a warranty, read the article "The Seattle Times" published, The exaggerated advantages of extended warranties.
5. How long does it take for the company to respond to their current service calls?
Did you know that the current industry states a standard response time of 2 hours? How does this compare with the companies you've started researching?
Response time is another important consideration to make as you sift through different repair companies online. Finding the right company with expert service technicians is important.
Your time is precious, and when your office copier breaks down, you deserve to have a company who can quickly come by and resolve the issue.
These aren't the only questions you should consider asking. You may want to ask them about other offerings like managed print services, document management, or IT outsourcing (managed IT services).
To learn more, check out our article, Who Are the Best Copy Machine Companies — Mfrs. or Local Dealers?


As you can tell, there's a lot that goes into determining the cost of business technology solutions. To learn more about costs and pricing associated, check out our Office Copy Machine Ultimate Resource Page.

At AIS, we are proud to provide helpful tools and resources for our current customers, as well as anyone wanting to learn more about office technology equipment. Our drive stems from wanting to learn more of the latest and greatest office equipment to help your business achieve its goals. If you're interested in learning more about our services, speak with one of our business technology consultants, here. Don't forget to visit our video channel on YouTube, The Copier Channel. We're here to give you peace of mind, to help you win more business.