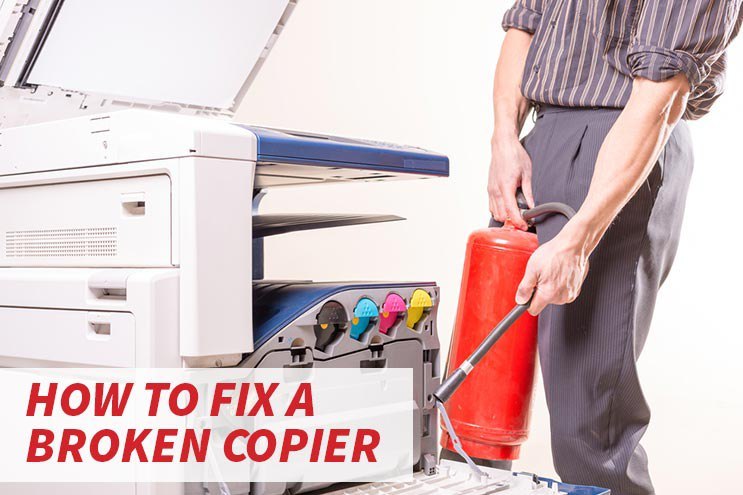 Doesn't the copier always seem to break down right before you're about to assemble a huge project? Or on a Monday morning when you're getting documents ready for a meeting? Regardless of the occasion, dealing with a broken copier is never a fun task, and one that we tend to run into more times than not.
Although you might be able to repair the broken copier on your own, seeking the aid of a service professional is your best bet, and ideal answer to: How to fix a broken copier.
Leave It Up to the Professionals to Fix your Broken Copier
From Bad to Worse
It might seem like repairing the broken copier yourself will be a 'quick-fix', but copiers are more complex than you might think. In your attempts to repair the machine, you could actually end up making the problem worse.
Think about it like this: your career is something you do every day, it's your niche, and you're good at it! Put your trust in a service professional to repair your broken copier, it's their niche, and they're good at it, too!
Use That Warranty
Many copiers come with warranties to ensure you get your money's worth. However, many warranties have stipulations that require the owners of the device to leave all repair services to the professionals, instead of trying to do it themselves. By calling a pro to fix your broken copier, you ensure you won't accidentally void your warranty. And besides, you paid for your warranty, might as well use it!
You Have More Important Tasks
The moment your copier breaks, it's only human nature to stand at the broken machine, pressing buttons and emptying out paper trays until you realize you've just wasted over an hour (or more) of your busy day. Don't let the broken copier burden you from more important duties at work. The best way to do this is by having a copier repair professional come in and fix the machine for you. This will help you waste less time and get back to business.
Learn From Your Mistakes
Another benefit from having a professional servicing your broken copier is the knowledge you'll learn about how the issue occurred in the first place. Having a service technician look at the machine allows them to explain to you what to do in the future in order to prevent the same issue from occurring, such as expired toner cartridges or an unreliable power source. Use it as an educational lesson; they're here to help and assist you!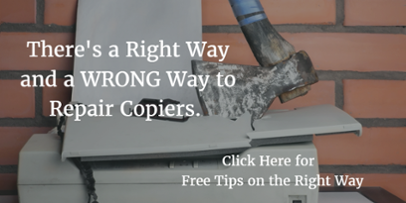 If You Must Fix Your Broken Copier…
If you still feel inclined to fix your broken copier on your own, here are some pointers and tips that could help lead you in the right direction. By choosing this option as opposed to leaving it up to a professional, please make sure to reference the owner's manual of the machine to prevent major damage.
Paper Jams and Lines on Paper
There is such thing as paper dust and it sometimes has the tendency to clog the copier, leading to paper jams. If a paper jam has occurred, don't immediately pull the paper out with strong force. Try to remove it slow and tactfully. The more force you apply on the jammed piece of paper, the easier the parts of the machine will dislodge and break.
A preventative tip to avoid this instance from occurring is to periodically (every 3-4 months) wipe the feed tires clean by using a microfiber or lint-free cloth. But be careful, feed tires are sensitive, so use very gentle force.
If you notice streaks, lines or deformities on the text or graphics you've copied, you may have a dirty substance on the copy machines' scanner glass or mirrors. You can again use a microfiber or lent-free cloth to gently wipe the surface.
Copies Are Too Light/Too Dark
The reason for too light/too dark issues on copied paper is usually do to the imbalance in the density controls on the copier settings. Someone previously might have accidentally changed these settings, so it's important to check this feature. In this situation, your best bet is to reset the density levels.
Cartridge or Toner Issues
If your toner is malfunctioning, it could be because you are using incompatible cartridges in your machine. Give your service representative a call and ask what cartridges are best for the machine you have.
Prevention: Avoid a Broken Copier
Staying informed on how to take care of your specific copy machine could also help prevent issues from occurring. Performing a little routine maintenance every now then could really keep your copier performing at its best.
Paper Techniques
Believe it or not, the way you insert your paper into the copier greatly determines the way your copier performs. Here are a few simple techniques you can use on your machine:
Don't fill your paper tray to the brim. Leave a little room between the top of the tray and the top of the paper stack.
Before inserting a stack of paper into the machine, fan it. It helps put air in between the pages.
Keep the paper on a dry, clean and organized space. The cleaner your paper is, the cleaner the copies will come out.
Schedule Regular Maintenance and Service Calls
It's a great idea to have your service provider scheduled for routine maintenance, just to make sure the machine will continue to run smoothly. Depending on your lease, you may need to contact the service provider to set up the service or to set the appointment. Set automatic reminders to contact them throughout the year.

Don't let your broken copier have you feeling frustrated; we can help. At AIS, we are dedicated to helping and listening to each of our clients' individual business needs. So contact us today and schedule a conversation with one of our business technology consultants. Let us show you how office technology can offer you peace of mind and help you win more business.