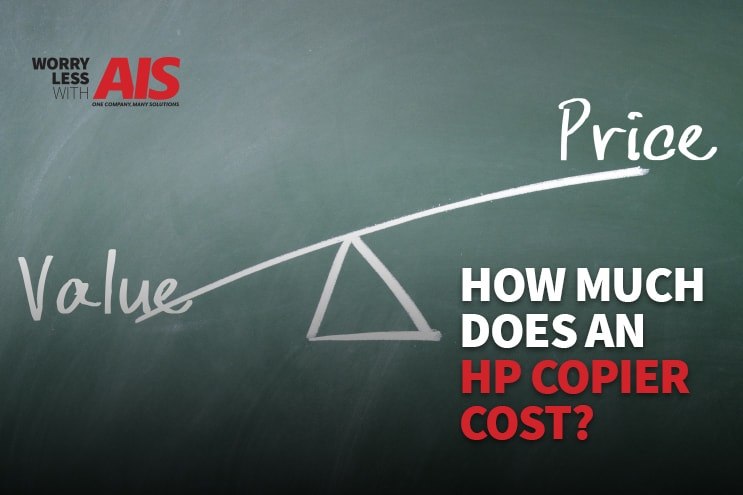 READ TIME: 4.5 MINS.
As business picks up, you can tell that your office needs a new copier. Perhaps you have chosen to stick with HP or discover its benefits as a brand.
Then the problematic question comes, "How much does an HP printer cost?" The most challenging part about answering this question is that the cost varies.
The costs associated with HP printers vary depending on your business needs.
The cost of an HP copy machine can range anywhere between $100 and $10,000. An HP black and white laser printer can cost between $200 and $4,000. A multifunction printer (MFP) for a small business can cost between $400 and $1000.
HP Copier Cost: Selecting For Your Needs
There are multiple factors to consider when choosing an HP printer. Buying a copier is sort of like buying a phone. Take a step back and remember the last time you purchased a new phone. What specific features or add-ons interested you the most?
Perhaps you first looked for the brand and looked for phones within your price range. Other particulars might have included processing power, screen size, storage capacity, and high-quality camera properties.
Before selecting an HP printer, you need to go through the same analysis process that led you to your current phone. In this article, we have compiled a list of several cost-related factors you should consider before selecting the ideal HP office copier for your business.
Also, take a glance at our article, How To Find The Most Reliable Office Copiers: Your 5-Step Guide, to learn how to choose the copier or printer for your office.
What to Look for In an HP Copier or Printer
As you probably know, there is an overwhelming variety of HP office copiers on the market. The following is an analysis of considerations to keep in mind when selecting your copy machine.
HP Black and White Laser Printers
The average costs of black and white laser HP printers that only perform print functions ranges between $100 and $1,700. HP printers that can copy, scan, print, and fax can cost between $160 and $1,000. These printers are ideal for small to medium-sized businesses.
Forbes recently published an article on all-in-one printers that also elaborates on HP printers you might find useful, 5 Best All-In-One Printers For Most People.
Larger enterprises that have more significant printing needs may have to spare $700 to $4000 for print-only HP printers. MFPs can start as low as $2000 up to $200,000. The cost depends on the add-ons and functions the printer can perform.
HP Color Laser Printers
HP color copiers and laser printers for businesses range between $500 and $3,500. MFPs also vary between $1,600 and $10,000.
Factors Affecting the Cost of an HP Printer
Several factors affect the price of a printer. Some of these factors include:
Business Size.

This can be a small to medium-sized business or a large enterprise.

Color Output.

Do you need black and white printing or color printing?

Paper Size.

This can be A4, B5, legal, or letter.

Monthly Print Volume.

Do you print up to 10,000 pages a month or 500 pages a month?

Connectivity

to Apple AirPrint, Google Cloud Print, USBs, HP ePrint, and Wireless Direct Printing.

Functions.

What extra functions or add-ons does your business need? (Print only; print, scan, copy, and fax; or print, scan, and copy.)

Usage.

Business personal, general office, or a small team or workgroup.
Considerations When Purchasing an HP Office Printer
Types of HP Printers
There are both inkjet and laserjet printers. Inkjet printers use ink cartridges, which can be costly when the ink runs dry. Ink can also smudge your documents. Laser printers, on the other hand, require the use of toner, which is typically more affordable than ink.
If you are looking for a crisp printing experience, laser printers are your best option. It would be best if you also chose between monochrome and color printers. Black and white printers cost less because they only use one black cartridge.
Color printers, on the other hand, require specific cartridges for colors like black, yellow, cyan, and magenta. Lastly, you need to decide if you want a print-only or a multifunction printer.
Read our article, How Do I Choose Between an Office Copier and a Multifunction Printer? to discover more.
Small-to-Medium Sized Businesses
If your business is just starting out, it is possible to use a home printer to fulfill your printing needs. Home printers are small and typically placed or stored on top of desks. Their costs can go as low as $50, but it is wiser to spend above $300. Cheaper printers may not fulfill your business needs.
HP also stocks monochrome, color, and MFPs for small businesses. The costs gradually increase as business needs grow. Enterprise printers and high-end copiers are the most expensive because of their high-speed and production volume.
What Are Your Office Equipment and Production Needs?
It's important to factor in the printing production of your business. The printers will vary in terms of production volume, graphics, and resolution. If you print colored photographs, your printer will be different from the one that only produces legal black and white documents.
Print Speed
Printers show their speed through pages per minute (ppm) which is often indicated in the product details. Learning and understanding the print speed your business needs is vital because it supports your workflow. If the rate is slow and you have thousands of pages to print, you could significantly delay office productivity.
Paper Capacity
A printer will list its paper capacity as either a "tray" or a "cassette" in its specs. The printer will also show the paper size it can print. Having an A3 or A4 printer is ideal for every business. These are the most common types of printers.
Graphics
Production printers and office printers have different graphics specifications. If you are trying to fulfill production needs, a 2400× 2400 dots per inch (dpi) resolution is as low as you can go. Remember to also factor in color management.
If you are not sure what specs you should look out for, look for a copier dealer who can help educate you by discussing your printing needs.
Accessories and Add-Ons
HP has a diversified portfolio of features, but not all might be necessary for your business. Some of these options include:
Booklet creator

Card reader

Hole punch

Letter folder

Software

Stapler



HP Copier Costs: What's Next?
Now that you've become more familiar with the pricing and costs associated with an HP copier and the features these MFPs have, it's time to start thinking about finding the best service provider or company you'll use when purchasing a copier for your business.
To learn about finding the best copier companies, read our article, How To Find The Best Copier Companies Near Me.
Also, make sure to visit our Office Copier Ultimate Resource Page for additional info on the costs and pricing associated with copiers, and just about anything else related to your copy machines.

At AIS, we strive to answer the questions that not just our current customers are asking, but our prospective customers are asking as well. Our goal is to equip you with the newest and most helpful information when it comes to your office solutions and business technology systems, based on your business needs and goals. If you're interested in learning more about office technology, reach out to one of our business technology consultants here. Also, visit our channel on YouTube, The Copier Channel. We're here to give you peace of mind to help you win more business.