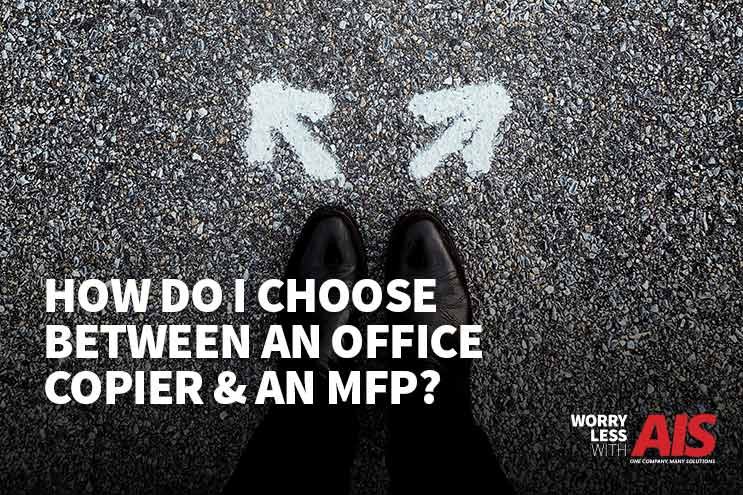 READ TIME: 6 MINS
Technology is continuously evolving at a quick rate, and when your business needs of a new office copier or MFP (multifunction printer), how do you decide which to choose?
When it comes to your office technology, an office copier and an MFP are the same thing, right? Actually, they're not. A copy machine and an MFP are pretty different and can have very different capabilities. Learning what makes these devices different is the best way to make sure you're purchasing the best copier for your business.
An MFP is a multi-function printer/peripheral/product, all-in-one or multi-function device (MFD) which incorporates multiple functions into one office machine. Manufacturers of these devices reduced its overall space or footprint on the floor and can be accessed by the entire office if needed.
Typical MFPs today can copy, scan, print, fax, and email documents. Additional add-on software can allow them to do even more to manage the document workflow and secure documents so that a business can increase efficiency, control access, or meet industry compliance guidelines.
One of the biggest differences between an MFP and an office copier or copy machine is that an office copier is explicitly designed to copy or print. A copy machine is not known for its special features, such as the ability to scan or send documents.
By choosing an MFP, you'll find many different manufacturers and models with varying features, add-ons, and technology. Businesses need to decide which one is best for their business since office copiers usually operate for five years or more, and can range from $100 to over $10,000.
Office Copier vs. MFP: Which is Better?
Doesn't it seem like businesses are constantly working harder than they did the year before, and always looking for more ways to complete their projects more efficiently? As times continue to change and the need for better office technology increases, the demand for a multi-functioning device increases as well.
Just like the digital camera or all-in-one printer, the buying power and sheer demand by you, the business consumer, has required the office copier to evolve and do more.
Over the last few years, we have seen less development in hardware updates (such as new copier features) and more on the software side. Of course, machines are continually becoming smaller, cheaper, and faster, but we see more value-added features being developed that support specific vertical markets, like legal, healthcare, and enterprise corporations.
We're going to leave the comparison of an MFP and an office copier up to you. However, we feel it's important to share with you some new features MFPs can now do. Some of these features include:
Scan directly to email or network folders: Before we had this ability, it took some time to scan a document, store it on a drive or portable USB drive, and walk it back to your desktop computer to then craft an email and send it. Today, you can do this right at an MFP, as long as the MFP has this feature, and the device has been configured by your IT department. You can do so by using the display panel and selecting where you want it to go, such as sending it to a single staff member, a distribution group, or a predefined set of network folders.
Convert to Microsoft Word® with OCR (optical character recognition): This feature has diminished the industry of word processing and data entry. MFPs can scan a document, recognize all of the type on a page, enter all of the characters, and save it directly to a Microsoft Word® document. And, it's surprisingly accurate if it's a good, clean original.
Convert to PDF: Converting a document into a PDF (portable document format) is a time saver that many businesses nowadays, can't live without. As fast as your MFP can scan a document, it can save it into an Adobe® Acrobat® PDF file for you to distribute to anyone for easy viewing or editing access. A PDF document is one of the most common ways businesses share information between their offices, employees, and customers.
File Encryption: The ability to scan and encrypt a file allows you complete control of who can view or use the file once your MFP has converted the document from paper (or hard copy format) to a digital format. File encryption is a very valuable feature for legal teams and medical offices so that they can ensure the protection of their client's legal documentation and patient health and personal information.
Access Control: Access control can provide increased efficiencies for your business, including limited access to machine use by only allowing authorized users to access your device (eliminating use by visitors for devices in open areas), and reducing costs by predetermining which users can use color printing which can be expensive during higher volume runs. If you're unsure of your print volume, managed print services is a great option for you.
To learn more about some of these features, read our article, How to Use a Copy Machine: Basic and Advanced Features.
Make Your Life Easier: Upgrade Your Office Copier or MFP
Whether you're buying or leasing, or choosing to upgrade to an MFP or an office copier, the choice to upgrade should always support a more efficient workflow and business growth. By upgrading your printing or copying device, you should see improvements in the following areas:
Enhanced print quality:

Over the years, your hardworking copier machine has put in the hours to make all of those reports, spreadsheets, and graphics come out in the highest quality for you. Even by taking great care of your office copier by providing routine maintenance, your machine still might need an upgrade due to how old it is. If you want better print quality, you should strongly consider upgrading your office copier to fit the needs of you and your office staff. It may even improve some of your office morale.
More technology options:

The new technology that we see hitting the market nowadays is honestly quite unbelievable. From self-parking cars to home thermostats that you can control from your smartphone, the technological advances in today's digital age are something we are absolutely loving. Why not take advantage of these advances when it comes to your office copier? It would be a waste not to at least learn what these newer models can do for your small business. Additional add-on software allows MFPs to manage your document workflow and secure documents so that your business can increase efficiency, control access, or meet industry compliance guidelines.
More security:

Keeping your business safe and secure should be one of the most important things you focus on. There's nothing worse than your business getting hacked, and potentially losing your valuable and confidential business information and documents. Newer office printers and copiers come with more improved security features designed to prevent unauthorized usage. And like we mentioned earlier, they also include security features that encrypt or protect the data stored on your device's hard drive. You can never be "too" safe from online hackers.
To learn more about security and tips for protecting your business against cyberattacks, read our article, Network Security Issues: 10 Tips to Keep Your Business Secure.
A reduction in the number of service calls:

Does it seem like you or your employees are continually making service calls to your copier repair service to fix your broken office copier? Aren't you getting fed up with the number of calls each month? The older your office copier is, the more issues and problems it will present to you and your staff. Especially if your business prints, copies, and scans in high demands. If you're always dealing with a broken or inefficient office copier, and having to wait for a service repair technician to come out and fix it, it's time to upgrade.
Business growth:

Your business is not where it was ten years ago as far as production goes, making it challenging for your office copier to keep up with the newer and busier times at your company. Upgrading your office copier is undoubtedly a big decision. However, the benefits of doing so can significantly increase productivity and reduce the amount of time you and your employees waste dealing with a broken copier.
Interested in learning even more? Know Techie published an article we think you might like, Greatest approaches to choosing a photocopying machine.
Visit our Office Copy Machine Ultimate Resource Page for additional info on pricing & costs, and just about anything else copy machine related.
At AIS, we are not only focused on keeping our clients well informed of business trends, but we are dedicated to listening to their individual business needs. When we listen, you win. Only then can we begin to craft a technology roadmap that can help you move toward business success using office technology like the most advanced copiers and MFPs, printer and VoIP phone systems, but we can also help you with business continuity, IT outsourcing, and Managed IT Services. So contact us today and schedule a conversation with one of our business technology consultants so we can show you how office technology can offer you peace of mind and help you win more business.
All trademarks are owned by their respective companies.