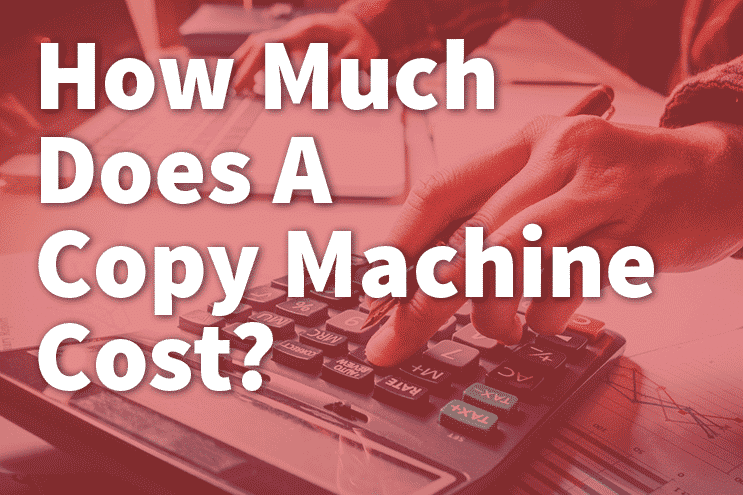 One of the most frequent questions we get asked is… How much does a copy machine (a.k.a. copier or photocopier) cost? Or, what options should I consider before I buy?
If I was a potential customer, I know it's the question I would
ask!
I know our clients and potential clients sometimes become frustrated when we say, "it depends."
Many times we get the response: "What do you mean, 'it depends'? I'm sure you have a pricing sheet somewhere!"
That's true. We do.
The honest answer is still the annoying one though – it depends. Let me explain why it depends and then I'll share actual costs for a copy machine.
All multifunction printers and copiers range in price. Most Black and White printers and copiers cost around $300.00. For more advanced multifunction printers, prices vary between $2,000.00-$15,000.00+.

Copy Machines and Cars They are Not Much Different…
Have you ever bought or owned a car? Ok, that may be a stupid question because most adults in their lifetime have purchased or leased a vehicle.
When you think about it, purchasing a car for yourself or your family isn't much different from purchasing a copy machine for your business.
They are both a significant investment.
You have the option of purchasing or leasing them.
There is a maintenance contract to consider.
You want to make sure you are in good standing with the warranty and you want to ensure they both keep running for years. Make sure you understand the warranty, because not all parts are under warranty and you don't want to do something to your machine that could possibly void it.
And finally, you have consumables for both. For a copy machine, you have toner and paper. For a car its gas, oil, and tires.
Now do you see all of the similarities?


How about the steps you take in making the purchase of a vehicle?
You start off by having a budget and a general idea of what you want, then you start doing your own research. Did you expect to know the exact price before you started looking? (CarMax messes up this analogy a bit, but stay with me.)
First off, what are you going to use the vehicle for? Are you a soccer mom transporting hordes of children to and from practices and games? You probably want to look at larger SUVs or minivans.
Are you looking for a car for a 45-minute commute to work? You want a modicum of comfort, good gas mileage, probably a decent sound system, Bluetooth, and a tight integration with your smartphone.
Are you looking for a driving experience? You want something sporty that hugs the road and can move.
You wouldn't expect one vehicle to meet all those needs. Each of these vehicles will have a different price as well. Then there's the choosing between a sunroof, leather seats, color, and so on.
Let's take a look at the steps of a copy machine
Copy machines and laser printers also come in different models and sizes and from different manufacturers. Some are suited for high-volume needs. Others are perfect for occasional print and copy requirements.
Print envelopes? Add covers?
Print and copy to multiple types of paper stock?
Bind print jobs into books or fold them into pamphlets?
What about security? Do you need to add a card or even biometric reader?
What about sending documents to distribution lists or store them in the cloud
Is your business regulated by industry guidelines like HIPAA in the medical field?
Copy machines and printers meet different business needs. Like the last car you bought, there are options at various price points.
How Much Does a Copy Machine Cost?
With all of that in mind, here's a breakdown of what you can expect a range of color and black and white copy machines to cost.
When you see "MFP", it means Multi-Function Printer, but just think "copy machine." PPM (pages per minute) is the fastest print speed for each device. IPM (images per minute) is the fastest scanning speed for each device.
B&W and Color Printers:
$300–$2,500
This size of printer is generally for individual or small workgroup use. In this range, you can find a B&W printer with speeds of about 47 ppm. Color printers in this range output at 27 ppm (in color and B&W).
Black and White MFP Desktop:
$800–$2,100
If you need one small device to copy, scan, print, and fax, there are a variety of options at a reasonable price point. A good choice for low-volume use. But don't fall for those retail discounted versions. See our article: Laser Printer Repair vs. Purchasing a New Printer
Color Desktop Printer:
$800–$2,100
Again, a small device for individual or small workgroup use. Color speeds approach 32 ppm. Wireless printing capabilities are also often available at this price range.
Higher-Volume Copy machines
As you need more functionality, speed, and quality of output, prices also rise (don't be surprised). Depending on your office environment and volume needs, the lowest volume and cost device could be a perfect fit or you could need to mix and match devices and locations within your office to meet your business's needs.
Many of these copy machines can also enable business apps (scan to cloud or email, print from anywhere, pull printing capabilities, etc.)
MFP B&W | 50 ppm (up to 120 images per minute) $2,000-$7,000
MFP B&W | 80 ppm (up to 220 ipm): $6,000-$11,000
MFP Color | 30 ppm (100 ipm): $3,000-$8,000
MFP Color | 70 ppm B&W, 65 ppm color (220 ipm): $7,000-$15,000
Add-ons (options)
Many of the copy machines and printers you can buy have a range of add-ons:
Paper trays – additional paper trays expand input options and can double standard paper capacity, allowing longer uninterrupted operation.
Finishing options – Do you need to staple? Make booklets? Create tri-folded materials? Options vary by copy machine and manufacturer.
Hardware wipe kits – copy machine hard drives can be a source of insecurity because this is where documents are stored. Wipe kits allow these documents to be digitally shredded. Encryption options are also available.
Card readers – restrict access to authorized users with swipe or RFID cards and can provide you full reporting by department or individuals costs.
Output trays – larger output trays allow you to walk away while large print jobs are running. If you are doing high volume copying each month, this can save labor costs having to refill machines with smaller capacities.
These and other options help you configure your equipment to meet your exact needs and directly be reflected in the cost.
Buying Considerations
So, what do you need to buy? I'm sorry to say again – that depends. Here are a few things you'll need to think about when deciding on the right mix of equipment:
Total employees – how many employees, their locations (all in one office, lots of mobile workers), and their responsibilities
Total impressions volume – how much do you print? Each month? Each year? Do you anticipate this to increase in the coming years?
Level of scanning – do you need to scan documents? What is the expected volume of documents? Will scanning be ad hoc or bulk?
Line-of-business applications – do you need to scan-to-email or other frequently used business software?
Integration of existing infrastructure – will your equipment fit seamlessly (or with minimal disruption) with your current print equipment? How easy is the ongoing management of the printing drivers with your IT infrastructure?
Workflow and document management needs – ensure that your equipment will operate with the software you currently use (or are looking to implement).
Configuration of options—(i.e., finisher, paper capacity, fax) – what add-ons do you need?
Then there are issues of support and maintenance. Can your in-house IT staff troubleshoot copy machines or will that waste more of their time than they have? Do you need a regular maintenance contract or do you want to pay for maintenance as you go? Do you want to buy or lease your equipment? Is a managed document services partner (someone helps you with placement, selection, user training, and then maintains and services your equipment for the life of the contract) your best alternative?
It's never as simple as just asking for the cost of buying a copy machine. Like any technology, your copy machines and printers are business tools – what do you want to accomplish with them?
Once you know the answer to that question, you can start looking for the right copy machine for you.
Visit our Office Copy Machine Ultimate Resource Page for additional info on software & apps, and just about anything else copy machine related.
Here at AIS, we've been helping businesses in Las Vegas, Palm Desert, Orange County, Corona, and San Diego to find the perfect copy machine and office technology solutions for our clients. If you live in Las Vegas or the Southern California area and would like to know more about AIS's services, contact us and we will match you with one of our Business Consultants. Let's start a conversation so we can show you office technology that can provide you peace of mind and help you win more business.