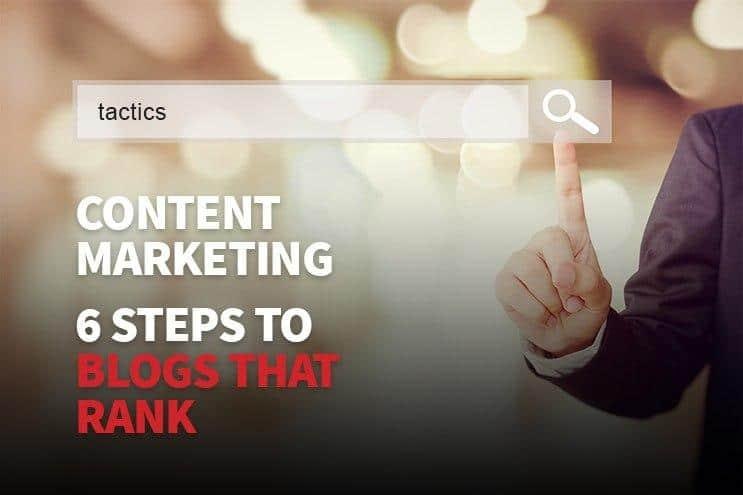 READ TIME: 6.5 MINS.
This article is Part Two of a series on Content Marketing for Blogging. To read Part One of this series, click here.
There's an abundance of information, tools, and strategies when it comes to content marketing and the best practices to make sure your content ranks high. Whether you're a billion-dollar enterprise or a small business, your brand is what sets you apart from the competition and the best way to establishing dominance and recognition online is through high ranks in search results.
What are some best practices your business does to ensure your content is ranking high on Google? What content strategies have proven to work for your company time and time again? What have you done to build a target audience? Wait a second, you do know what content marketing is, right?
If content marketing is a little unfamiliar to you, take a look at an article we recently published, Content Marketing: 6 Steps to Generate Content That Ranks. This article explains the strategy and purpose of content marketing, as well as some great ways to ensure your content makes it to the first page of Google.
Since we've previously discussed the purpose and types of content marketing, we're shifting the focus a little and diving in deeper to explain specific tactics and strategies that have helped us get to where we are, which is all over the first page of Google for over 500 keywords and counting!
One of the most important concepts we can't stress enough is that developing quality content is best when it's created inside your organization. We understand not every small or medium sized business has the marketing resources for this, and there's plenty of third-party companies that provide these services.
However, you are the best source for information about your company, products, and services. You hold the keys to the knowledge and resources your current and future customers are looking for.
Content Marketing Tactics: What Guidelines Should I Follow?
If you agree to the overall concept that content is the right path for your organization, then now is the time you need to go all in! This is something that should be embedded in your company's culture.
At the moment, you might not understand that everyone in your company should be creating blog content. However, it's an awesome goal to set and something to keep on your radar for later down the road.
To read more about why everyone in your organization should be generating blog content, read an article published by Marcus Sheridan, 10 Reasons Why Employees SHOULD be Required to Participate in Blogging and Content Marketing.
Implementing a list of (required) tactics to use in each of your blogs helps make them easily identifiable by the search engines, while also demonstrating consistency. Take a look at the tactics we feel are best when it comes to blog content and remember, these tactics worked for us and got our content to where it is now.
Word Length
Before writing your first article, it's essential to determine how long each of your blog posts is going to be. For us, we settled between 1,000 to 1,500 words, which appears to be the best practice.
If you look around on our website, you may notice a few posts with a word length under 100 words, such as The Definition of an Office Copier [In Under 100 Words]. Some of these short posts rank pretty well. Just Google the phrase, "definition of an office copier" and see what ranks.
There's always an exception to every rule, and since we've been developing high-quality content for a while now, we have the credibility with the search engines and low keyword difficulty (KD). If we just began creating content or didn't have as much of it, these shorter articles probably wouldn't rank.
So we started with the best practice of 1,000 words, and today, we continue to develop pieces of content at or around that same length.
Frequency
Like anything in life, consistency is usually key. Make sure your business is consistently producing content and publishing it regularly. Whether it's one post a week or two (we picked the latter), you need to choose a frequency of posting articles and stick with it.
You can always increase your frequency, but don't get in the habit of doing one on one week and then two another and none the next.
Answering the "Big 5" Questions
The "Big 5" are the basic terms people use when performing research online about a product or service. These terms are:
Pricing and Cost
Best, Best Of, "Top 10"
Reviews
Comparisons, Versus
Problems or Concerns
There are other terms such as, How To, DIY (Do-It-Yourself), What Is/Definition, Reasons, and Pros and Cons. But the "Big 5" is the majority of questions that show up in search and what you should focus on when answering potential customer's questions.
The "Big 5" questions were developed my IMPACT's co-owner and author Marcus Sheridan. To learn more about the "Big 5" questions read his article, The Big 5 Blog Topics Guaranteed to Drive Traffic, Leads, & Sales
H1, H2, H3 tags
H1, H2, and H3 HTML (hypertext markup language, or web page code) tags make it very easy for search engines to identify what the main topics are on your blog post. Your title should always have an H1 tag associated with it.
TIP: Make sure that your H1 tag (the title of your blog), or your headline, is consistent and presented within the first few sentences of your blog post.
Internal and External Links
One rule we always follow is including at least three links in every blog post. Two or more internal links that link to other blog content or to information on your website, and at least one that links to a page outside your website.
High traffic or respected informational resource sites like Wikipedia and Forbes, are great to link to as long as you are linking to information that is relevant to your blog post and the topics you're discussing.
Images and Alt Tags
First, make sure to have at least one image at the top of every one of your blog posts that catches the readers eye and relates to the article or topic you have written. The image should be named to follow the name of your article.
Doing so allows the image to be indexed and displayed in image search. You'll then need to create an "Alt tag or text" for the image. This is a description and should be added to the HTML source code of the blog page.
Many articles reference this and how to write great alt text. You can read more about it here.
CTAs (Call To Actions)
CTAs are usually in the form of buttons or display ads positioned throughout your blog with an offer of something for the reader, such as an eBook or a whitepaper. CTAs should also include a form so you can provide the reader with something of value and in turn, they can provide you with contact information.
Typically, we position two CTAs in each of our blogs. One about a third of the way through and one closer to the end of each article. To see an example of our CTAs, view our article, Finding The Best Office Copier For Your Business Needs.
Pushing Your Site to Search Engines
Whenever you make updates to your website, such as publishing a new article, you should be updating your site map and pushing it out to the search engines. This does two things:
It proactively notifies the search engine of the change, so it doesn't have to crawl your site to update their records.
It notifies the search engines of the frequency and consistency of your content updates.
Search engines crawl the Internet to update their database of information depending on your authority. It could be weeks or even months between crawls. Pushing this information to them increases the chances of your latest updates being seen.
For Google, this can be done on an individual URL basis through the Google Search Console.
Backlinks
Backlinks (or the practice of backlinking) has been around a long time. In fact, some SEO companies rely solely on this tactic for increasing their site value with search engines.
We don't recommend relying solely on backlinking. However, it should be part of your overall strategy. Backlinking is getting an external site to provide a link to the content on your site. The more valuable (higher authority and rank) the site is, the more value it gives your site.
Marketing Efforts: Implementing Content Marketing Through a Team
All of this content effort can be completed alone. Yes, you could do it if it's your only task, but most marketers today have many different responsibilities when it comes to acquiring new customers or building relationships with and retaining your current ones.
To support our content marketing efforts and implementation at our business, we began with a marketer, then added a full-time person to manage our web site and HubSpot (our digital marketing automation platform), then added a video content producer, and content producer (writer).
We started our content producers part-time, but as we developed content and began seeing results, we quickly made them full-time staff members.
Finding the perfect candidates for the right position is the most critical part of building a great content marketing team. All of our team members have a passion for what they do, which made it was easy to teach them the strategy and direction of our content because they enjoyed learning the process and the excitement of seeing the results.
We didn't do this alone, and we were so impressed by the content strategy that Marcus Sheridan provided in his book, we hired his team, IMPACT (www.impactbnd.com) to teach us the strategy in more detail, as well any new developments as they come along. This has really helped us implement his strategy while keeping us focused and on task.


At AIS, we're always excited to bring you new and resourceful information when it comes to business growth and strategy. We've put in a lot of hard work and research to get us to where we are today as far as content marketing goes and building an audience, and we want to share our success so your content can rank high, too! To learn more about content marketing strategies, brand awareness, or about any of the products and services we offer, reach out to one of our business technology consultants, here. Also, check out our video channel on YouTube, The Copier Channel. We're here to give you peace of mind to help you win more business.