Are Copiers Still a Thing? Here's Why You Need Them
August 27th, 2022 | 5 min. read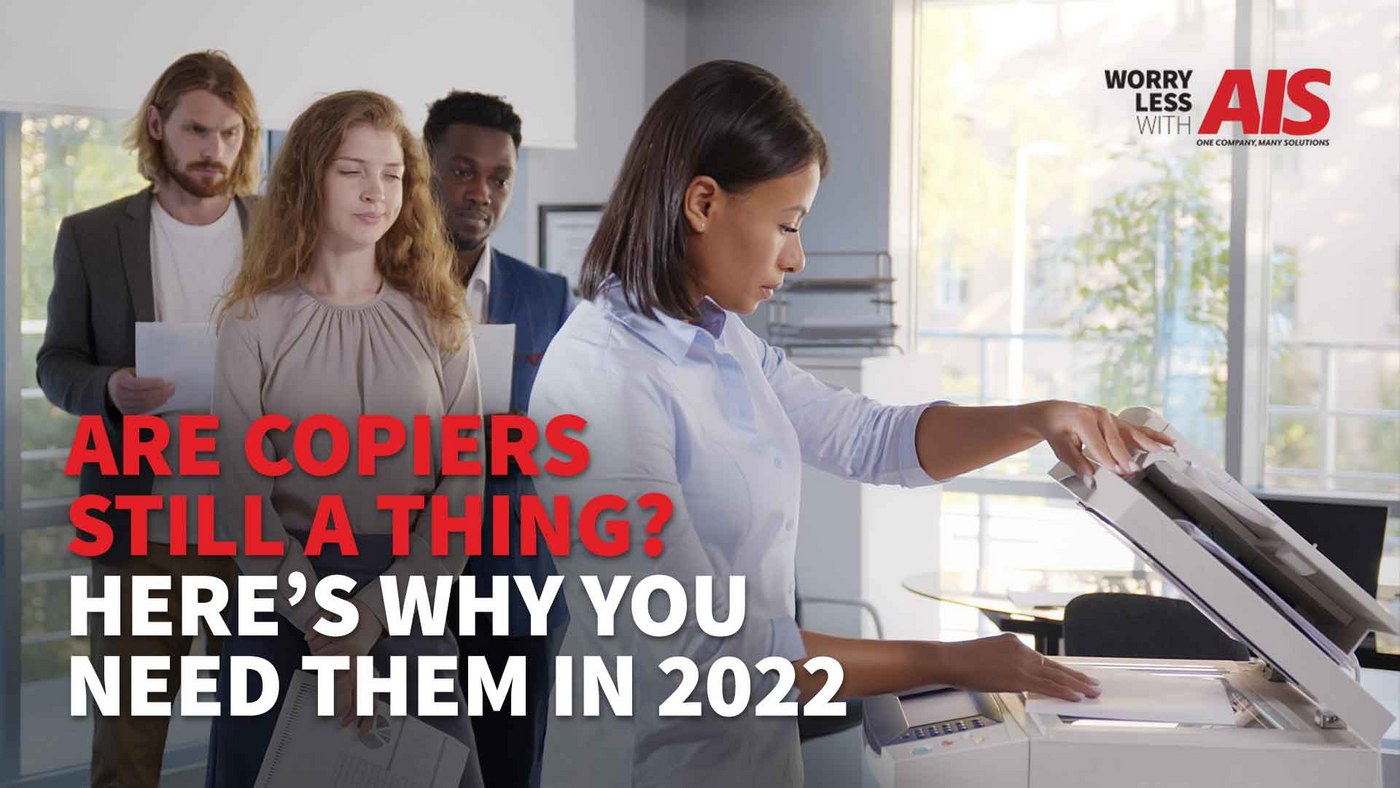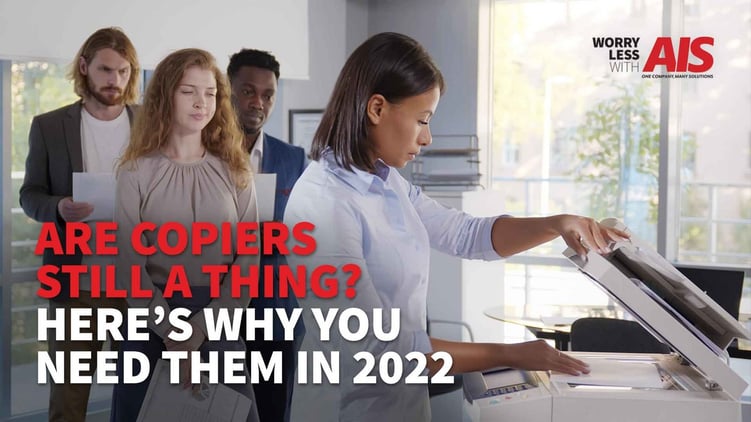 READ TIME: 5.5 MINS.
As the business manager, owner, or CEO, you are tasked with ensuring every aspect of your business is working and delivering as it should. This means you have to focus on the tiniest of details down to your office copier.

Copy machines have been in use for several years, and most small or corporate businesses are beginning to ponder if they are still necessary as parts of office equipment. Regarding office equipment, copy machines remain the most loyal hardworking equipment in any business.

However, as time changes and new technological advancements creep in, most people feel these devices are no longer necessary when they only carve new spots for themselves in the modern business sector.

I want to prove you wrong!

Copy machines do more than duplicate your office papers. They help put you in charge of your office or business paper usage, workflows, and so much more. So, if you are still wondering if they are still important, this article will tell you why you need to keep yours or possibly upgrade to a new one.
Office Copiers Are Still a Thing in 2022: Here's Why
Our world of technology is rapidly evolving—sometimes at a pace, that's hard to manage. Whether it's your IT infrastructure, cloud phone systems, or a simple office copy machine, you need these critical devices to help support your business, employees, customers, and prospects.
Hard Copies Are Technology Backup
Most businesses have shifted to emailing and storing their documents on the cloud, which is a great way to keep up with the times. This helps reduce paper usage and waste and makes work easier for employees. However, it doesn't solve all the problems that your organization could potentially face.

Every business still needs hard-printed copies for several purposes, and technology backup is one of them. There are times when your network may be unavailable, your computers crash, or you face problems with hackers.

In a worst-case scenario, you may permanently lose all your most precious confidential data and files. A hard copy backup plan is the best strategy, and your office copiers can help.

Furthermore, as technology advances, paper documentation remains the only foolproof way of keeping records.
Hard Copy Presentations Create a Professional Look
Presentations are essential for all businesses; it's the best way to gain more investors or to demonstrate to employees how you need specific jobs done. Either way, when working on a presentation to get a potential client, having a printed presentation is a plus.

Present a well-documented and bound presentation to your clients, and you might win the deal. Of course, you may have the visual piece, which only works as a backup plan. But working with an upgraded and versatile copier will give you a vibrant presentation document that will lure the clients into sealing the deal.
Office Copiers Fully Integrates With Email, Cloud, and Mobile Services
As technology advances, businesses and people are going green and trying to make the working experience as paperless as possible. But, of course, this can't entirely be possible. So at some point, you will need some documents in hard copies and distributed to all your employees.

Your office copiers allow you to integrate all your data from other devices and networks. You can scan documents and images and mail them directly through the copy machines.

You can even scan and convert a document into an editable PDF within the copier machine. You can also easily print documents in your cloud system, like Google Docs, and use the copies to improve your business.
Copy Machines Save Money
Whether you run a small business or a large corporation, outsourcing your copy jobs can cause a pinch in your pocket without realizing it. Each time you need a document copy, you'll have to go to a copier store nearby and get the work done.

You end up wasting time and much of your resources. To beat this problem, you can get a relatively cheap office copier. If you already have one, it's best you keep it rather than give up and dispose of it.
Office Copiers Are Multifunctional
Who doesn't need office equipment that does more than its original task? Multifunctional copiers are ideal for saving time, money, and energy. These devices have been upgraded and come in sleeker, faster, and more robust features.

This can allow you access to more copying functions. You can handle all that your modern office needs with a press of just a few buttons. It's vital to note that while using these devices, you need to have a reliable, less energy output which will ensure the device's efficiency, thus delivering maximum results.
All Businesses Aren't Paper Free
You may decide to transform your office into a paper-free environment. However, not all the customers, clients, and businesses you work with are yet on board with your idea. You will still need to serve them without strain to access the information you share.

Therefore, you must have an in-house copier to print and copy hard copies for these clients as they need their documents in hard copies. For this reason, investing in an office copier is best if you don't already have one.

On the other hand, if you have one you've abandoned, perhaps it's time to get in touch with the best copy machine professionals with specialized experience to give it a repair so that it can do what it's supposed to do.
Copy Machines Can Print Mail-Ready Envelopes
If you think the copy machines are outdated, what would you think of the mail services? Well, it's safe to say that mail services still work today, and most businesses rely on them to reach their potential clients.

As your business starts its direct mail campaign, you will need custom-made envelopes with images and address information. However, coming up with these can take a tremendous time toll on your work, bringing the copy machines into the picture.

There is no need to handwrite all the addresses onto the envelopes. Some top copy machines on the market right now will automatically staple the documents per your directives and deposit them in the output tray. With just a few clicks, you shall have saved office time and have perfectly stapled envelopes ready for those mail deliveries.
The Hard Copy Era Isn't Over Yet
As companies and businesses are working tirelessly to shift to a paper-free working system, escaping the interaction with paper is still impossible. This is because there are a plethora of reasons why your business needs to keep the hard copy documents.

As a result, your office must have the most reliable office printers and copy machines on the premises.
The Final Say: Your Business Needs Office Copiers in 2022 and Beyond
Are copy machines still a thing? The plain answer is yes. These devices still play an essential role in managing office workloads. The type of copy machine you decide to get for your business will depend on your workload and the number of tasks you need to complete.

However, before you get one, you need to understand everything associated with it, from the pricing, servicing requirements, and features. This will help make your work easier and keep your machine running for the required time. To learn more about office copiers or the other products we offer, make sure to reach out to us today. We're here to give you peace of mind to help you win more business.
A true southerner from Atlanta, Georgia, Marissa has always had a strong passion for writing and storytelling. She moved out west in 2018 where she became an expert on all things business technology-related as the Content Producer at AIS. Coupled with her knowledge of SEO best practices, she's been integral in catapulting AIS to the digital forefront of the industry. In her free time, she enjoys sipping wine and hanging out with her rescue-dog, WIllow. Basically, she loves wine and dogs, but not whiny dogs.