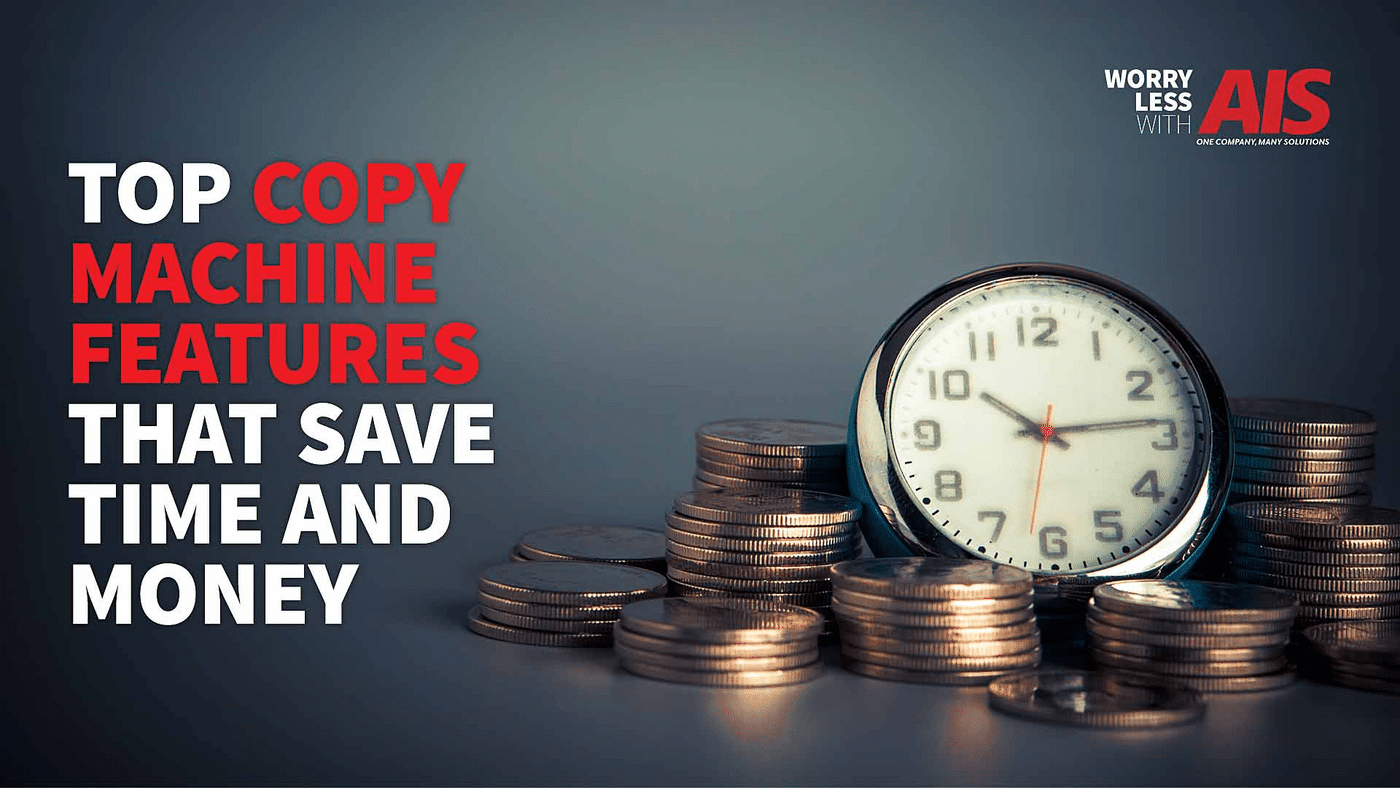 READ TIME: 4.5 MINS.
Office copiers and printers are a necessity within the modern business space as they streamline the workflow. These office staples remain a hidden gem that can help you save both time and money.
The best copy machines should function as more than just a tool for reprinting. Whether you are leasing the copier or looking to purchase one, these are our top 10 copy machine features that save you time and money. Let's dive in!
Top 10 Copy Machine Features: Here's What To Look For
1. Secure Print Release
If you have a multi-printer environment, you want your multifunction printer (MFP) to support secure print release. Users within your print network use this function to release their copies on demand from the central print station.
Besides, employees looking to have their documents copied or printed can choose which machines within your network they would want their documents processed on.
The ideal solution would be to find a copy machine that places the copy in a holding state until the user authenticates its release. Authentication can take the form of the user simply tapping on the printer with their device to release the document. Additionally, you can create a system in which the user gets a QR code that they will then input to the machine to release the document.
2. Optical Character Recognition (OCR)
As you look for the best copy machine for your business, you want to find one with optical character recognition (OCR) capabilities. OCR capability makes it possible for your device to convert any printed characters within your copy into digital text.
This capability makes it easy for you to log each word within your document into a searchable database. Besides, the data therein can be uploaded into an internal drive or within the business' cloud database.
Overall, this capability offers convenience as it saves time, especially during business analytics. Besides, it makes it easy for documents to be shared across different locations, thus making it a core feature for businesses looking to embrace more remote work.
3. Collating and Stapling
Suppose you anticipate that you will frequently be printing large documents that comprise multiple pages. In that case, you want a copier that can gather and arrange all the individual pieces of your copy and order them sequentially.
Fortunately, there are machines currently in the market that can collate and staple your documents.
Note that even the most basic office copier will come with an inbuilt offset collating feature. This means that the end-user does not have to go the extra mile to arrange or staple the documents.
4. Finishing the Document
A step further from the basic collating and stapling would be to find a machine that does the finishing for your document.
As it pertains to copiers, finishing refers to any process that goes past simply stapling the document. It should also punch holes, fold the document, finish the booklet, cut and trim any unwanted parts and laminate it.
Further, you can have a copier that can foil stamp or emboss your document. Overall while machines that could finish your documents as desired were previously a luxury, they are currently a business standard.
5. Automatic Toner Ordering
Imagine the snarl-up when your toner is finished. Your office might be unable to print for days, thus affecting normal business processes.
Fortunately, you can get a feature for your copy machine that automatically orders for your toner. You can register with a compatible toner supplier on the printer management application and automate your toner ordering.
As soon as your machine is connected to the Internet, your selected fulfillment provider gets an update that the toner is running out and that they should deliver the toner to your office.
6. Post Copy Editing
You want to find a printer that allows you to scan and edit the document in question. This comes in handy when there are small changes that you would like done.
Automatically editing the document could include something as basic as adding the dates or a watermark. Still, this saves you significant time that could go into different office processes.
7. Automatic Duplex Printing
Automatic duplex printing involves having either side of your copy automatically printed. This functionality helps you save on paper and time as you do not have to deal with the manual element of a simplex printer.
8. Scan to Email and Scan to File
Scanning then emailing or saving the file where you intended involves too many steps, which take time. Having a machine that can bypass all the extra measures and simply scan and save the document or send it to the mail could simplify everyday office processes.
This functionality scans your document and saves it as a .pdf or .docx, which you can then move to your files or send to yourself or your coworkers as mail.
9. Mobile Printing
The mobile printing functionality makes it easy to print or scan to your MFP from your smartphone. Also referred to as wireless printing, you only need Wi-Fi to connect your phone to your device.
As most phones now come with a printing function, you can quickly eliminate the number of papers you use.
Related Article: How Mobile Printing Works.
10. Selective Reproduction
Saving on paper and toners translates to a reduction in print costs. To do this, you want to select which parts of the copy you would like to print.
Besides, this function lets you cut out any personal or sensitive information you would not want to share with the other parties within the document management cycle.
The Final Say: Top 10 Copy Machine Features
The majority of the features mentioned above are geared towards helping you skip a couple of steps as you carry out your daily copy processing. These play right into a business world trying to go paperless, stretch margins, and scale faster as business processes increase.
The business consultants at AIS step in just when you need help figuring out your office copier and print ecosystem. We are committed to helping you better understand what features the copier machine you have or look to lease or purchase should have. Make sure to get in touch with us today to get on your journey towards more efficient copy printing. We're here to give you peace of mind to help you win more business.