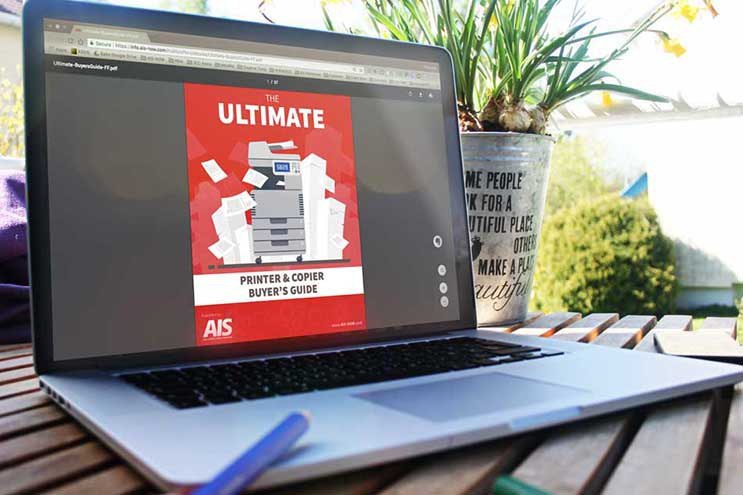 Are you considering purchasing a new printer or copier for your business? Are you in desperate need of a new one but not sure where to begin? Then you need to download and read The Ultimate Printer and Copier Buyer's Guide.
Maybe this is something you've put off doing because you don't have the time to dedicate to researching copy machines or the energy to spend doing so during your busy workday. Heck, maybe it's due to the fact that you only purchase a new printer or copier every 3-5 years, when the lease is up or when it's about ready to die.
If this is the case, know you're not alone. Many people just like you are currently facing the same problem, and find themselves asking…
"What is the easiest way to learn about printers and copiers to ensure I purchase the best one for my needs?"
Well, guess what? We hear you and are here for you, to make this process easier and more manageable. We know your work days are booked continuously with meetings and endless tasks to complete. Buying a printer or copier shouldn't have to add to that stress.
We've created an Ultimate Printer and Copier Buyer's Guide eBook, free for you to download and reference whenever you find the time. You can reference this eBook over and over again, especially when you're looking for a new copier, copy machine, printer or MFP (multi-function printer)

To simplify this process even more, we're going to tell you everything you'll uncover in the buyer's guide, showing you how much this eBook will come in handy for your business. You may even want to share this with your friends or other local businesses.
We want to see your business grow to its fullest potential and if we can bring you the resources to do so, our job is done!
What are Your Printing and Copying Needs? Do you Even Know or Care?
In The Ultimate Buyer's Guide, we take you through every step that guides you in making the best purchasing decision for your business.
The first step is assessing your needs and breaking down the specifics you need and want in a multi-functioning printer (MFP).
To do so, we've created a checklist for you, giving you a better understanding of your office printing and the features that will best benefit your employees.
You can find and download the checklist directly from your eBook, or you can download it right here using this link: Best Office Copier & Printer Checklist.
Once you've successfully evaluated your office needs, you'll then need to choose a service provider that best serves your business.
How do you choose the best company for your needs? Factor these points in when making your decision:
Response Time:

Don't you hate it when your printer or copier service provider takes

forever

to return your calls? Or even worse, they don't return your call at all? We know this is something you don't want to deal with when choosing a service provider and we've got tips to show you how to avoid this issue. The industry standard is 2-4 hours. You should and can demand a faster response time.
Expertise:

You wouldn't take your Ford to a Nissan dealership to get it fixed, would you? The same thing goes for a copy machine. Making sure the service professional is qualified, keeps up-to-date on all new equipment to work on your specific product. This is the best way to ensure the machine is fixed and running well.
Warranties:

Have you noticed that when you go to buy a new electronic device or piece of equipment, the salesman always asks if you'd like a warranty? It's not a bad idea, is it? We feel the same way about printers and copiers. They can be an expensive purchase for your business.



For an in-depth description of these tips and much more, check out our article here.
In The Ultimate Printer and Copier Buyer's Guide, we've also provided you with a list of some of the best copy machine manufacturers.
We then break down new equipment versus used/refurbished equipment by deciphering the differences along with the steps you should take before purchasing a pre-owned or refurbished copier or printer.
Getting a Quote: Retail versus Authorized Dealers
If (and when) your printer or copier breaks down, you've got to decide which company will repair it. You also might need to decide if you're better off fixing your old printer or purchasing a new one.
In your eBook, we answer the following questions helping make this decision easier.
What do you get with a $100 laser printer?
What's hidden in the specifications of the $100 laser printer?
What's an alternative? How about an authorized reseller printer for $300?
What do you get when you purchase a $300 laser printer?
What are future supplies and costs?
Want to read more about these questions and compressions? Read our article, Laser Printer Repair vs. Purchasing a New Printer.
The Importance of Service
Just like any other equipment, like your car or even home appliances—your multi-function printer (MFP) will tell you when it needs a copier repair service.
Your Ultimate Buyer's Guide goes in depth on the following service issues and concerns:
The "Call for Service" indicator
Is it time for Preventative Maintenance?
Your prints or copies can tell you a story
Your machine needs toner all the time
Long wait times warming up
Unable to scan
Features have stopped working
How Important Are Warranties To You?
When buying a copier, you're planning on owning this equipment for some years, right? If so, you should know what the hardware's warranty is before you buy it. Each warranty is slightly different, covers different items, and has different names for each of the various parts they cover.
Here are the most important specs of copier warranties we feel your warranty should cover:
The product itself
Consumables (ink and toner)
Routine Maintenance
Options / Upgrades
Accessories
The Copier Drum
Chron.com published an article, BBB: Buyer has right to review warranty before purchase You can apply this article to just about anything you are considering purchasing, especially a printer or copier.
How Are You Paying For Your Lease or Purchase?
If you are considering leasing (as opposed to buying) these are some of the topics we go into for you to consider:
100% financing of your copier into one low monthly payment
Purchase the best product and don't let your budget dictate your purchase
Take advantage of the economy and betting against inflation
Cash flow and credit lines
Option to buy
Better than a conventional loan
Upgrades are easier
If you are considering buying a printer or copier, we've given you these topics to discuss:
Who is the service provider?
What's the term of the lease?
What's the rate?
Can you save extra cash flow by extending the lease a few months?
What's the buy-out at the end of the term?
Are there any other "special conditions" like upgrading before the term is over?
The final part of your Buyer's Guide discusses removing your old office equipment once you purchase a new printer or copier. Although this part of the process isn't always talked about, it's valuable information you should know.
We hope that after reading this blog, you truly do see the importance of owning your copy of the Ultimate Printer and Copier Buyer's Guide. The guide is here to help make your process of buying or leasing a printer or copier easy and manageable, regardless of the type of business you own or work for.

We take you through the steps of your individualized search by assessing your specific needs, directing you to the most qualified service company, tips on obtaining fair and honest quotes as well as explaining the importance of purchasing a warranty.
If you are ready to download your copy of the Ultimate Printer and Copier Buyer's Guide, click here.

After completing this guide, we guarantee you will be more satisfied and knowledgeable about purchasing the best printer or copier that suits your business needs. AIS is always creating new useful resources for your business to help it grow and maintain its success. We know we can help you assess your business, no matter what they may be. If you'd like to speak with one of our business consultants, submit a request here. You deserve peace of mind that will help your company win more business. And don't forget to check out our latest educational and entertaining videos on The Copier Channel.