Are those discount laser printers at retailers a good deal?
So your laser printer just failed, and now you have a decision to make. Do you buy a new printer or repair the old one? Seems like a pretty easy decision, right?
Well, the decision may be easy if you want something new and shiny because the old one wasn't cutting it. Or you think you may be saving some extra money by just repairing it.
Buying a new laser printer is as easy as clicking the "add to shopping cart" link on amazon.com, or clicking one of the hundreds of Internet ads you see for cheap black and white laser printers at your nearest big box retailers like OfficeMax, Staples, BestBuy, Sam's Club, etc. Here's an example: Laser printers at BestBuy.
Each week these companies send out an advertising supplement or advertise online with a $100 - $150 laser printer in it just waiting for yours to break.
The prices are getting so cheap it's almost as if you can just keep buying a new one every time your printer needs to be repaired or fails entirely. Or is it that too cheap?
Are you getting a REALLY good deal on a $100 - $150 laser printer from these big box stores?
Let's take a deeper look.
What do you get with a $100 laser printer?
A laser printer with toner for printing the first 700 pages
Print drum: It comes with a print drum that is rated to last up to 12,000 prints and a recommended print volume of 250 – 2000 pages per month
Speed: Up to 32 PPM (pages per minute) but watch out for the words "up to" before any claim because this is usually based on printing a page with 5% coverage (a four-sentence paragraph)
Print quality: 2400 x 600 dpi (dot-per-inch) print resolution
Networking: Ethernet ready
Duplex printing: It can print on both sides of the page automatically
What's hidden in the specifications of the $100 laser printer?
First of all, what are you getting for the price? A laser printer with a small toner cartridge. The laser printer is pretty "low end" or cheaply made to keep the costs down. How do you know? Just take a look at the printer's specifications.
Future supplies and costs: keep these handy as we compare the alternative. The results will surprise you.
Replacement toner: The cost to replace toner each time is approximately $55 for a toner cartridge that will allow you to print approximately 2,600 pages. This will cost you approximately two cents ($0.02) per page. This information is based on online pricing we gathered for the printers we reviewed.
Replacement drum: Every time you print approximately 12,000 pages you will need to replace the printer drum which will set you back about $100. This may seem a bit odd, but the drum costs the same price of the printer you originally purchased. You may want to consider purchasing a new printer each time.
What's an alternative? How about an authorized reseller printer for $300?
Why would we you even want to consider this? Well, you can spend more money upfront on a laser printer from an authorized reseller, and don't forget a service and supplies contract. That doesn't sound like a viable alternative. Does it?
Let's see how that stacks up.
What do you get when you purchase a $300 laser printer?
A laser printer that comes with enough toner to print the first 2,300 pages
Print drum: comes with a warranty for 200,000 pages and a recommended print volume of 2,800 pages per month
Speed: 37 PPM (pages per minute); again, they use the words "up to" before any claim because this is usually based on printing a page with 5% coverage (a four-sentence paragraph)
Print quality: 2400 x 600 dpi (dot-per-inch) print resolution
Networking: Ethernet ready
Duplex printing: It can print on both sides of the page automatically
Future supplies and costs:
When purchasing from an authorized printer reseller, the pricing is configured a little different. Make a note of these cost as we compare the alternative. The results will surprise you.
Replacement toner: With this type of printer purchase, replacement toner is bundled in with your service contract for supplies and maintenance. It is charged to you based on monthly print volume at a cost per page. Typically, it should be half the price (about one cent per page) of what you would pay for the toner for your printer if you purchased from the retailer as we've reviewed above.
Replacement drum: The cost associated with this item does not even need to be considered since the printer's drum has a manufacturer's warranty of 200,000 pages.
How can an authorized reseller afford to provide a supply and maintenance cost that is half the price of the retail store's printer toner?
For starters, the drum doesn't have to be replaced as frequently. Practically not at all for the lifetime of the printer. Second, they didn't offer you the price ($100) of the printer at such a low-profit-margin, so they don't have to make up their costs in order volume or consumables.
Plus some other areas that they aren't counting on you to consider.
Summing up the Specs of the Two Printers
All in all the two printers are very similar when comparing them feature to feature. The big differences are the initial purchase price, operating costs (toner, drum, and warranty), speed, and longevity of the product.
So how do we determine which of these two alternatives is REALLY cheaper and best for your business? The best way to do this is to create a real-world type situation, put some assumptions to it, and see how they pan out.
Why do we always go the more expensive route?
When we are looking to replace our laser printer for our small business, we take the path of least resistance. What's the fastest way to get a new printer at a low price? We go right to Google or an online retailer, pick one out, and click. It's way too easy. But before we do that, there are some costs we should consider first.
To do a real comparison of what these will cost you to run your business, let's begin with how much you will be using a printer in a small office.
A Real Office Example: Small Office with 3 Employees Needs a New Printer
With more and more business being performed online today, there is still a need for paper to be printed. Let's take a look at a small business office with three employees that needs a new affordable laser printer. They each print on average about 25 pages a day. Which is 125 pages per week, 500 pages per month, and 4,800 pages per year. Multiply that by the three employees, and you are printing about 18,000 pages per year. That sounds like a lot, doesn't it?
To compare that to current research, an article at Mashable.com: Average U.S. Office Worker Uses 10,000 Sheets of Paper Per Year by PaperKarma.com states that the average US office worker uses about 10,000 pages per year. Our example is a more conservative approach.
In this scenario, what are the costs associated with each of the two different alternatives: the $100 retail printer and the $300 authorized reseller printer for year 1 and 2?
In the first year, after purchasing both printers, using the toner that came with the initial purchase of each device and replacing it throughout the year, then replacing the drum on the $100 printer vs. paying your monthly service contract for 12 months, the $300 printer would cost you about $90 less in overall operating costs.
In the second year, the same type of purchases would need to be made. For the $100 retailer printer, more toner and a new drum. And for the $300 authorized reseller printer, you would just need to purchase a supply (toner) and maintenance contract. But now the gap widens even further due to the supply costs and drum for the $100 printer. At the end of year two, you would save approximately $220 in lower operating costs if you purchased the $300 reseller's printer—and save nearly $250 for your business over two years.
This doesn't even take into consideration the amount of time you save in labor costs for your employees waiting for printing. If you use these same numbers, you will save about an hour in labor time each year between the two printers we reviewed. It's not much, but it does add to additional cost savings.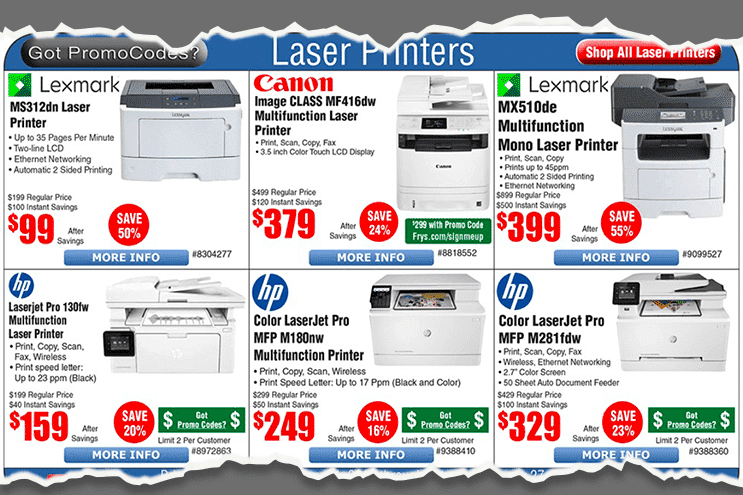 What's best for your small business, a $100 big-box retailer's printer, or buying a $300 reseller's laser printer?
The answer to this question really lies in how much volume your office does in printing each year. If you are a small business office that only prints altogether a total of 25 pages per week, then a $100 laser printer will be just fine for your office. And you may just want to buy a new one each year. The cost of the replacement drum is about the same price, and you will get a little extra toner built into the price. But if your office is printing contracts, sales orders, communications, flyers, etc. and you're printing any more than that, you should consider buying a reseller's entry-level laser printer with a service contract since it will save you money year after year.
At AIS, we want to have the most informed clients in the industry. The information in this article is a prime example of information that small business owners could use to their advantage. By researching annual operating costs and how they can turn into profits, this can turn into savings for your business. Interested in learning how business technology can be put to work for you—and help you win more business? Schedule a conversation with one of our business technology consultants today.