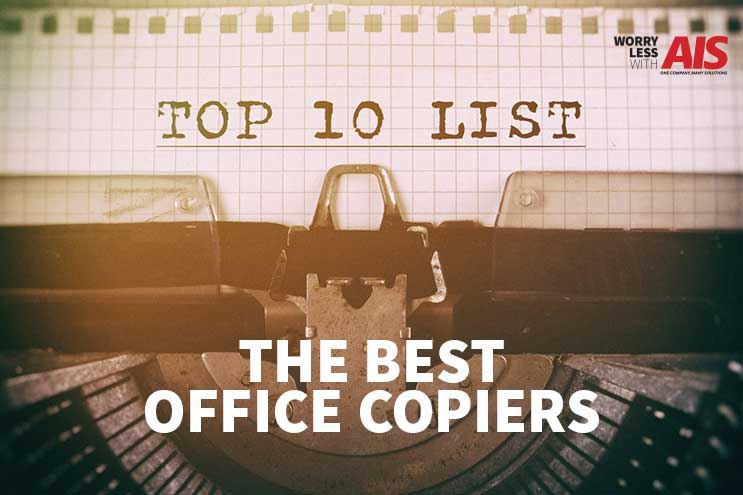 Is your business currently looking to purchase a new office copier but you are stuck wondering which one to buy?
We get it. Not only is it an economic decision that could potentially cost your company a lot of money, but it's also hard to sift through all of the options online.
List of the Top 10 Office Copiers:
Kyocera ECOSYS M6235cidn

Kyocera ECOSYS M6630cidn

Lexmark CX517de Color All-In-One

Xerox WorkCentre 6515DNI

Xerox VersaLink C405

LexMark MC2535adwe

Canon imageRUNNER 1433iF

Brother MFC-L8850cdw

HP LaserJet Pro 500 Color MFP M570dn

LexMark MC2425adw
Click here to read the full list.
Read more on how these printers were ranked and judged below.
How do you know what specific features your business needs? What does one office copier have over the other? They all seem the same, right? Then add terminology like multi-function printer (MFP), a new name for your copier or copy machine, and it can get even more complicated.
We are here to help your business make the best decision, and we've done the homework for you. We've created a list of the Top 10 Office Copiers your business can choose from so you don't have to continue surfing the web, looking at unfamiliar machines.
Have you also been wondering if you should purchase or lease your next office copier? Read our article, Purchasing vs. Leasing a Copier: Which is Best for My Business? This article points out the differences of leasing and purchasing and which option is the best for your company.
One of the most critical business decisions you can make when purchasing an office copier is to be knowledgeable on some of the different types and their features. Most new office copy machines do the same things, but how they do them and the rate they do them at certainly varies— and don't forget about costs.
Another part to this equation that you should consider is the growth and the future of your company, no matter if your business is big or small.
You want to make sure you purchase a device that grows with your business by matching your volume needs, choosing one that is affordable at the initial purchase, and doesn't bankrupt your business when purchasing toner or maintaining it.
It wouldn't do your business any good if you made an investment that was too expensive for you to afford down the line when your printing volume increases.
Our Reasoning: Why Does Our Opinion Matter?
To ensure a fair outcome for each office printer we reviewed, we used a grading system for each and assessed them using six different features or criteria. We scored each office printer using a "1 to 10" system with 1 being the lowest.
*Note: All printers used to create this review had a cost ranging from $499 to $1,400 and did not include any refurbished, previously owned, or used office printers.
Here are the six different criteria we used to grade and rate each office copier:
Cost: We know that cost is one (if not the most) important part as you consider your next copier.
When you start considering the different costs that come with an office copy machine, there are short-term and long-term costs. A short-term cost may be the initial purchase cost of the machine. A long-term cost could be toner cartridges or service (operating costs) you'll have to regularly replace and/or to maintain your office copier keeping it up and running.
Each copier reviewed had different costs and volume limits for its toner, monthly duty cycles, and replacement limits for drums. Even toner volumes differed for individual copiers and toner color.
Another important factor we included when grading each office copier cost was the total cost per page, or how much it costs when you print color versus black and white.
Quality: You don't want your prints to come out looking subpar, do you?
Maybe you only need your office copier for printing reports, and not so much graphic design. We understand that quality might not be the most important topic on your list of wants. However, no one deserves a copier that produces blurred fonts or lines across your prints.
When reviewing the quality of each office copier, we looked at two different areas: the quality of printing and the quality of scanning. Just because your office MFP prints well, doesn't mean the scanner does a good or efficient job.
Pages Per Minute: If you're working fast throughout your busy day to complete your tasks, so should your copier.
Learning the pages per minute (ppm) of your office copier was rather easy for us to measure as each copier's manufacturer posts the number of prints their device can print over time.
The manufacturer can specify the number of pages the copy machine can scan per minute, as well. This rating is characterized using "ipm" or images per minute.
Using these numbers and doing the quick math based on your current printing and scanning volume and what you are forecasting in the future can be an easy way to determine costs associated with a specific device.
Warranty: Even if you're paying a little more upfront for this, it is ALWAYS worth it.
It would be of poor decision to purchase an office copier without a warranty. Your office printer is sometimes the root of your business and if (and when) it breaks down, you should want peace of mind that you won't have to spend money on replacing the parts.
Typically, office printers have a one year warranty, and nowadays, most warranties are even more than a year on specific parts such as a drum.
Want a more in-depth description on copier warranties? Check out our article, Copier Warranty: Are all copier warranties equal?
Memory: We remembered to look into this feature!
The amount of memory in multi-functioning copiers is an essential feature because it affects the time it takes before an image or report prints, the number of pages the copier can scan and store before it's full, or the time it takes to copy a single image or multiple images.
The memory of an office copier or MFP is similar to the memory of your smartphone. You want to make sure the amount of memory your office requires comes with the copier you choose.
Network Connection: Can your office copier connect to all of your employees?

If your business consists of six employees or 2,000, your office copier must communicate and connect with your company. It's essential for the devices to be networked so that your staff can print or scan, send, and distribute files to a directory, email address, to their inbox, or to other employees.
It's even better to find copiers that offer wireless networking capabilities, or copiers that allow you to print from individual mobile devices.
Staying connected is essential and the only way to ensure that is by having the right office copier to do so.
The Rankings Are In
So now that we told you how we decided to rank each office copier, we're ready to tell you which ones ranked the highest to us.
And please keep in mind, even if the office copier you've been eyeing isn't on our list, doesn't mean it's not a good fit for your business. Each business is different, and every employee has different needs and priorities.
Here is our list of top 10 office copiers we believe most businesses will have the most success using.
Kyocera ECOSYS M6235cidn: The ECOSYS M6035cidn color MFP elevates desktop power and flexibility to the next level. This MFP prints 35 ppm in B&W and color that comes with business applications and powerful document imaging. The M6235cidn comes with a tablet-like color touch screen, adding effortless operation at the device while also giving you the option to use wireless printing with the standard Apple AirPrint feature. If you're looking for a budget conscious, small footprint device, this is for you. (1)
Kyocera ECOSYS M6630cidn: Kyocera developed these new A4 colour devices, designed specifically for small and medium-sized work groups, offering both reliability and fast output speeds. This Kyocera comes with a high-speed scan up to 60 ipm via 75 sheet reversing document processor, mobile printing and includes up to 5 input trays for various media types. This is one of the more expensive MFPs but with this, you truly get what you pay for. (2)
Lexmark CX517de Color All-In-One: The CX517de delivers color printing, copying, and scanning up to 32 pages per minute and also includes Gigabit networking, advanced security and duplex scanning, plus mobile print capability. Lexmark's exclusive Unison Toner keeps your cost of printing low, with toner yields that provide great value at budget friendly prices. You can also add optional trays up to 1,450 sheets, so you won't have to add paper as often. (3)
Xerox WorkCentre 6515DNI: This Xerox Color MFP is perfect for your small or medium-sized business. This MFP can print up to 30 ppm and scan up to 21 ipm, a paper capacity of 250, and includes 2GB of memory. It also includes mobile solutions and mobile device apps such as Mobile Express Driver, Apple AirPrint, and Google Cloud Print. Even better, it comes with a one-year warranty. (4)
Xerox VersaLink C405: The VersaLink C7030 Color Multifunction Printer is built on Xerox ConnectKey Technology offering flawless reliability, seamless integration, and advanced productivity. The C405 provides cloud connection and includes a mobile-ready app which is easy to personalize. The print quality ranked high as the print resolution delivers up to 600 x 600 dpi with exceptional color vibrancy and fine line detail. The machine can print up to 36 ppm and up to 80,000 pages per month. We ranked the cost to be very affordable, and a one-year warranty is included. (5)
LexMark MC2535adwe: The MFP Lexmark MC2535adwe builds on color output of up to 35 ppm with a 4.3-inch color touch screen. Beyond included USB and gigabit ethernet, this device lets you connect wirelessly via built-in Wi-Fi, as well as AirPrint, Google Cloud Print, and Mopria on any network with existing Wi-Fi access. Their security features help keep your information safe—in the document, on the device, over the network and at all points in between. We ranked this to be very affordable and also like that it comes with a one-year warranty. (6)
Canon imageRUNNER 1433iF: Canon is a long time leading brand in the color copier field and this model can print 37 ppm and scan 29 ipm. This copier is an all-around solid product. It has a duty cycle of up to 60,000 pages per month. It has all of the features the other printers in its class have including Gigabit Ethernet, mobile printing, and faxing. It also comes standard with a paper capacity of 500 sheets of paper and the only other copier manufacturer to use toner bottles, eliminating toner cartridges. Like Kyocera, Canon offers excellent color quality and a host of document management and security options. (7)
Brother MFC-L8850cdw: This laser all-in-one printer is ideal for a mid-sized business with high printing demands. With speeds of up to 30 ppm, and a print resolution of 2400 x 600 dpi, you really can't go wrong. This machine also comes with a one-year limited warranty and has advanced security features to help secure your documents, network, and the device itself. Based on all this can do, we have ranked the price to be very fair and affordable for just about any business out there. (8)
HP LaserJet Pro 500 Color MFP M570dn: This HP LaserJet might be the perfect desktop printer for your small business. This MFP has a resolution of up to 600 x 600 dpi for both B&W and color, a monthly duty cycle of up to 75,000 pages, and can print up to 31 ppm. You have the ability to print from your smartphone or your tablet with HP ePrint. Not only is this machine great for the environment, but your wallet as well. (9)
LexMark MC2425adw: The Lexmark MC2425adw packs reliable, productive and secure color multifunction performance into a small-footprint package with output up to 25 ppm. With its small footprint, the MC2425adw is easy to find a place for. The new front-panel power button and direct-print USB port, 2.4-inch color LCD with keypad and secure browser-based device management make it easy to interact with. With its steel frame, long-life imaging system, ease of upgrades and robust paper feeding system, it's ready for lasting performance in any environment. (10)
Interested in learning even more about choosing the top office copier for your business? You may enjoy reading this article Business News Daily published, How to Choose a Copy Machine for Your Business.
Consider Your Business Needs
Even though you might think you know what you want out of an office copier, it's still important to do your research and make sure you choose the right MFP that will not only benefit your business now but in the future as well.
Weighing your specific priorities such as cost and print resolution is a great way to sift through all of the printers currently on the market. The more educated you are on these machines, the better decision you'll ultimately make, and the happier you'll be!


AIS understands how challenging it might be when looking for the best printer for your business and that's why we are here to assist you. Whether you've just begun looking at options, or far in the process, we will always provide you with the most and reliable information you need to make the best decision for your company. If you have any questions or want to speak to one of our business consultants, reach out to us here. You deserve office technology that provides you peace of mind and helps you win more business.
Sources:
1. https://www.kyoceradocumentsolutions.eu/index/products/product/ecosysm6235cidn.html
2. https://www.kyoceradocumentsolutions.co.uk/index/products/product/ecosysm6630cidn.technical_specification.html
3. https://www.lexmark.com/en_us/printer/11134/Lexmark-CX517de
4. http://www.office.xerox.com/latest/65XSS-02U.PDF0
5. https://www.office.xerox.com/latest/VC4SS-02U.PDF
6. https://www.lexmark.com/en_us/printer/12479/Lexmark-MC2535adwe
7. https://copyfaxes.com/media/d/canon_1400_series.pdf
8. https://www.brother.com.au/brochures/MFC-L8850CDW_Brochure.pdf
9. http://www.hp.com/hpinfo/newsroom/press_kits/2012/FallBizPrinting/HP_LaserJet_Pro_500_color_MFP_M570.pdf
10. https://www.lexmark.com/en_us/printer/12478/Lexmark-MC2425adw