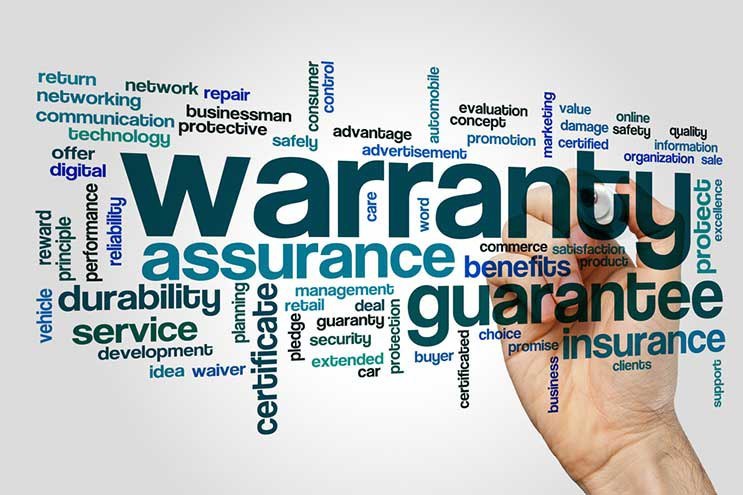 When buying a copier, you are planning on owning this equipment for some years, right? If so, shouldn't you know what the hardware's warranty is before you buy it?
Wouldn't it be nice if all of the manufacturers got together and provided one standard warranty that business owners could understand?
Sadly, that's not the case. Each warranty is slightly different, covers different items, and has different names for each of the different items they cover.
In this article, we're going to help make sense out of copier warranties by first looking at the basics before diving into some of the nitty-gritty details. By the end of this article, you'll be armed with enough knowledge to make the right decision purchasing a copier with a warranty that works for you.
What's in a copier warranty?
First of all, buying a copier or multi-function printer (MFP) is not the same as buying a printer from a retailer. Most of these types of all-in-one printers or copiers come with a standard one year warranty on the equipment. Next, you won't be buying a new copier without a service contract and expect the manufacturer to provide you their warranty. A service contract provides you scheduled cleanings and maintenance recommended by the manufacturer to keep your device in good working order. Service contracts include preventive maintenance, some parts, and even toner.
I know this may be a recurring theme in our posts, but this is very similar to a vehicle warranty. You need to maintain regular maintenance (based on mileage by the manufacturer) and only use recommended materials (specified filters, tires, gas, and oil) to keep your machine in top running order.
A copier warranty usually includes:
Product:
The manufacturer's product warranty is usually ninety (90) days to one (1) year or the number of copies, whichever comes first. This part of the warranty protects against any of the manufacturer's defective parts. It usually also disclaims any mishandling, use, alteration, etc. of the original product. If the product is found to have been altered, misused, damaged, or harmed in any way by you or your staff, you could be accountable for damages and the warranty could be voided.
Consumables (ink and toner):
Manufacturers do not like you to put any ink, toner, or other consumables into their equipment, except for their specified or recommended products.
This is due to a few reasons. They know their consumables have been fully tested for their product and it's a good way to keep your product in good working order. Other companies cut corners and provide an inferior product; while you think you may be saving money, you can do more damage to your machine using these other types of products.
Then there are the "Toner Pirates." These guys are trying to steal toner business where in the end you wind up paying a lot more. Here's the full story. Copier manufacturers also use consumables as another way to make revenue and keep their overall pricing down on their products. So think twice about using other consumables in your product. It's not worth it in the long run and it's a sure way that you can have your warranty voided.
Routine Maintenance:
As mentioned earlier, the manufacturer of a copier or MFP, for it to meet its minimum warranties for use and parts, requires the equipment to be maintained on a regular basis. As part of your warranty program, you will need to subscribe to a routine maintenance program.
Options/Upgrades:
These may be in the form of software or hardware and usually come with their own set of warranties. You should read their warranty information separately as it may be different than your copier's warranty. Your options or upgrades may have been developed by a third-party for your copier or MFP. In this case, you want to be sure that they are approved for use by the manufacturer. You will also want to review their warranty as it pertains to your equipment and purchase.

Accessories:
You may purchase additional accessories with your copier like a finisher/stapler, booklet folder, mail sorter, hole punch, etc. These usually come with their own set of warranties for each specific part, or if bundled with the original purchase of equipment the manufacturer or reseller may include them in an overall warranty of the system.
The Copier Drum: Why is the Warranty on this Part so Important?
The copier drum is one of the most integral parts of a copier, MFP, and printer. It is like a rolling stamp that statically charged toner sticks to and then is placed on each page of paper to create an image.
Most copier drum core material is either plastic or aluminum. When the core is continuously heated and cooled many times during the lifetime of the copier, the material cannot sustain the same shape and form. Almost all copier companies have a limited warranty on their copier drums. If they do, it may be for 90 days or number of impressions, whichever comes first, and against major defects.
If your copier drum does have a warranty, read the fine print. It may be prorated based on its use (number of impressions). For example, if it fails during the warranty period, the manufacturer may only value it for the time left on the warranty for replacement.
Warranty and Cost? What could they have in common?
Of course, everything has a cost associated with it when it comes to buying a copier. There's the purchase price vs. a lease payment, service contract, toner, and supplies. We are so focused on these main costs, we forget about some of the copier costs that may be more subtle and should be calculated into the lifetime costs associated with the device. A warranty is one of these subtle costs. If you have to replace a major part, like a copier drum, every 90 days or once a year based on the amount of your copy or print volume, then why wouldn't you calculate this into the overall price? I think it's because we just don't think of these things when purchasing a new copier.
Let me give you an example. Kyocera, a copier manufacturer, has an unprecedented 1 million to 3 million impression warranty on their copier drums. This is because their cores are made out of ceramic, unlike most major brands of copiers. It takes less energy to heat the core, and the properties of its ceramic base material can take more continuous use. If for some reason it fails at 999,999 copies, they will replace the drum—and they don't prorate it for prior use.
Now if you only have to replace a copier drum every 1 million copies, wouldn't this reduce your overall monthly service calls resulting in lower operating costs? It does. Read more on How much does a copier cost? There are some considerations everyone needs to know before purchasing their next copier.
At AIS, before choosing a partner like Kyocera, we considered what would be the best product to offer our clients that would provide the best value now and as they grow in the future.
We believe that a copier warranty is not just added insurance against defective workmanship, but something that should be considered in the overall buying decision for a copier, MFP, or printer.
Would you like to know how you could start taking advantage of something as simple as a copier warranty to lower your overall operating costs? Schedule a call with one of our business technology consultants so we can learn about your business and how we can help make office technology work for you and give you peace of mind.
Visit our Office Copy Machine Ultimate Resource Page for additional info on features & benefits, and just about anything else copy machine related.