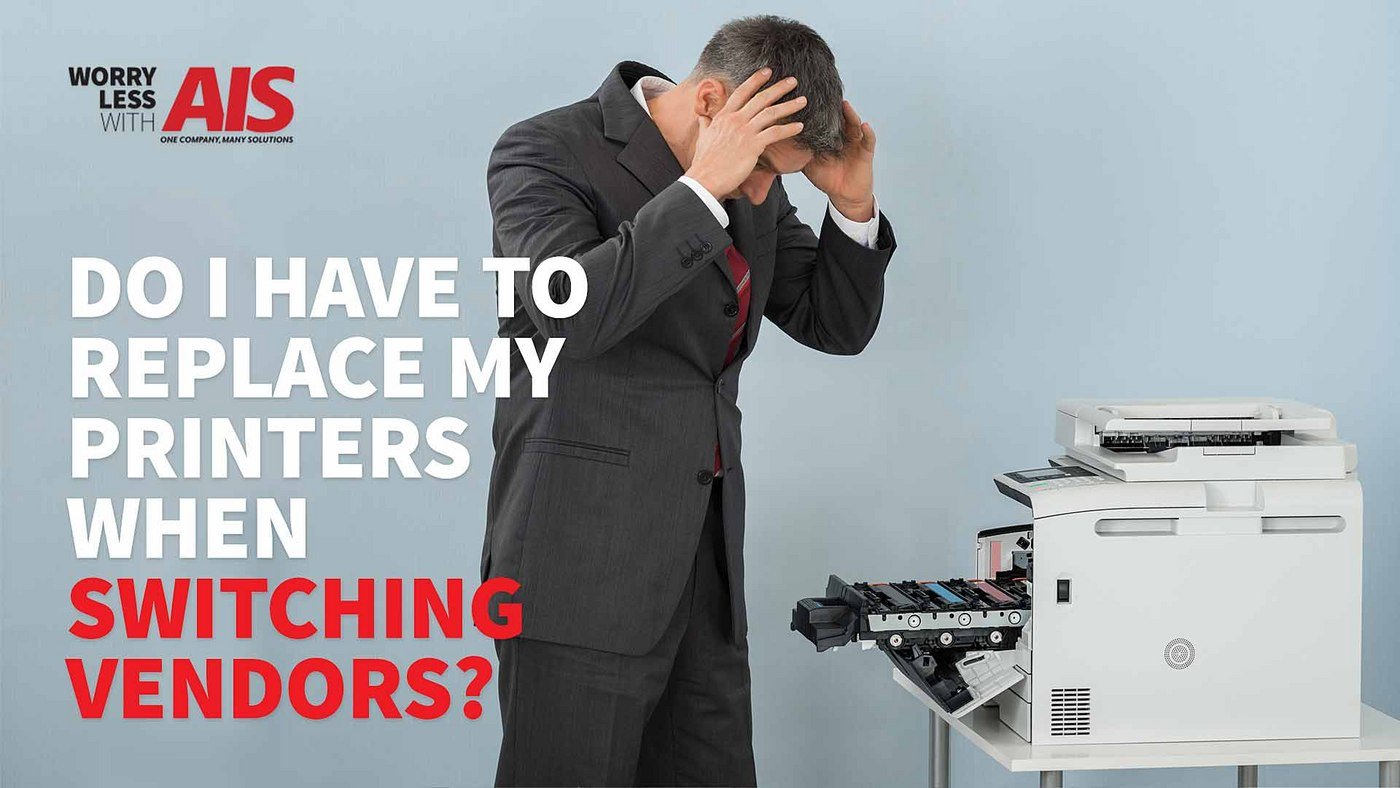 READ TIME: 4.5 MINS.

Working with the wrong office copier vendor is a daunting process, which might prompt you to seek alternatives at some point. For starters, the provider might be charging you too much or has failed to meet your performance standards.
You would also want to switch vendors because of constant equipment breakdowns, poor customer service responses, or being constantly out of toner supplies.

Whatever the case, you have finally decided to move on for the better and are now wondering whether you will have to replace your printers as well. The answer to this question is no.

However, you may have to start dealing with a managed print services company that can service some or all of your devices, eliminating the need for you to replace anything.
Changing Office Copier Providers
Your office copier vendor for your small business affects your organization's productivity. This is because working with the best machines and getting timely maintenance services streamlines your operations, thus, minimizing time and printing cost overruns.

If you have been getting subpar services from your vendor, it might be time to switch.
So, when should you finally decide to change your copier provider? The following are some common reasons for small business owners:
Poor customer service: Before working with a potential vendor, you typically must sign a binding contract. The aim is to ensure that you receive a certain level of service, especially regarding maintenance and repairs. If the vendor fails to live up to their end of the contract, it might be time to leave.
Unreasonably high charges: Another common factor is working with a vendor who always charges you extremely high for maintenance and repair services. Over-the-top expenses can harm your business's sustainability. If you have been paying too much, you can begin searching for alternatives.
Being constantly out of supplies: You can also seek an alternative vendor if your machines are always running out of toner. This becomes particularly important if the company does not offer automatic resupplies.
Constant equipment breakdowns: Some small companies encounter persistent equipment breakdowns, slowing down performance. Machine downtimes are also quite annoying, and this may cause worker demotivation. If this is the case at your organization, seeking an alternative vendor is definitely warranted.
Related Article: Top Five Reasons Your Business Still Needs Office Printers.

Even after changing your officer copier vendor, the subsequent steps are not easy and may prove expensive in the long run. For example, if you had signed a lease contract, you may be forced to buy it out.
Another challenge is swapping old machines with new ones that fit your preferred profile. Most small businesses must first contact their current office copier vendors and plan a time for pickup.
After that, they have to contact the new vendors and schedule installation. Nevertheless, you do not have to go through these steps. As explained below, you can always keep your old machines if you work with a managed print services company.
Leveraging Managed Print Services
Managed print services providers (MPSs) are organizations that manage a company's printing, faxing, and scanning requirements. When you work with an MPS, you benefit from a skilled and experienced approach to your entire printing infrastructure.
The services offered by MPSs can be partial—focusing on a selected segment of your print fleet or as a complete board service offering, meaning the organization manages all of your copiers.
The main functions of MPSs are:
Overseeing your printing supply procurement.
Monitoring and analyzing how your company uses its print system.
Maintaining and repairing machines, as well as offering timely support.
Your company develops consistent copy and print capabilities in the long run when you work with an MPS.
Another advantage is that you get a favorable return on investment (ROI). For example, your employees might spend too much time copying and printing documents due to outdated or faulty copier machines. You can ask your MPS to replace or repair machines that fail to function correctly, thus, hastening the copy process.
Your company subsequently develops a more robust approach to preparation, documentation, and information sharing.
In addition, having someone to constantly call for support helps you avert looming office crises. Managed print services personnel provide routine, automated maintenance to enhance your company's risk management capabilities.
Steps to Follow When Changing Your Managed Print Service Provider
Now that you understand the benefits of working with an MPS, exploring what should be done when choosing a new office copier company is essential.
As we had earlier noted, you have to consider the buyout options.
Although a buyout sounds expensive, it might actually prove cheaper in the long run. A buyout allows you to enter into more reasonable agreements with alternative small business IT providers, saving you money over time.
Another option is going for service cancellation. Most MPSs will allow you to cancel your contract if you do not leave negative online reviews.
Alternatively, you can wait for your lease to end before working with an alternative MPS. It is also vital to consider:
Your organizational needs.
Your preferred design setup.
MPSs that align with your technology needs.
Whether the elapsed lease demands that you return your office devices.
All in all, an efficient managed print service provider should help you quicken your printing and copying needs at the most reasonable cost.
The Final Say: Switching Your Office Copier Vendor and Replacing Your Current Machines
If you are having difficulty working with your MPS, you can contact us to help you choose an option that improves productivity and cuts copying costs for your organization. AIS can provide you with a print management plan to enable your organization to work with the best office copiers and efficiently update your current system. We manage, supply, and maintain any existing copiers that you have. We're here to give you peace of mind to help you win more business.