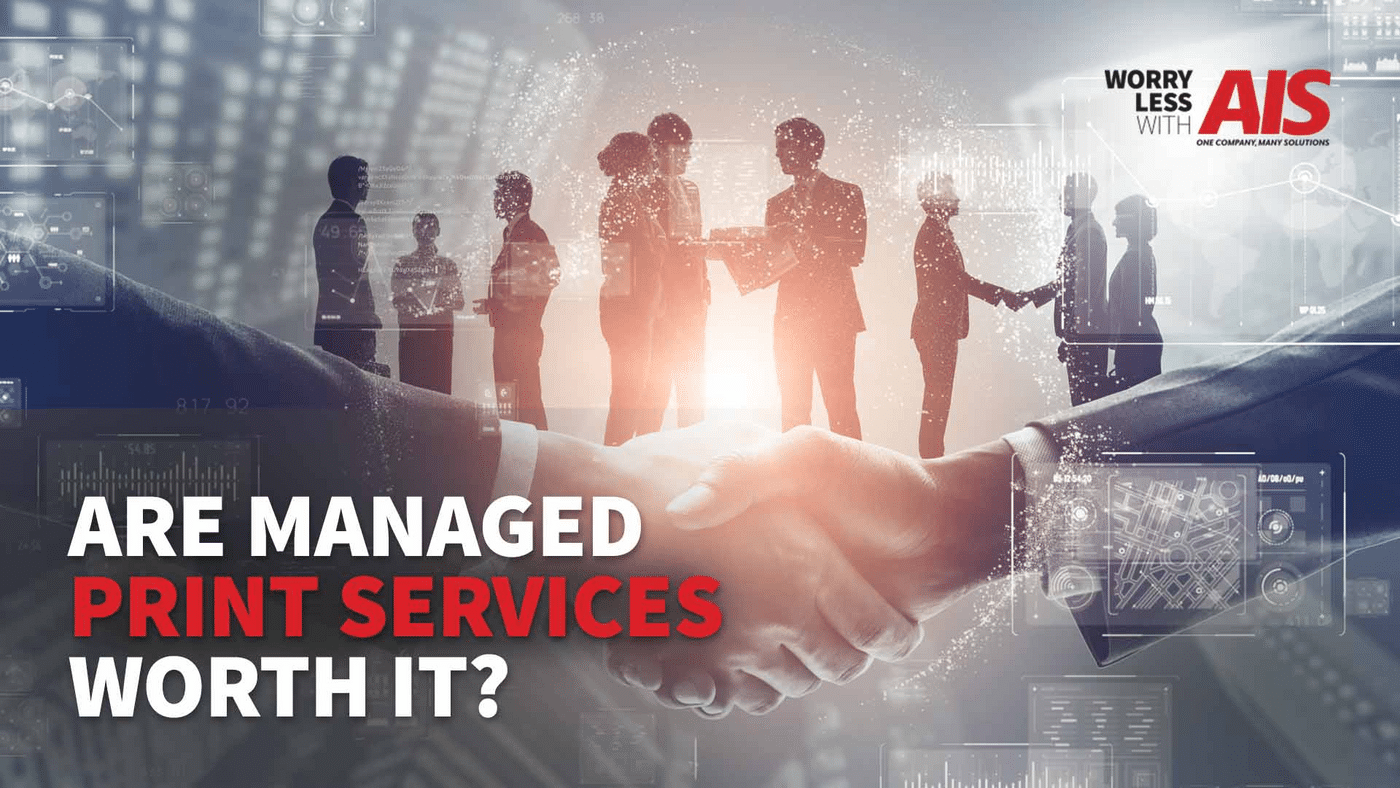 READ TIME: 4 MINS.

The best office copier news releases in recent years include the perks provided by managed print services. You can hire a managed service provider to set up a new system featuring the latest office copiers.

Or, you can add software to an existing copy/print fleet. This can be an intelligent move when cutting your company's print expenses. Such a move enables remote analysis and management of copier use and performance, which can pay off in reduced costs.

Office copiers were a great invention—who could do business without them? Even with today's advanced technologies.

The staff of offices that hire managed print service providers is freed from the stress and time loss incurred by the responsibility of keeping enough ink and toner on hand and figuring out what's wrong when a copier fails at a crucial time.

But these valuable services aren't the only ways managed print service providers save businesses money. State-of-the-art software and a skillfully deployed system actively help reduce printing costs and increase productivity.


What are Managed Print Services?
A managed print services provider (MSP) is a company that offers a package deal to organize your entire company's printing, scanning, and faxing needs. Skilled and experienced members of the managed services team oversee your entire printing infrastructure.

They can help you select the best devices for your specific needs and set up a system with advanced functionality. They can:
Manage your printing supply procurement.
Handle maintenance, troubleshooting, and support.
Monitor and analyze print system use.
Managed print services offer a way to ensure smooth and reliable copy and print capabilities across all departments of your company.
The advanced features of today's office copiers continue to make them a necessity in 2022. But are printer-based systems worth the cost of a specific managed service program? Let's continue our analysis of the topic.
Are Managed Print Services Worth the Cost?
Think of all the time staff members spend on copying and printing maintenance. Not only for ordering printing supplies but for troubleshooting copy machines that refuse to function.
Breakdowns often happen just when you're preparing for a critical meeting. Most office staff members aren't trained or equipped to deal with problems beyond the scope of a paper jam.

However, with a managed print service contract, the crisis might have been avoided, thanks to routine, automated maintenance checks. And you would have an expert to contact for advice or assistance.
One of the main objectives of managed print services is to keep printing expenses low. Inefficient printing habits by even one employee can cost a company significant money.

One of the best ways to enforce guidelines for controlling printing costs, including auditing individual use, is to sign on with an experienced, full-service managed print services provider.
Regulating the amount of printing that takes place through automated monitoring and personalized permissions, as well as streamlining your purchases for supplies like paper, ink, cartridges, etc., can significantly lessen your company's printing costs.
"A complete managed print service package administered by a full-service office copier specialist also includes ongoing advanced system analysis, specialized settings, and cost management features."
- Office Product News, "Why Managed Print Services are so Important."
Providing tactics that help cut costs, optimize workflow, and increase productivity by keeping your printing system running efficiently and without interruption makes managed print services worth the price.
Steps to Complete Managed Print Service Plan Implementation and Operation
Here's an overview of the steps that are initiated when you sign on with a managed print service plan:
Evaluation of needs: Current print setups can be assessed. An inventory is taken of the type and number of existing print devices.
Design setup: Managed print service members consult with staff to form objectives for improving the print environment.
System Deployment: Installation of software that sends automated alerts to the service plan provider when the print system needs supplies or attention.
Independently efficient operation is launched: Once a managed system setup is implemented, automated monitoring and response by the managing provider frees companies from worry about printer system supply and operation.
Continuous monitoring and updating keep the system on course: The status of every aspect of the printer environment is monitored over time for continued optimization. Businesses are notified of the need to repurpose or replace devices.
Benefits of Managed Print Services
There are many positive benefits of managed print services. They highlight the status of various aspects of your print fleet, including costs.

The staff of a managed print services company works with your team to help optimize your system and eliminate unnecessary expenditures.
A Summary of Basic Managed Print Service Benefits
Print processes and maintenance will be supported.
Delivery of supplies will be received when needed.
Productivity will be increased.
You'll receive security coverage to support sensitive documents and device compliance.
Opportunities for improved sustainability will be revealed.
Printing costs will be controlled.
Print management options for improved performance over time will be noted.
There are many ways to utilize today's office copiers more effectively and save on printing costs. But many of them never get noticed, much less implemented, amid the hustle required to keep up with the basic business requirements.
It's the business of a managed print services provider to inspect and fine-tune office copier operations. You have other business to attend to—actions that support increased profit.

A managed print services team allows you to focus on what you do best while they focus on optimizing your printing system options and reducing costs as much as possible.
The Final Say: Cut Costs and Improve Efficiency With Managed Print Services
Ready to learn more about how AIS can help spur productivity and cut copying costs for your organization? A print management plan can allow you to access the best office copiers when deploying a new fleet and efficiently updating your current system.

We can monitor, supply, and service your existing office copiers. Since we also provide managed services for IT, office phone systems, and more, you can optimize and troubleshoot your entire operation with just one phone call or message to us. We're here to give you peace of mind to help you win more business.