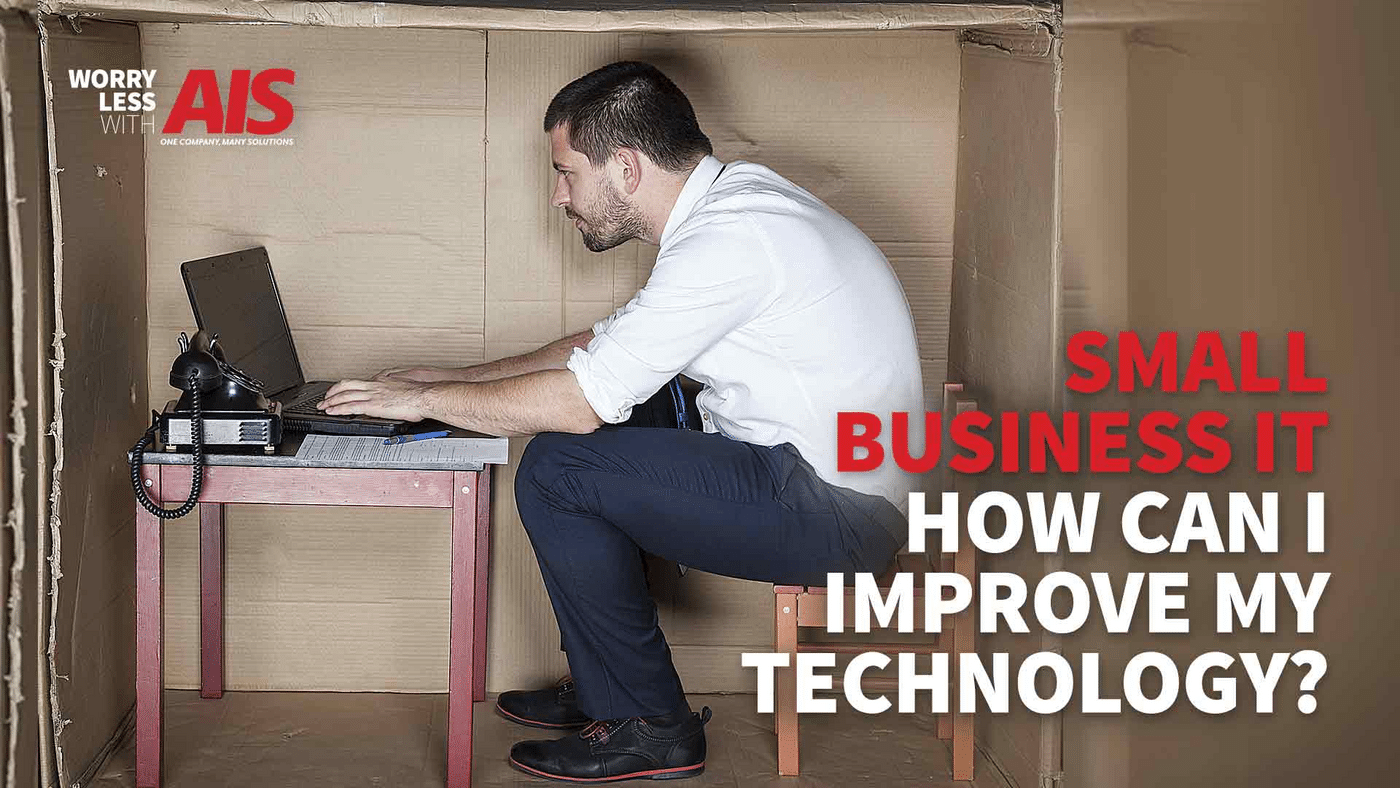 READ TIME: 4.5 MINS.
Most people don't realize this, but small businesses play a vital role in stabilizing the economy. As technology takes over almost every aspect of our lives, it makes sense for small businesses to include it in their strategy to keep up with trends and changes in consumer behavior.
However, despite the promise to catapult growth when used correctly, many small businesses (SMBs) are still struggling with implementing and improving technology in their operations.
Why Do Small Businesses Struggle To Improve Their Technology?
In this digital era, business owners always look for the latest technologies to improve their operations. However, most are unsure what is worth adopting and how to integrate the new technologies into their operations.

Everyday struggles for small businesses when it comes to improving their technology include:
You are taking on new technology without fully exploiting how it will impact the business. Not every new technology is suitable for your business, and you need to research and thoroughly consider things before investing in something that you will not use, or that does not add value to the company.
Failure to adjust the existing system and procedures per the new technology.
Failure to adequately train staff on using a particular technology solution or tool.
Operating without a solid and strategic IT plan thus, your technology plans fail to align with your business goals.
Adopting or transitioning between technologies will be a smooth experience if your business can overcome these challenges.
How Can Small Businesses Improve Their Technology?
Small business owners may not be at the forefront of the latest technology, but tech is still a crucial component for the growth and efficiency of a business. Therefore, you must take a proactive approach to the matter and seek out current trends in your sector and how to incorporate them into your business.
Are you satisfied with the technology that you are currently using? Do you feel like your business could benefit more by improving your technology? If your answer to the questions was yes, then here are some things you should do to improve how technology helps your business.
Incorporate Artificial Intelligence
Artificial intelligence and machine learning have stirred quite a buzz in technology. By investing in AI solutions, your business will achieve greater efficiency, experience few errors and ultimately make more profit.

Incorporating AI solutions will simplify tasks like scheduling staff, managing customer appointments, and running security checks. AI can also automate tasks like product quality assurance and save you time and associated costs.

For example, if you are in production or manufacturing, instead of manually inspecting every product, you can use Ai to scan and change for flaws before packaging.
Pay More Attention to Cyber Security
You cannot afford to slack when protecting your tech security. With data being such a valuable asset for any business, your business must invest in the necessary measures to stay protected at all costs.

You also cannot afford to lose or have customer information hacked, which will dent your reputation. To stay protected against cyber-attacks, invest in cyber security measures and have a back and disaster recovery plan to help you cope in the event of a crisis.
Cyber security solutions protect your data and safeguard your tech systems and tools from malware and other threats that could render them inoperable.
Saving Time with Automation
Many businesses fail to improve technology because of the assumption that every tool or solution needs human assistance to be effective. This is, however, not the case, as the current technology is aimed at taking most tasks off your shoulders so that you can focus on other core aspects of running your business.
Automation saves your business time by handling specific tasks on schedule or upon getting a prompt.

For example, you do not have to manually post on social media or respond to customers' social media messages or comments. Instead, you can automate these processes to maintain efficiency and consistency as you carry on with other tasks and responsibilities.
Exploit the Benefits of Cloud Technology
No matter how small your business is, please do not overlook the need for cloud computing and its benefits. Cloud computing gives your business on-demand access to web-based applications, data storage, and other essential services that allow you to run and make decisions for your business from anywhere.

In addition, cloud technology in your business will allow you to access data from any device and, at any time, automatically sync and facilitate remote working.
Small businesses most common cloud computing applications include cloud backup, cloud storage, and cloud hosting.

However, it can also be used as a software solution where businesses use internet-based applications for some of their operations. Examples of SaaS include CRM software, accounting software, and email marketing software.
Optimize Your Website
This is an essential tool for any business today. It is also affordable to set up and, when implemented correctly, could have a high return on investment. Today, almost every customer begins their buying journey online.

A well-optimized website positions you at an advantage as your target customers will easily find you, generating leads for your business. Additionally, a well-optimized site helps your brand reputation by giving the impression that you are professional and can be trusted.
Harness the Power of Social Media
Social media is not just for fun. It has grown to be a valuable marketing and communication tool for business. You can use your social media platforms to attract new customers, generate leads and maintain engagement with already existing customers.

With the popularity of social platforms like TikTok, Instagram, Facebook, Twitter, and LinkedIn, neglecting your socials means losing out on a vast potential customer base.
The Final Say: Improving Your Small Business IT

To be frank, we just scratched the surface regarding improving your IT infrastructure throughout your small business. But now you know some significant first steps you can take to ensure the growth and success of your organization.
At AIS, we understand how valuable technology is for your small business. Using our expertise in technology, we can help your business implement the right tech solutions that will not only improve your operations but also help you save money and reach your goals. Request for a video call here or give us a chat with us live to learn how you can improve technology in your business. We're here to give you peace of mind to help you win more business.