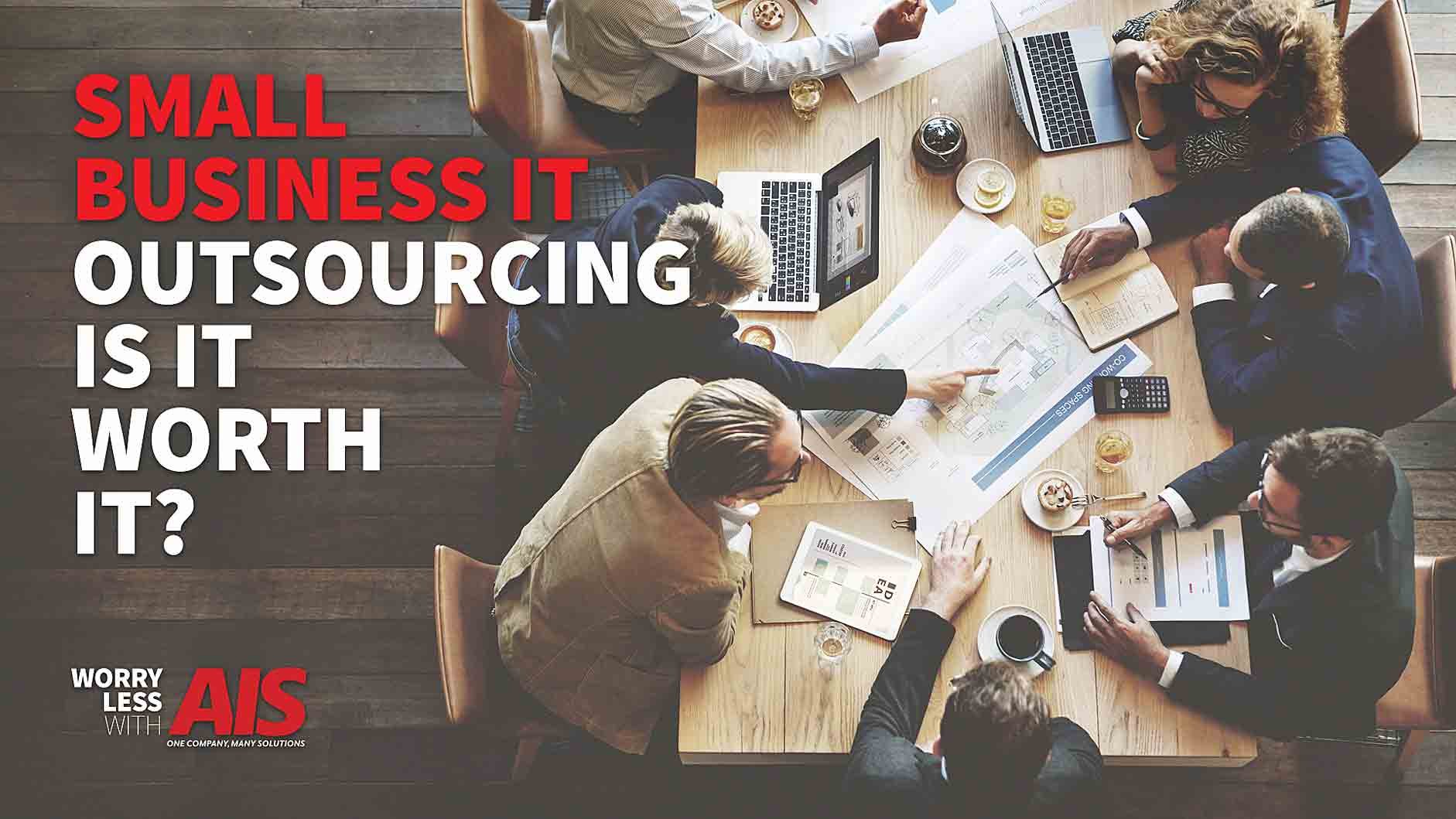 READ TIME: 5 MINS.
In 2019, the global IT outsourcing market hit the USD 66.52 billion mark. The figure is expected to reach 395 billion in 2022 and surpass 585 billion by 2027. This projected growth suggests that most companies are outsourcing their IT.

But is IT outsourcing an excellent choice for your small business?

The truth: small business IT outsourcing can be the best option for your company. You can supercharge productivity and profits if you hire a reliable IT expert.

Below, we explore the perks of IT outsourcing in detail to help you decide if it's right for your business. But first, let's understand the basics.
What Is IT Outsourcing?
With IT outsourcing, you hire a third party, like AIS, to manage your internal IT operations instead of relying on an in-house team. You can outsource your IT to a third party that offers on-demand assistance or work with a managed service provider. Commonly outsourced IT services include:
Website development and management


Technical support


Data storage


Software development


Cybersecurity


Hardware setup
Understanding How IT Outsourcing Benefits Your Small Business
Understanding the perks of outsourcing helps you decide if it's the best option for your business. Here are six reasons to outsource your IT:
You don't have to hire IT employees
Outsourced IT service providers are paid as vendors instead of employees. As a result, you avoid training and benefits costs incurred by having an in-house IT team. You also save time you would have used to onboard new hires.
Access to top talent and modern technology
Large companies can offer benefits and salaries that small businesses can't. For this reason, top talent often goes to industry giants. For small businesses, this could mean the inability to achieve the best results or your best employees getting poached by the largest firms in your industry.
Outsourcing agencies have the resources to attract top talent. As a result, you get high-quality IT services that give you a competitive edge if you hire a reliable IT firm like AIS.
AIS gives you access to leading network technologies and arguably the best management expertise without costing your business an arm and a leg. You won't need an IT staff, a minimal investment in maintenance resources, or IT upgrades, as well.
Tighten security around critical business data
Most small and large businesses keep sensitive personal information in their database. This may include names, credit cards, Social Security numbers, or other account data that identifies employees or customers.
If such sensitive information falls into the wrong hands, it can lead to identity theft, fraud, or other cyber crimes. Given the severe consequences of a cyber breach—losing your clients' trust or may be facing a lawsuit—protecting personal information is highly crucial.
Outsourced IT providers have the technology and experts to help safeguard the most critical data in your business. IT companies like AIS stay on top of cybersecurity technology and new tricks cybercriminals use. This ensures you always use the best defense strategies in an ever-changing cybersecurity landscape.
Comply with regulations
A poorly trained IT staff that doesn't follow industry-specific and cybersecurity regulations could cost your business big. The costs of lawsuits and penalties because of noncompliance can quickly add up for a small business.
And without the resources of a large company, it's difficult for most small businesses to build an experienced internal team that stays on top of regulations.
With IT outsourcing, you don't have to worry about meeting IT standards or complying with cybersecurity laws. Why? That's the job of your IT service provider.
Grow your small business more quickly
Small businesses often find that they need more staff when looking to scale up but can't afford the cost of hiring and maintaining additional full-time workers. This may limit your growth potential and reduce the scaling momentum your business has created.
IT outsourcing promotes steady growth in your company while ensuring you invest more time and resources in other core business activities. After all, it's cheaper to outsource IT tasks than it is to create your own internal IT team. So you save more money for business growth.
And because a provider can manage all your IT needs, you won't have to handle IT tasks internally. This frees up more time to focus on other core business activities.
Enjoy more flexibility
Your small business may not require a similar number of IT employees year-round. IT outsourcing offers added flexibility. Your business pays only for necessary outsourced IT services without the financial commitment of recruiting an in-house team.
In other words, you pay for IT tasks completed in a certain period instead of a regular salary as it is with an in-house team. You pay only for specific services your business needs at a particular time.
This flexibility makes it easy to build your small business and take it to the next level. And because of this, hiring an experienced IT service provider who understands your business needs and can meet them is an excellent decision.
Is Small Business IT Outsourcing Worth It?
Yes, it is.
Think about it. Won't your business benefit from spending less than you would on an in-house team and, at the same time, enjoy top-notch IT services? After all, most small businesses outsource their IT to reduce staffing costs without sacrificing the quality of service.
In fact, the world-class skills and advanced technology in IT firms like AIS give small businesses a competitive edge. It enables businesses like yours to keep up with their large, resourceful counterparts regarding IT.
How to Outsource the Right Way
Choose the right IT partner: Does the service provider have expertise? How long has the IT firm been in business? Does the provider have the right IT security tools to protect your business data and comply with regulations?
AIS has certified experts and advanced technology to meet your IT needs. The firm has what it takes to protect the most critical data in your small business. We also scale with your business.
Understand the role of your IT provider: What is and isn't covered in the agreement with your IT partner? How quickly will the IT provider respond in case of IT problems in your business? Understanding the services you're paying for promotes a smooth relationship and enhances successful outsourcing.
For more information about choosing the right IT partner for your business, read our article How to Find the Best Managed IT Services Company Near Me.
The Final Say: Partnering with the Right Outsourced IT Provider for Your Small Business
When picking an outsourced IT provider, identify a reputable firm that is well-reviewed by other businesses. The services should also be affordable to ensure you get the best service quality without breaking the bank.
AIS is a top-rated office technology company that offers various services to businesses like yours. We have a reliable team of IT experts that can handle your IT needs. Get in touch with us today to understand how partnering with us takes your business to the next level. We're here to give you peace of mind to help you win more business.