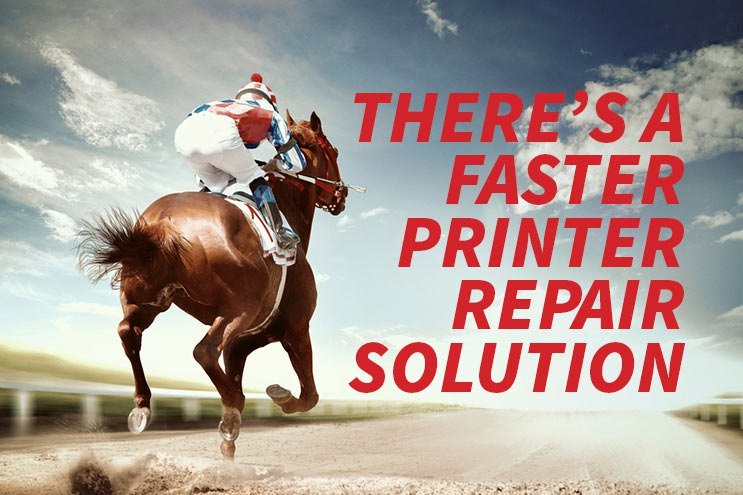 A broken printer means downtime for you, your employees, and your business—and it can cost you.
In Corona, and servicing all of Orange County, California, on-site printer repair service is available to remedy the problem quickly.
If you can find the right company—that is.
On-site Printer Repair Service Is the Fastest Option
If your office environment is like most others throughout the Orange County area, your team uses a wide range of equipment on a daily basis. They rely on it to get things done. They use it for reporting, marketing, sales proposals, contracting, finance, you name it. A versatile workhorse printer may be used throughout your entire business operation. With the reliance on technology today, it may be nearly impossible for your staff members to complete some of their required tasks without the use of certain types of equipment. If you're like most businesses, you may not have the budget to have multiple backup or redundancy for all your major printing devices.
Today, next to a PC, a printer is among the most common types of office equipment, and your business may have a single printer supporting multiple workstations or a networked printer for all your printing needs. When even a single printer is broken or down, you understandably want to find the fastest local option for printer repair services. If the printer can be diagnosed and repaired on site, this can save you additional cost for labor and especially the drive time to and from a printer repair business, especially with the volatile traffic situation in Southern California.
Are There Different Printer Repair Options? What are they?
Depending on the type of printer that is broken, the manufacturer may be requesting that you mail the equipment to their authorized service department. This is usually the standard method of printer warranty repair, especially with printers bought through your "big box" retailer. This should be taken into consideration when making your next printer buying decision. This is so important that we published a recent article to educate businesses on why these discount printers may not be such a good deal: Laser Printer Repair vs. Purchasing a New Printer.
When you need your printer now, having to call, get an RMA (return material authorization) number and shipping label, and then ship it to who knows where to get it diagnosed and worked on can take some time that you just don't have. It hardly seems like a very practical option, and you never know how long you are going to be without this important business tool.
It may take several days or even weeks to complete the repair, and although this seems like a cost-effective solution if the equipment is under warranty, but is it really? What about the cost of labor lost at your place of business or the inconvenience?
There are only three other options:
Buy a new printer.
Rent a printer while your printer is being repaired.
Find an authorized printer repair business.
Now, the first two may be quick fixes but could end up being more costly in the long-term. Most of the time, an authorized printer repair business can do your warranty repair work and get you up and running fast, with minimal downtime and cost. But sometimes it just doesn't make sense to repair your printer. Check out this article on why it might not make great sense to repair that broken printer.
Why On-site Repair Service Is Best
The first thing most businesses do is contact the manufacturer directly for repair services on a downed printer, but this is not always the best option. On-Site repair service may result in same-day or next-day repair work completed. If it's a good one, they will contact you immediately to diagnose the problem over the phone. If they can't solve the issue on the call, the technician will gather the necessary information so that he can be prepared to fix the printer the first time.
There is usually a cost associated with downtime in your facility, and this means that it sometimes is still more cost-effective to pay for an on-site repair even if the work is covered by a warranty. Not to mention if the manufacturer's warranty has expired. The best idea is to request a quote for on-site repair service before you send your printer into the manufacturer's authorized repair center. By doing so, you will be able to make a more informed decision that is best for your business.
So how do you know which printer repair business to go to in Orange County? We've done the legwork for you in this article: Who's the Best Printer Repair Company in Ontario, California. But you also may want to ask them a variety of questions to identify which one may be right to support your business. In this article, 7 Signs You Need to Hire a Copier Repair Service Company, we provide you a list of questions for you to determine who the best is. All printer repair service companies are not created equal and you need to investigate all your options. Both of these articles will save you important time and money during a printer outage crisis. Just because a business has "printer repair" in their name doesn't mean they are the best to service your devices. Don't be afraid to ask for some references.
Request Repair Service Quickly
The only way to know for sure which option is the best overall repair solution for your business is to explore all of the options. Survey a few of the businesses. Get a quote for the minimum charge for a service call and when they can get out to see you. If you're like many businesses, you will want your printer repaired as soon as possible to avoid downtime and to keep productivity high. You can request repair service quickly for the best results.
We would be happy to inform you that we are the best printer repair service company in Orange County, but we won't. That would be just arrogant and foolish. Instead, we want to have the most informed clients and welcome the competition. We stand behind our 2017 service call statistics for:
Total number of service calls: 24,245
92% first call resolution
33% of service calls were contacted and up and running in less than 2 hours.
Each of our repair service tech vehicles carries over $12,000 in parts and supplies.
Each service technician has over 51 certifications
Over 120 days of stocked inventory
$5.2 million in equipment inventory
Impressed? Don't take our word for it. We will be glad to let our customers do the talking for us. If you are interested in starting a conversation with one of our business technology consultants on how office technology can give you peace of mind and help you win more business, then contact us today. You won't be disappointed.