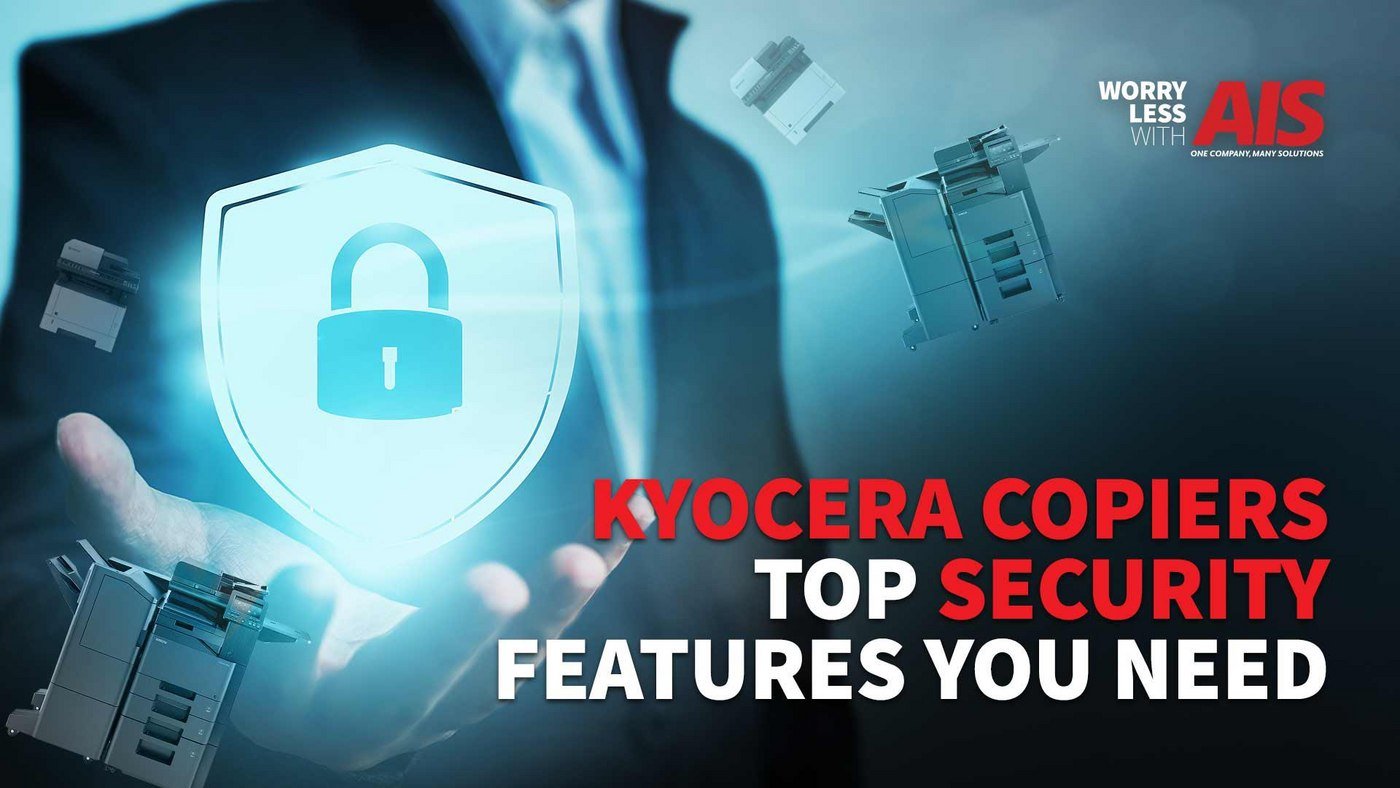 READ TIME: 4.5 MINS.
A modern office requires copiers and printers to facilitate efficiency and improve productivity. But how can you get a highly efficient printer or copier in today's competitive market?

Thanks to the increased number of reputable office equipment dealers, you can get all information on the best office devices before buying. However, there's one name that has remained relevant in the copiers and printing market; Kyocera.
You have probably come across some Kyocera products if you don't have them in the office. The Kyocera brand is known for reliability, affordability, and the ability to produce outstanding quality copies and prints.
We want to help you throughout your buyer's journey, so we're taking a look at the top security and technology features that make Kyocera printers and copiers some of the best in the industry.
Keep in mind; we are not comparing Kyocera to the other brands. Instead, we're talking about some of the most impressive features that Kyocera brings to the table. Let's dive in!
Kyocera's Efforts Towards Copier Security
Kyocera has been on the frontline to offer maximum protection to its customer's assets. The company understands the security risks that an office printer or copier can bring forth premium, security-based technology.
Kyocera develops printers and copiers with the awareness of the three main security attributes (CIA) so that the customers can use their products safely.
CIA stands for confidentiality, integrity, and availability.
Confidentiality
Kyocera implements a security encryption system to prevent unauthorized access to printers or copiers. The encryption is beneficial in the printers/copiers connected to the internet because they can easily fall prey to data hackers.
All Kyocera printers and copiers come with a data encryption feature that properly secures the secret documents. Kyocera does this by installing encryption software in the printer for complete user customization.
These data encryption features make it possible to print papers and send them to your PC without anyone else spying on you.
Integrity
Kyocera maintains integrity by providing the correct information regarding its copiers and printers. The come-ons protect its assets from unauthorized changes by malicious third parties.
For instance, encryption features of copiers and printers prevent any alteration of user information on the devices.
Availability
Kyocera boasts of an excellent and readily available customer team to attend to the users' needs regarding the security of the printers and the copiers.
Customers can contact the firm anytime, whenever they experience issues regarding their Kyocera printers and copiers protection.
Security Features for Kyocera Printers and Copiers
Now that you know Kyocera's stand towards data security check out these security features that Kyocera printers and copiers offer:
User Authorization And Identification
User identification allows users to verify their identity first before using the printer. Kyocera printers and copiers come with this feature, making the machine lock itself when an unauthorized third party touches it.
If privacy is of the essence in your office, you can set a password to lock out unwanted people.
Pull Printing
Kyocera printers have a 'Pull Me' or 'Follow Me' feature, allowing users to release their printing jobs only when they have authenticated themselves. For an added layer of security, the print job automatically erases the content of the data once printing is complete.
The automated data erasing feature prevents malicious cybercriminals from obtaining sensitive documents.
Secure Communication Protocols
Like other modern printers and copiers, Kyocera devices use both the internet and Bluetooth for connectivity. Both Bluetooth and the internet can make the printers and copiers vulnerable to malicious attacks, and that's why Kyocera encrypts its devices with the proper communication protocol.
Secure communication protocols prevent cybercriminals from viewing any information left on the hard drive of the machine.
Stored Data Protection
Kyocera does not only protect the information that you need to copy, scan, print, or fax but the information stored on the devices as well. It allows the machine owner to encrypt the stored data so an outside user cannot read it.
Network Monitoring
Since office copiers can be connected to many devices on the same network, they can be vulnerable to hackers. Kyocera has network monitoring software that monitors any suspicious activities or potential threats on the devices.
The network monitoring software provides immediate alerts whenever it detects malicious actions on the devices.
Kyocera Security Improved At All Stages
Kyocera uses technology to ensure its printers and copiers are cyber-theft secure at every step from the installation to the decommissioning.
Here's a brief explanation of the security product cycle that Kyocera offers:
The installation phase includes setting of both usage and password restrictions.
The Operation phase access control and security logs are done to support secure usage of the printers/copiers.
The decommissioning phase prevents hackers from retrieving data from the device when you dispose of it.

Now What? Improve Your Data Security
Like computers, copiers and printers can cause huge losses when the data lands in the hands of malicious parties—so don't take any risks. If you need to upgrade your copier, check out the security and tech features of the device to protect your company information.
As you can tell from above, Kyocera's office copiers and printers have many notable security features. However, the security features vary greatly depending on the exact type of printer or copier your organization requires.
We advise you to compare the available Kyocera printers and copiers first before buying their security features and other aspects as well so that you can choose the best for your specific needs.
We have discussed a lot in this article, and you are probably overwhelmed by the information. Make sure to contact us today for more information about printers and copiers and how you can improve the security of your business by using them. We're here to give you peace of mind to help you win more business.