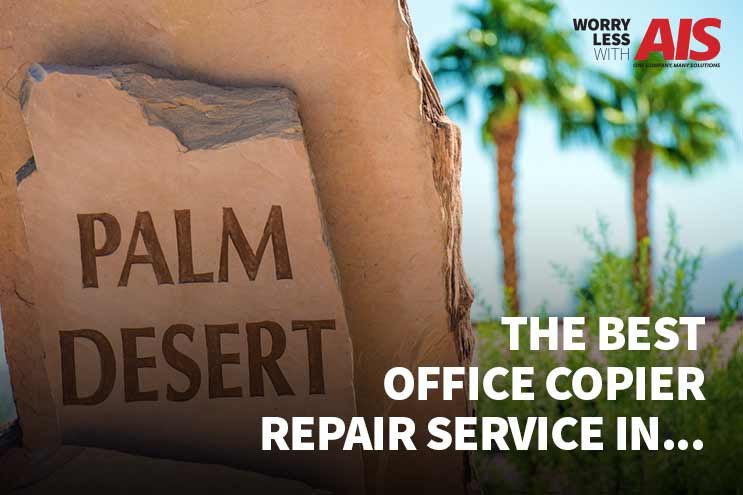 Are you searching for the best
office copier
repair service in Palm Desert?
Are you looking for an office copier repair company in Palm Desert, California? It may be a little challenging to find the best one for your business needs.
Since Palm Desert isn't a large city, your options are a little slimmer than most other major cities around.
You've probably Googled, "best office copier repair in Palm Desert," or "best office copier repair service near me." You may have come across ads from San Diego, Los Angeles, Orange County, and Inland Empire. Unfortunately, these cities aren't your specific location of Palm Desert.
We understand your frustration, but we're here to give you a little hope. Even if your business resides in a less-populated part of town, you can always find great service for your small business or home office technology needs.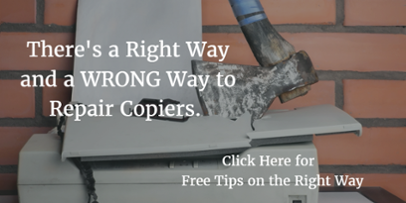 We believe it's worth mentioning why we don't mind talking about our competition. We feel it's important that you, as a business owner or purchaser, receive the proper information and understand the right questions to ask to make an informed buying decision.
Whether your purchasing decisions are with us or someone else, you should learn about all the available resources that help your business grow.
Stick around as we go through the different office copier repair stores nearest you. We'll also explore the types of issues you're experiencing, and how to chose the best office copier repair service in Palm Desert.
Your Options: Office Copier Repair Companies in Palm Desert
There are a few different types of companies that provide office copier repair services in Palm Desert. It's beneficial to learn the differences between each of these companies, and how these companies can service your needs.
It's important to know your options, and the best practices to take when looking at these options. Read an article, Business.org published, on selecting the best vendors for your company, How to Choose the Right Supplier for Your Business.
The Types of Office Copier Repair Businesses
Retail Stores: Retail stores, such as Office Max, Staples, and Best Buy, all provide some basic repair through their technical department.
There's nothing wrong with choosing these retail stores. It's crucial to make sure these stores have the ability to successfully service your machine, though.
Ensure the retail store has the repair experience and technical expertise for your specific make and model.
It's important a copier repair company has or a store with the correct replacement parts for your machine.
To save time, make sure to place a call to the retail store you have in mind before driving all the way there.
Toner Repair Companies: If you're only experiencing toner issues with your current office copier, a toner repair company might be the best option. The sole business of a toner repair company is… that's right, you guessed it, selling toner!
Toner repair companies usually provide copier and multifunction printer repairs as a support service.
If you come across a toner repair company, be sure the company doesn't just offer toner replacement as a, "just because" part of their business. Any well-accredited company should take the "repair" part of their business, seriously.

PC & Computer Repair: Computer repair companies is another business that may have added office copiers and printers to their repair business.
Are you thinking, "If these repair companies have technical staff who can fix a PC, they can repair an office copier?" Not necessarily.
Office copier and multifunction printers are entirely different devices. It takes specialized and trained professionals to repair these devices.
There are many different printer manufacturers which is much different from PC manufacturers, even if the operating system is the same or similar to each device.
Each office copier manufacturer has a different way of building their copier, and their software and firmware are different too.
Make sure to remain cautious when looking into alternative repair shops to fix your office equipment, especially your copiers and printers.
Copier and Printer Repair Businesses: Copier and printer repair companies specialize in repairing both office copiers and printers. They also service multi-function printers too.
Copier and printer repair businesses take pride in their investment with the technical staff they hire. If the copier and repair business is highly-qualified, their team participates in continual training and regularly updated on different printer manufacturers. Customer service is very important to them, especially if its a local business.
Like we said earlier, each manufacturer is different. Make sure when considering one of these businesses, their service technicians are trained. They have experience in successfully repairing your manufactured device and model, as well as having a wide variety of replacement inventory and parts.
Best Office Copier Repair Companies in Palm Desert
Now that you have a better idea on the types of copier repair services, read our list below of the best office copier repair companies near or in Palm Desert.
Central Printer Resources
Central Printer Resources began as an office supply and typewriter sales and repair company over 50 years ago in Los Angeles. In 1998, they moved to Palm Desert.
Central Printer Resources provides repair services on a variety of printers and are an Authorized Brother Service Center. In addition to repair, they also sell new copiers, printers, and supplies.
House of Toner
House of Toner has offices in Chatsworth and Canoga Park. They claim they also provide printer repair service to the Palm Desert area. Their main business is selling ink and toner for the most popular brands of printers.
The House of Toner advertising states they sell, supply, and provide maintenance on "top of the line" laser printers and copiers. However, their website only displays information about selling inkjet and toner cartridges, and there is no mention of their maintenance services.
Paris Laser Printer Repair
Serving Los Angeles for over 20 years, Paris Laser Printer Repair services Los Angeles, Orange, Riverside, and San Bernardino Counties.
They specialize in HP printer repair. Even though Paris Laser Printer Repair doesn't have a location in Palm Desert, they do provide service in that area.
Once you find a few companies nearby, jot down some questions to ask about their services and specialties. To learn more about the best questions to ask, read our article, Who Are the Best Copy Machine Companies — Mfrs. or Local Dealers?
As you can tell, there's a lot that goes into determining the best services for office technology solutions. To learn more about anything related to office copiers, check out our Office Copy Machine Ultimate Resource Page.
Interested in learning how AIS can serve your business in Palm Desert? Learn about our Palm Desert location, here.


AIS is here for you to answer any questions you might have about your office equipment. Technology is evolving at a fast pace. We want to walk you through every step to ensure you're getting the best office equipment for your business. Are you interested in learning more about pricing and costs, features and benefits, software and apps, and more? Reach out to one of our business technology consultants, here. We're here to give you peace of mind, to help you win more business.