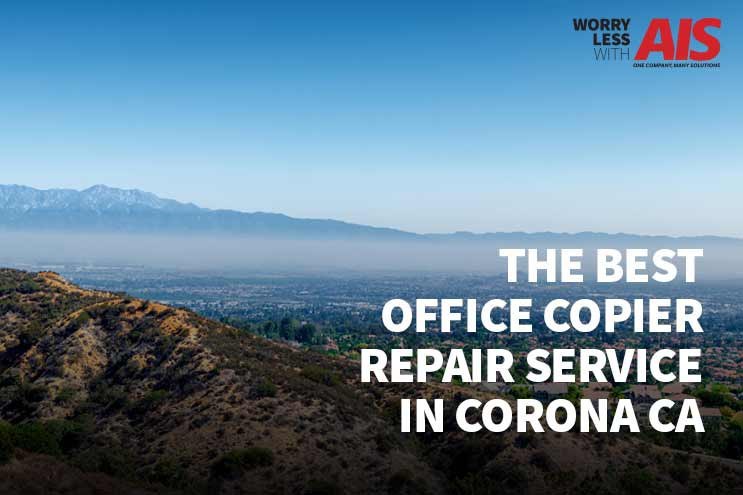 Are you currently searching for the best office copier repair service in Corona? We've got great news for you. You've come to the right place!
Although we've been selling, servicing, and maintaining copiers, printers, and office technology for years, we are happy to share our resources and information with you, so you can choose the right company to support your business, even if it's not with us.
Before purchasing the equipment or signing a three-five lease, it's important you learn the different ways in finding the best repair service for your company, as well as the many options you have in this purchasing decision. If you're not sure whether you want to purchase or lease your next office copier or MFP, we can quickly help you make that decision. Read our article, Copier Lease or Purchase: What's the Difference?
If you think about it, choosing an office copier repair company isn't very different from buying a new air conditioning unit, or even a car.
If you use the same skills and knowledge as you would when researching an A/C company, finding the best office copier repair company isn't as challenging as you might think.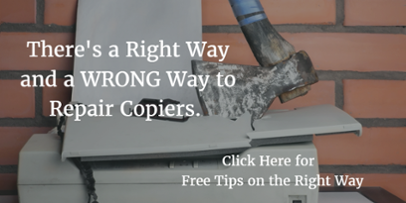 As we mentioned earlier, we believe it's worth mentioning again on why we don't mind talking about our competition.
Our job is providing you with the knowledge and understanding of the industry, so you make the most informed purchase. We're also confident that if you want the best price and guaranteed certified service, you'll at least consider AIS as an option for your next purchase.
Whether you choose AIS as your copier repair service in Corona, or not, we are happy to pass on our information to support your business needs and goals.
Types of Office Copier Repair Services in Corona
Looking at the different copier repair services nearest you, it's important to understand how these companies differ.
Copy machine manufacturers, such as Xerox, Kyocera, Sharp, Canon, and Ricoh, manufacture these machines directly.
Choosing a manufacturer is an excellent option if you aren't too worried about time or money. A manufacturer is a direct source to go to since they are one of the most knowledgeable sources for your copiers.
On the other hand, local authorized dealers almost always focus on customer service and support, because this is what feeds their business and keeps it running. Local authorized dealers usually have great relationships with copy machine manufacturers, so they typically have an inventory of parts.
If you're more interested in great pricing and the overall experience that comes with using a locally owned company, you may want to consider an authorized dealer.
An authorized dealer for copier repair service gives you:
Competitive pricing: Local authorized dealers typically work with lower overhead and flexible profit margins. So, it's a smart alternative to consider when comparing them to any other copier business.
High level of support: Since these dealers are local, they tend to value your business a little more than a huge manufacturing company. When you're in need of a repair, maintenance, or supplies, your local dealer is going to jump. Their goal is keeping you a happy customer whom they can serve for years to come. If they are doing it right, they should be treating every customer like their only customer.
Additional products and services: Copier manufacturers mainly focus on selling their equipment. Authorized dealers continually look for other areas to support their customers. This means they may bundle other office technology products and services together. Some of these additional products and services include document management, phone systems, compliance and security management, and IT outsourcing services.

Chron.com published an article discussing and comparing local authorized dealers and manufacturers you might find helpful, Differences Between Wholesalers, Distributors, and Retailers.

Trusted Office Copier Repair Companies in Corona
We've made it pretty simple for you by compiling a list of what we think the five best copier repair companies in Corona, so you don't have to look very hard.
Remember, each company, like yours, is different. It's important to learn about the specific and unique offers and services of these companies, and if these services can assist your business technology needs.
ABC Office Systems:

Located in Corona, California, ABC Office Systems sell Canon printers, Okidata printers, and other multi-function printers. ABC also provides repair services for calculators, cash registers, fax machines, copiers, and printers, as well as supplies.
Copy Tech Company:

Copy Tech has been providing copiers and repair services to the Orange County market since 1985 from their location in Orange, CA. They rent and sell refurbished Ricoh and Brother copiers and printers as well as supplies. They also provide repair and maintenance services for equipment to all of Orange County.
Fidelity Copier Solutions:

Fidelity Copier Solutions has been providing copiers to Los Angeles for almost 20 years. From their Alhambra location, Fidelity Copier Solutions Company sells and rents Sharp copiers and multi-function printers to all of Southern California. They also provide maintenance, repair, IT services, and supplies.
Orange County Copiers and Printers:

Orange County Copiers and Printers are an authorized dealer for a variety of brands of copiers and printers. They sell, service, and repair copiers and printers in Los Angeles and Orange County and also provide IT services.
NDS Copier and Printer Services:

Since NDS Copier and Printer Services started operations in 1986, NDS has been selling, renting, leasing, and servicing both new and refurbished copiers and printers. They specialize in Sharp, Kyocera, and Copystar equipment.
Determining The Best Office Copier Repair Service For Your Business
There's no better way to ensure the best products and services than by preparing yourself when you speak with each company.
Here's a list of ten questions you can ask each company so you have a better understanding of how they'll support your business goals and technology needs.
How long have you been in business?
What is your Net Promoter Score (NPS)?
How many customers or businesses do you currently service?
How many copiers or printers has your business installed?
How many support members do you have on staff during regular business hours?
Is your support staff educated and tested on industry knowledge on a regular basis?
How much inventory does your company carry in spare parts?
What is your average support response time?
Have your response times increased or decreased over time?
What other additional products and services does your copier company offer?
To obtain a more in-depth list of these questions, along with others, read our article, Best Copier Co.'s In Las Vegas — Manufacturers & Local Dealers.

As you can tell, there's a lot that goes into determining the best services for office technology solutions. To learn more about anything related to office copiers, check out our Office Copy Machine Ultimate Resource Page.


Founded on the premise of providing excellent customer service and business technology solutions, AIS gives you products that work for your specific business needs. We provide copiers, printers, managed IT services, document and process management, copier and printer repair and maintenance contracts, and telephone services. To learn more about any of our services, or to obtain additional resources and guides, reach out to one of our business technology consultants, here. We're here to give you peace of mind, to help you win more business.