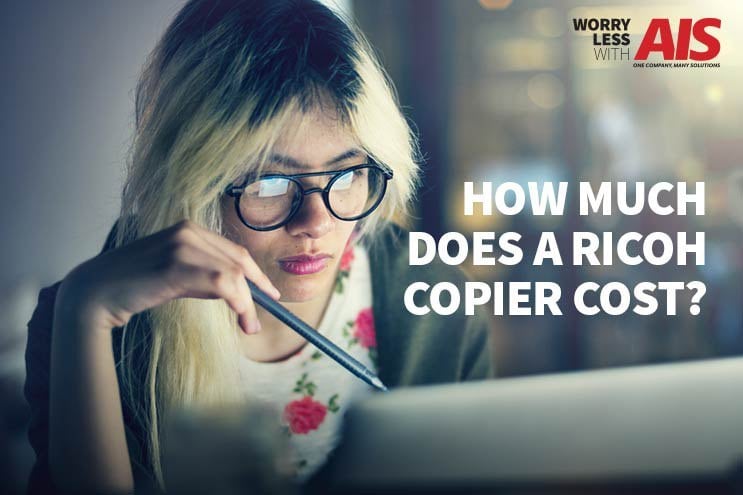 How much does a Ricoh copier cost and how much should you spend on individual copy machine features your business might need?
We hear this question a lot, and the challenge we face is when we have to answer and say, "It depends."
The costs associated with Ricoh Copiers range in price, depending on your specific business needs and goals. While some Ricoh copiers cost around $320, other's range up to $9,000+.
We ask you to take a step back and relate the cost of a Ricoh copier with something more familiar.
If you've ever bought a car before, think about the specifics you were most interested in while searching for that car. Did you have a price range or a budget you wanted to stay within? Were you curious about specific features or add-ons? How did you decide between a new and a used vehicle?
Just like the purchasing decisions you made for your new car, purchasing a Ricoh copier for your business requires some of the same research skills, planning, and assessment of your company's needs.
With all of this in mind, we created an easy breakdown of what you can expect to spend on a Ricoh copier, using certain specifications, such as range of the color copy machine, the print speed (ppm or pages per minute), and the scanning speed for each device (ipm or images per minute).
Also, as a heads up, when you see the abbreviation, "MFP" or the word, "multi-function printer," think "copier," or "copy machine."
What To Look For When Choosing a Ricoh Copier
As you probably know, there's an overwhelming amount of Ricoh copiers, printers, and multifunction printers on the market today, and narrowing down the best options for your business is challenging.
We've done the hard work for you and researched Ricoh copiers, categorizing them by price, color capability, print volume, and print speed.
Ricoh Black and White Office Laser Printers
The most basic office copiers Ricoh sells range from about $334–$669, with speeds ranging from 26–31 ppm. Since these office printers are smaller in size, they're best used for small to medium-sized workgroups or small businesses.
Even though these printers are little, they are mighty! These models also have high print resolutions.
Ricoh Color Office Laser Printers
Another category of Ricoh office printers are the color office laser printers. These office printers range in price from about $320–$1,000. These printers also vary in speed, between 30–42 ppm.
If you have a small to medium-sized business, the Ricoh Color Office Laser Printers would be an excellent purchase for you and your employees.
Ricoh Black & White Laser Multifunction Printers / All-In-One
Is your business in need of a work center for printing and copying? These Ricoh multifunction printers (MFPs) are great for higher printing needs, while also accommodating your budget.
The black and white office MFPs range in price from around $1,556–$8,815, with speeds ranging between 47–62 ppm.
Check out our article on the Top 10 Office Copiers for 2019: Choosing the Best for Your Business.
Ricoh Color Laser Multifunction Printers / All-In-One
If your business requires color printers or prints in higher demands, the Ricoh Color Laser MFPs range in price from around $6,000–$9,000+ with speeds up to 21 ppm.
These printers are slightly bigger and a little more powerful than the group above, designed for larger workgroups and higher printing demands.
Many of these MFPs can also enable business apps such as scanning to the cloud or email, printing from anywhere, and "pull-printing" capabilities.
Just like a car, the more functionality, accessories, speed, quality of output, and the ability to handle more types of paper mean the rise in price.
Depending on your office environment and volume needs, the lowest volume and cost device could be a perfect fit. Even better, you can mix and match devices and locations within your office to meet your printing and copying needs.
"Business News Daily" published an article on the best office copier for your business you might find helpful, How To Choose the Right Copy Machine For Your Business.
Add-Ons and Options For Your Ricoh Copier
Did you choose an upgrade with your new car purchase? Maybe you wanted leather seats instead of cloth. The same goes for copiers and printers.
Many of Ricoh's MFPs have a wide range of add-ons you can purchase for your machines that help with productivity and integration.
Mobile Printing and Sharing: Ricoh offers a multitude of printing and sharing features such as cloud computing productivity from your MFP, an intelligent remote management system, printing remotely from the cloud at less cost, and mobile device cloud printing. You also have the option to manage all your devices remotely if you have multiple offices or locations.
Printer Security: The printer security feature allows you to have a card-based user authorization and permission management option, helps improve your print workflows with secure print capabilities, a smart card for networked MFPs, and so much more. There's nothing more important than keeping your business documents and employee information safe from outside hackers.
To learn more about secure printing, read an article published by Forbes, Print Security Is A Strategy, Not An Afterthought.
Commercial and Industrial Print Software: Ricoh offers a portfolio of production print software, providing essential support for your most demanding projects, such as:
Business Development Software

Color Management Software

Composition Software

Datastream Transform Software

Mad Ready & Imposition Software

MIS Software

Web to Print Software
Ricoh Copier Buying Considerations
Now that you're a little more familiar with the costs and pricing associated with Ricoh copiers, you might find yourself wondering which MFP is best for your specific business needs.
Here are a few things you'll need to think about when deciding on the right mix of equipment:
1. Total employees. How many employees currently use your office equipment? Does your company have multiple locations? What is everyone's responsibilities that involve printing, copying, faxing and scanning?
2. Total volume impressions. How much and how often do you print?
3. Level of scanning. Do you need to scan documents? What is the expected volume of your scanned documents? Is scanning ad hoc or bulk?


4. Line-of-business applications. Do you need to scan-to-email or other frequently used business software?


5. Integration of existing infrastructure. Will your equipment fit seamlessly (or with minimal disruption) with your current print equipment? How easy is the ongoing management of the printing drivers with your IT infrastructure?


6. Workflow and document management needs. Ensure your equipment will operate with the software you currently use or are looking to implement.


7. Configurations. What add-ons do you need or interested in purchasing?
Deciding on which Ricoh office copier is a big decision you're faced with making and it all depends on your individualized and overall needs and goals as a business.
It's never as simple as just buying a copier. Like any technology, your copiers and printers are business tools, and it's up to you to decide what do you want to accomplish with them.
Interested in learning even more about pricing and costs when buying a copier? Read our article, How Much Does a Copier Cost? A Quick Overview.
Visit our Office Copy Machine Ultimate Resource Page for additional info on the costs and pricing associated with copiers, and just about anything else related to your copy machines.
At AIS, we're dedicated to informing and educating you on the best ways to grow your business through your everyday technology. Knowledge is power and the more you know about the best technology businesses practices, the better off your business, and your employees are. If you're interested in learning more about copiers and printers, or any of the other technology services we provide, speak with one of our business technology consultants, here. Don't forget to check out our channel on YouTube, The Copier Channel. We're here to give you peace of mind to help you win more business.