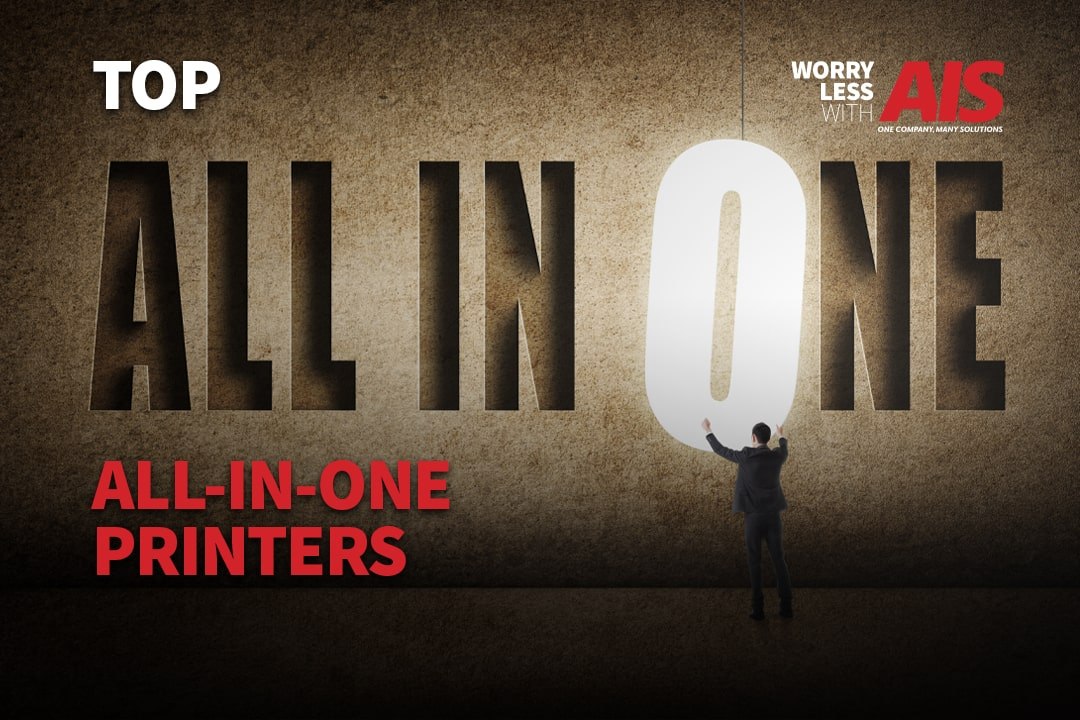 READ TIME: 6.5 MINS.
As we enter a new business quarter, we're faced with different challenges when it comes to finding office technology solutions. Although some of us continue to commute to the office, many of us are now working from home WFH).
An all in one printer for remote work isn't always the easiest purchase to make, which is why we are here to help give you the tools and resources needed to do so. But first, let's quickly go over what an all in one printer is.
An all in one or multifunction printer (MFP) incorporates multiple functions into one office machine. This device decreased its overall space that it took up on the floor and can be accessed by an entire office if needed.
Typically, an all in one printer can copy, scan, print, fax, and email documents. Additional add-on software and features can allow these devices to do even more to manage document workflow and secure documents.
These add-ons further help an organization and can increase efficiency, control access, or meet industry compliance guidelines.
When it comes to your small or medium-sized business, it's essential you make the right technology buying decisions. Follow along as we explore our top-rated all in one printers and how to find the best for your business and remote employees.
Top 5 All in One Printers: Our Rating Scale
It's easy for just about anyone to make a top-five list and throw it out on the internet for everyone to see. However, it's important to understand how we rated our top five all in one printers, so you know the features we feel are most important.
We scored these all-in-one printers on a 1–10 scale, with ten being the highest value and one being the lowest. We graded these printers by using the following categories.
Pricing and Costs: The cost of your technology device is always the most important factor, right? The all in one printers reviewed had a cost ranging from $342 to $2,450. All pricing reviewed was for new devices— so, no refurbished devices were included. Keep in mind, each printer had different costs and volume limits for toner, monthly duty cycles (maximum monthly print/copy volumes), and replacement limits for drums. I also included pricing for leasing options for some of the devices.
Features: Exploring different all in one features is an easy way to review, compare, and grade printers. Each printer's manufacturer posts the number of prints their device can print over time. This is represented using "ppm" or pages per minute. Also, they can specify the number of pages their copier can scan per minute. I assessed the features by also considering dpi (dots per inch) and wifi connectivity. And just so you know, all of the printer's listed below print in color.
Additional Add-ons (Options): Although many home office printers might be small, they can be mighty, too. If you can find an MFP designed for a remote worker that also comes with additional add-ons (such as additional paper trays) you've found yourself a great one! As your workload increases, you'll want to make sure all your technology devices are equipped to produce at the level your business requires.
Work From Home (WFH) Approved: Most technology devices, such as all in one printers, have certain specifications as it pertains to workload, production needs, and connectivity. Your WFH demands have most likely changed, and it's essential to find a device that is suited for your new remote office.
Easy Connectivity and User Friendly: Speaking of your WFH demands, a great all in one printer suited for remote work should be extremely user friendly. From step-by-step installation through network and device configuration, finding an MFP that's easy to use is necessary.
Quality: Sifting through thousands of all-in-one printers online isn't the most enjoyable task to do. Although it's tempting to purchase a device that's less expensive than the others, it's not always the right choice. Quality plays a huge role in employee productivity and the longevity of your MFP.
Brand: Even if you don't want to admit it, brands matter. Like most other products on the market, more commonly known brands are ones that usually perform the best or have better customer service and support. Common household brand names have earned their reputation as a trusted authority in their industry space.
Our Rankings Are In: Top 5 All in One Printers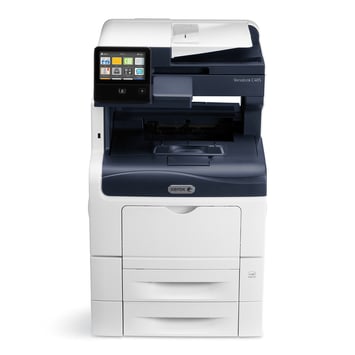 1. Xerox® Versalink® C405 Color Multifunction Printer came in at number one! Not only is this MFP a great device in the office, but at home as well. Xerox is also a top brand and one of the most commonly known for its reliable and long-lasting office devices. Here are some stats to back up our claims:

Prints up to 36 ppm (pages per minute), 85,000 pages per month, and 600 x 600 dpi (dots per inch).
Retail price is approximately $599.00 or $50/month (12 month lease).
Device management and training can be done anywhere. This includes step-by-step configuration options as well as an IT-free installation process.
Xerox takes a comprehensive approach to print security and is easily able to detect suspicious or malicious behavior (protecting your data, customers, and employees.)
A 5-inch color touchscreen allows for easy visibility.
Access to Xerox ConnectKey® apps, Google Drive®, Microsoft® Onedrive®, and Dropbox®.
Pairs very well with most of today's mobile workers and their devices/smartphones.
An additional 550 sheet add-on paper tray is available along with an optional stand that could be used to store toner cartridges, paper, and other supplies.





2. KYOCERA® ECOSYS® M5526cdw is ranked at number two and a great option for small business (SMB) remote workers.

Prints up to 27 ppm, 55,000 pages per month, and 600 x 600 dpi.
Retail price is approximately $477.00 or $40/month (12 month lease).
A 4 in 1 convenient device that prints, copies, scans, and faxes and is wireless ready to support the mobile workforce.
The device allows for intuitive walk-up operations and software tools, allowing users to create, access, store, and share information faster than ever before.\
Can input a variety of paper types such as plain, bond, recycled, envelopes, coated, and labels.
The long-life drum is separate from the toner cartridges, which eliminates drum replacement when the toner is depleted. This reduces both the cost-per-print and landfill waste.
Kyocera MobilePrint® allows users to print files, webpages, and images using their smartphones or tablets.





3. KYOCERA ECOSYS M5521cdw is our third choice and, although is very similar to the model above, is slightly different. This model is designed for slightly smaller workloads.
Prints up to 22 ppm, 65,000 pages per month, and 600 x 600 dpi.
Retail price is approximately $342.00 or $30/month (12 month lease).
Includes a standard 50-sheet automatic document feeder.
The device also includes the long-life drum separate from the toner cartridges, which eliminates drum replacement when the toner is depleted. This reduces both the cost-per-print and landfill waste.
The high-speed gigabit ethernet interface optimizes network efficiency.
The USB host interface supports on-the-go printing and scanning.
Like the model above, Kyocera MobilePrint allows users to print files, webpages, and images using their smartphones or tablets.





4. Ricoh® MP C307 Color Laser Multifunction Printer is another viable option when looking for an all in one printer for your home office.
Prints up to 31 ppm, 5,000 pages per month, and 600 x 600 dpi.
Retail price is approximately $2,450.00 or $210/month (12 month lease).
This device can copy, scan, and fax and can also support mobile printing.
Best used for small offices and workgroups, it can hold up to 1,350 pages with optional trays available.
No finishing options are included, but the device does display a smart operation panel.





5. Brother® MFC - L8900CDW is the last all in one device on our list. Still, it has options that could increase employee productivity and decrease downtime.

Prints up to 33 ppm, 60,000 pages per month, and 2400* x 600 dpi.
Retail price is approximately $550 or $50/month (12 month lease).
The device includes auto-duplex printing, an auto-document feeder, and two paper trays.
The scanner features include email, image, file, USB, network folder, cloud services, and more.
Allows for wi-fi direct connectivity and cable connectivity (USB) but does not include Bluetooth technology.
The Top 5 All in One Printers: The Final Say
When considering the right all in one printer for your remote employees, make sure you take into account all of the features and characteristics we provided above and use that to compare the different models.
Remember, now is the time to take your office technology seriously. The work from home migration continues to grow, and it's crucial you and your employees are equipped with the best products and services for your home office.
Make sure to visit our Office Copy Machine Ultimate Resource Page for additional info on pricing & costs, and just about anything else related to your office printers. To speak with one of our business technology consultants about the best devices for your home office, reach out to use here. We're here to give you peace of mind to help you win more business.