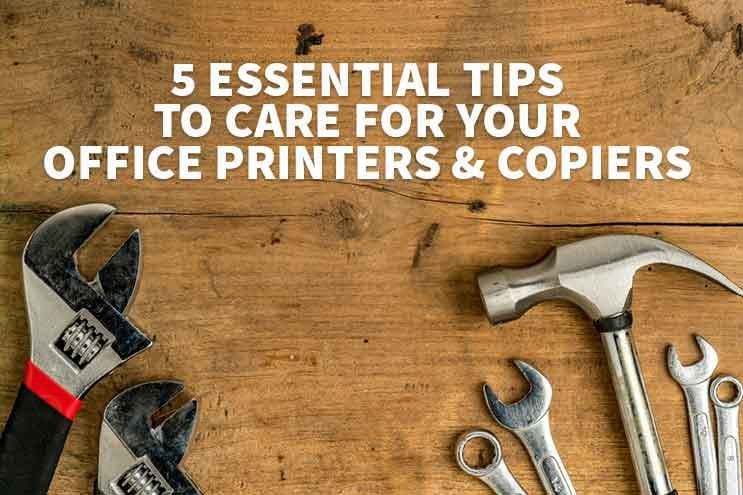 Copier Care 101:
5 Tips for Maintaining Your Office Printers & Copiers
You've purchased or leased office printers and copiers for your business. Your staff uses them as a tool every hour of the day. Are they really a tool for your organization?
They are a pretty sizable investment, right?
Are you treating them like another staff member or a vital part of your business? You know you only get out of them what you put into or know about their use and care.
Your business probably ranges from everyday printing jobs to large-scale projects and presentations. With these different projects, comes a need for reliable office printers and copiers in order to maximize productivity in the least amount of time. No matter the size or service your company provides, you and your employees count on well-working printers and copiers for your projects.
With that being said, it may seem that an issue or complication with your printer or copier always seems to pop up on the days you're preparing a project in a hurry, or when you're on a strict deadline.
Keeping your printers and copiers functioning properly, along with regular cleaning and routine maintenance, reduces the need for maintenance calls and service requests, reducing the risk of draining your budget having to deal with a catastrophic failure.
Just think.. If you didn't put any oil in your car or you didn't take it in for servicing, would it last just as long as if you did?
I think we all know the answer to that. This is why you have strict service requirements, especially when your car is under warranty — the same goes for office printers and copiers.
Although using toner from other companies may not void your warranty, like we read here: Are Printer Warranties Voided by Compatible Toners? It may save you a few dollars every time you refill your printer, but manufacturers like Kyocera add ceramic particles in their toner to clean and maintain their long life ceramic drum.
Even though printers and copiers range in size and functionality, the way you keep them clean and performing at their best is pretty consistent from machine to machine. Here are some easy and helpful tips to improve your printer and copier lifespan, reducing poor performance and print quality in your office.
Tips to improve print quality on any printer:
1. Read the Manual:
It may seem irrelevant, too time consuming, and you may think you know everything about your printer or copier machine, but reading the manual can help educate and inform you on all the functions and upkeep your machine offers and needs. It's usually a pretty easy read too, that won't take too much time out of your busy day.
The more you know about your printer or copier machine, the longer it will last and the better it will perform for your specific company needs. If you have misplaced the manual, look for downloadable copies of it online, or contact your service provider.Expiration Dates:
When it comes to checking expiration dates, you may think those just apply to the old milk that's been sitting in your refrigerator. Sometimes, we tend to forget or even ignore, the expiration dates that are labeled on our office equipment and replacement parts.
Printer and copier ink and toner dries out and expires, especially if it's not regularly used. Meaning that, even if you don't think you use your office printers and copiers on a regular basis, the ink and toner can dry out before they are actually considered to be empty. This causes lower quality prints and dull colors on print and graphics. Even though dried ink won't necessarily harm your printer, it will harm print quality, resulting in reprinting documents you've already spent time doing.
Make sure you are keeping track of when you purchase your inventory for your printer and copier machines. Make a note when the ink or toner is replaced, and check the expiration dates so you know when you need to replace them. You can make a note on your office calendar or by logging online to your printer or copier service provider portal and track your previous inventory orders.
2. Properly Storing Cartridges
Usually, most companies have extra ink and toner cartridges being stored in their offices to make sure they are readily available the next time they need to be replaced. This is a great way to stay on top of your inventory but can also have negative consequences if the toners and cartridges are not being stored in the right places.
Cartridges and toners must be stored in airtight containers, while also standing upright in a cool location. This helps to keep the ink fresh and ensures the toners won't be dried out once they are ready to be used.
If you are planning on not using a printer or copier for an extended period of time, you can remove the ink and toner cartridges that are already in the machine, and store them in airtight containers, facing upright in a cool location. This will also save the ink from drying up until you are ready to use the printer or copier again.
3. Don't Completely Run Out
Office supplies and replacement inventory may not always be at the top of your to-do list. It may seem like a pain to focus your time to as well as company dollars that you just don't want to spend. However, just like your car, it is important to make sure you your cartridges and toners aren't running on empty before you replace them.
Don't let your ink cartridges run out completely, it doesn't serve you any good. Make sure you are checking the display messages your printer and copier machines are alerting you. Your printer or copier should inform you when your cartridges or toners are running low or completely out, prompting you to replace them.
As the ink level lowers in your copier or printer, so does the print quality of the work you are printing. Cartridges with lower levels of ink tend to print with streaks, lower visibility and poor quality all around, producing unreadable text and blurry graphics.
4. Check the Slit Glass and Copy Glass
Those of you who use multi-functional printers (MFPs) in your businesses have an extra piece of equipment that also needs just as much cleaning and routine maintenance. The slit glass and copy class features can accumulate more dust and unwanted debris than you might think.
When you are printing or copying, are you experiencing dots or smudges on your printed pages? This could be because your slit class and copy glass is dirty. This is something that is easy to check and can be cleaned within a matter of seconds.
Use a microfiber cloth and a little windex to gently wipe away any dirt you see on the glass, while also making sure you're doing this with a gentle and slow force. Yes, we just told you to use Windex. It won't harm your copier. For more information read: How Do you Clean Copier Glass? With...Windex!?
A dirty glass is not something that your printer or copier will display for you, so it's important you remember to do this on your own, especially if you see dots or smudges on the work you are printing. This simple method can solve your common printing quality problems quite easily.
5. Clean the Rollers
If you are still experiencing smudges or blurred text and graphics after you have cleaned the slit glass and copy glass, it could be due to dirty rollers. Printer rollers are small circular rubber pieces that feed your paper through the printer.
Just like toners and cartridges, the rollers can build up with dust or unwanted debris that affects your printing quality. You may not know how to clean your rollers, so make sure you check the printer or copier manual beforehand or make a call to your service provider for advice on how to do so.


Do you want access to even more tips to help expand the life of your office printer or copier? Here are more tips that will improve your company's printing quality and reduce stress with last-minute print jobs. If you are experiencing issues that you can't seem to fix with these tips, contact your printer and copier service provider. Trying to repair your printer or copier yourself can cause an accident or even worse, damage to the printer or copier. Trusting a professional is always the best way to go. Contact AIS today to learn more about printer maintenance, upkeep, and repairs.