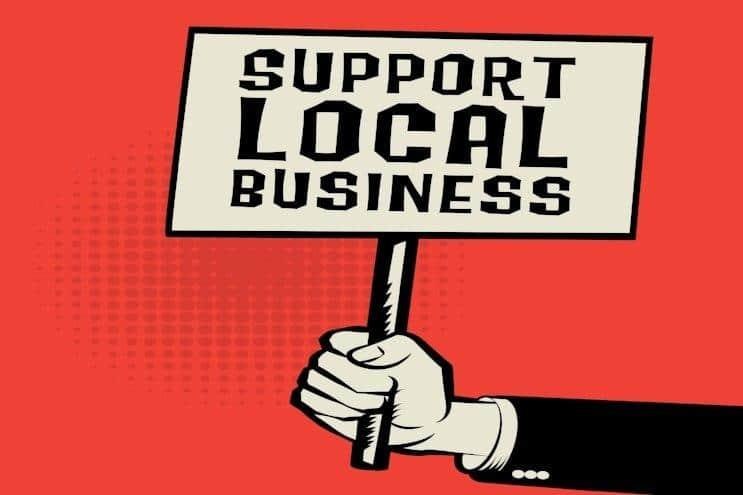 As a business owner, office manager, or even a purchaser of technology for your business, there are many choices of where to purchase your next copier and service it in the future. For example, there are the manufacturers, copier repair businesses, or your local authorized copier dealer.
Not only does buying a copier or printer from a local dealer help the local economy, but it's also better for your business too.
We've all read about the benefits of buying from local businesses – it's good for the environment, the product you bought wasn't shipped from across the country, it adds more money into the local economy, and it just feels good to support your neighbors.
These are all great, but there are even more reasons for why you should buy from your local copier dealer that could be important to your business.
Let's start with the economic impact for your local economy and how it could positively affect your business. Check out this infographic "Why Buying Local is Worth Every Cent" presenting the benefits of buying local. This shows many different areas "buying local" affects the local economy. It even illustrates the difference between buying from a local independent business versus a Big Box Retailer.
What's this got to do with buying or leasing a copier and sourcing it locally?
You have three main choices when buying or leasing copiers – the manufacturer, a copier or printer repair business (they may sell you a new product but usually they refurbish or sell used equipment), or locally authorized dealers.
There are three additional choices when adding printers to this mix: local office supply store for smaller multi-function printers (MFPs), Big Box Retailers like OfficeMax or BestBuy, and online storefronts (Amazon.com is a favorite). We are going to focus on the first two today.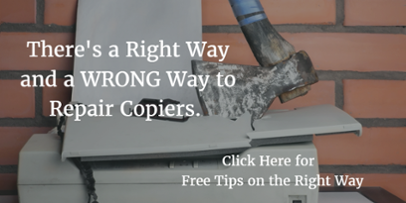 If you are rushing out to a Big Box Retailer to get a deal on a cheap laser printer, you should read Laser Printer Repair vs. Purchasing a New Printer—Are those discount laser printers at retailers a good deal? You can save your business money by also going to a local authorized dealer. We did the math for you and it's eye-opening.
As a local authorized dealer, there's a reason that they've been successfully operating in your area year after year. It's not because of one thing, like pricing, service, local knowledge, or they just got lucky with a few customers. It goes much deeper than that. And you can take advantage of what they've learned to create a very successful business in supporting businesses just like yours. Here are five reasons why it makes sense to do business with your local copier dealer.
1. Where can I get the best price?
"How much is it?" or "How much does a copier cost?" These are the first questions all of us that own or manage a business want to know. The answer isn't simple because there are a lot of variables when trying to answer these questions. Like color or black and white? How many copies or prints are you going to do a month? That answers a couple of questions for us. Like the speed and performance of the machine. There's also a misperception that buying directly from the manufacturer's representative will always get you the best price. So we recently answered these questions in a recent article: How Much Does a Copier Cost? A Quick Overview.
And guess what? It won't.
The fact is everyone buys at roughly the same wholesale price from the same source. And copier dealers are often smaller companies working with less overhead. So they can be more agile in their pricing to you.
But, even if you pay less for the equipment itself, as we all know – price isn't everything.
2. What About Service Speed and Quality?
Talk to anyone who's been in the office technology industry for any length of time, and they will all say that (with rare exceptions) local dealers provide better service. Here's why.
Since the manufacturer made the equipment, obviously they'll be able to service the copier better than anyone else. This statement is wrong for many reasons.
Training:
Service technicians go through the same training regardless of who they work for.
Local Representation:
The manufacturer isn't local. Yes, some may have local offices or showrooms, but that doesn't mean their service calls are routed directly through the local office. Service calls often have to be checked with their headquarters or main office. This can turn a 24-hour service into a 72-hour service. Conversely, local dealers make decisions fast.
Experience:
Service technicians also tend to be some of the longest-tenured employees. They know what they're doing. They've seen it all, and that on the job experience and knowledge equals faster repair – and a quicker return to productivity for your business.
Performance:
Local dealers will attempt to diagnose the issue over the phone and maybe even troubleshoot. Manufacturers' call centers will often simply forward contact info to the nearest technician. They may have no context of the problem, so it takes them longer to diagnose. Having at least an idea of what's wrong allows local reps to ensure they're carrying parts and supplies they're most likely to need when they arrive at the client's office—again this equates to speed and quicker response time to get you up and running in the least amount of time.
3. Flexibility of Custom Solutions is a Win for Clients
Manufacturers only offer products from the manufacturer. They are not in the business of promoting any other product. On the other hand, local dealers have the flexibility to carry equipment from multiple companies. For example, a local authorized dealer may represent multiple manufacturers of copiers and printers and can also sell and service equipment from other manufacturers too, depending on the specific needs of a client. This allows them to mix-and-match equipment to create customized printing solutions for clients based on equipment speeds, output options, and pricing. Since they can service multiple types of equipment, you can go to a single source for all of your service needs.
4. Account Manager Longevity Equals Expertise
Most local dealers have loyal employees who stick around. They make a point of building relationships with their clients and understand how their services can help their clients achieve their business goals. If they are providing you great service, they are constantly surveying your business to see how they can help you. Even though we are doing more business electronically, a businesses' printing costs can be a few percentage points of your overall revenue. And if you're in the legal, healthcare, or insurance industries, it can be even more. It's important to know the person advising and selling to you understands what they're talking about, what your business is, and will be around in the future to help meet your business objectives.
5. Billing Support
This may seem like a trivial matter. However, mistakes can happen. How much fun is it when you don't understand the information on your invoice or figure out what exactly you're being billed for. Or how about when there is a problem, or you want something explained, you dial into a call center and get passed around when you have a question about your bill? Your local authorized copier dealer is local. It's easy to contact them and to hold them accountable. Again, if they are providing excellent service to you, they will be happy to go over their invoices on a regular basis (monthly or quarterly).
Want more reasons why you should be working with your local copier dealer. Read our post about, Who provides the best copier or printer repair service?

Whether you're looking to purchase a copier, printer, phone system, IT outsourcing, or even Managed Network Services, you should strongly consider looking at your local providers. It doesn't hurt to get a second or third opinion and pricing proposal, even if you're interested in keeping your current provider on their game. You will be surprised how competitive they are and how hard they will work to win your business. At AIS, we believe office technology should provide you peace of mind and help you win more business. Interested in learning more about how we can help you locally in Las Vegas or Southern California, contact us and let's start a conversation today.