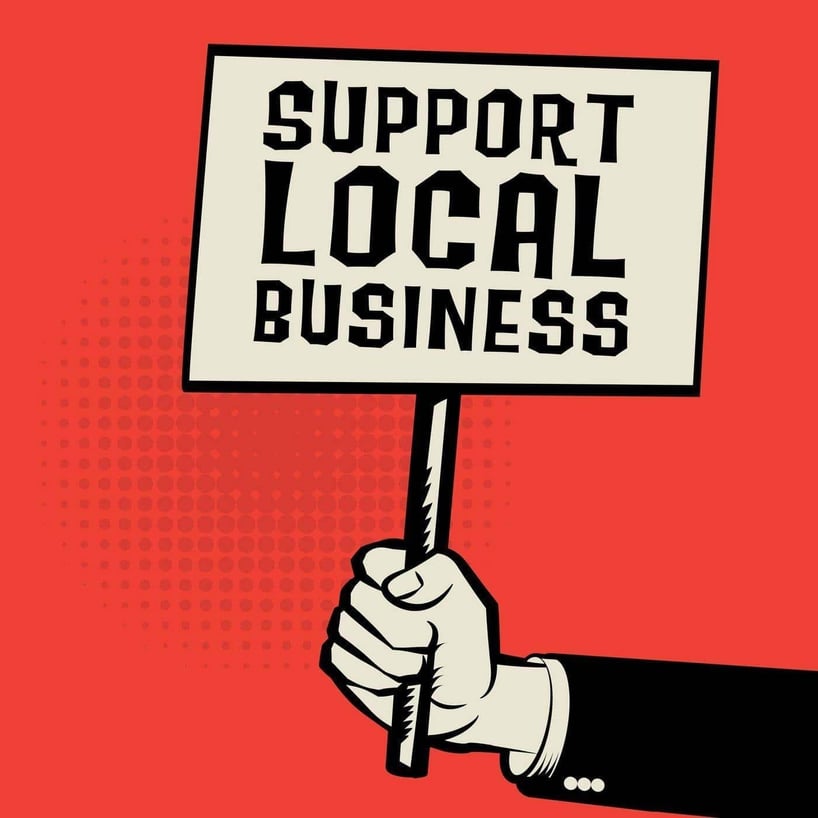 We've all read about the benefits of buying from local businesses – it's good for the environment because that produce you bought wasn't shipped from across the country, it adds more money into the local economy, and it just feels good to support your neighbors. I found a great infographic outlining the economic benefits, click here to look at it.
What's this got to do with buying a copier? Or leasing a copier?
You have two choices when buying or leasing copiers and printers – manufacturer direct or locally authorized dealers. Actually, there are two other choices for buying; local office supply store for smaller MFPs and printers or online (eBay is popular); but we're going to focus on the first two today. As a locally authorized dealer, you might think we're too biased to listen to about the advantages of buying local. All I can say is that after decades in the copier industry, ignore my experiences at your peril.
What's This Copier Going to Cost Me?
"How much is it?" That's the first question all of us that own or lead a business want to know. There's a misperception that buying direct from the manufacturer's representative will always get you the best price.
It won't.
The fact is everyone buys at roughly the same wholesale price from the same source. Copier dealers are often smaller companies with less overhead. We can be more agile in our pricing.
But, even if you pay less for the equipment itself, as we all know – price isn't everything.
Service Speed and Quality
Talk to anyone who's been in the industry for a long time and they will all say that (with rare exceptions) local dealers provide better service [click here for more thoughts on copier service]. Here's why.
It's the manufacture's equipment, obviously they'll be able to service the copier better than anyone. That's wrong in two ways:
Service technicians go through the same training regardless of who they work for.
The manufacturer isn't local. Service calls often have to be checked with HQ. This can turn a 24 hour service into a 72 hour service. Local dealers make decisions faster.
Service technicians also tend to be some of our longest-tenured employees. They know what they're doing. They've seen it all and that knowledge equals a faster repair – and a quicker return to productivity for your business.
Local dealers will attempt to diagnose the issue over the phone and maybe even troubleshoot. Manufacturers' call centers will often simply forward contact info to the nearest technician. They'll have no context of the problem, so it takes them longer to diagnose. Having at least an idea of what's wrong allows local reps to ensure they're carrying parts and supplies they're most likely to need when they arrive at the customer's office.
Square Pegs and Round Holes
Manufacturer direct will have products from that manufacturer. On the other hand, local dealers carry equipment from multiple companies. We offer Konica Minolta and Kyocera copiers, printers, and scanners (we can also sell and service equipment from other manufacturers too, depending on the specific needs of a customer). This allows us to better mix-and-match equipment to create custom fit printing solutions for our customers based on equipment speeds, output options, and pricing. Instead of square peg; we've got pegs that are square, round, rectangles, and quadrilaterals.
Account Manager Longevity Equals Expertise
Local dealers generally have loyal employees who stick around. They know their customers and how their services can best help customers achieve their business goals. Printing costs are between 2-4% of a businesses revenue. You want to know the person advising and selling to you understands what they're talking about – and will be around to help you in the future.
Billing Support
Our invoicing is extremely accurate. However, mistakes can happen. How much fun is it dialing into a call center . . . somewhere . . . and being passed around when you have a question about your bill? We're local. We're accountable. In fact, we've even visited customers to explain their invoice to them face-to-face.
If you're in local to one of our locations in Las Vegas, Palm Desert, Los Angeles, Orange Country, San Diego, or Riverside and looking to buy a copier – or lease a copier – consider us.