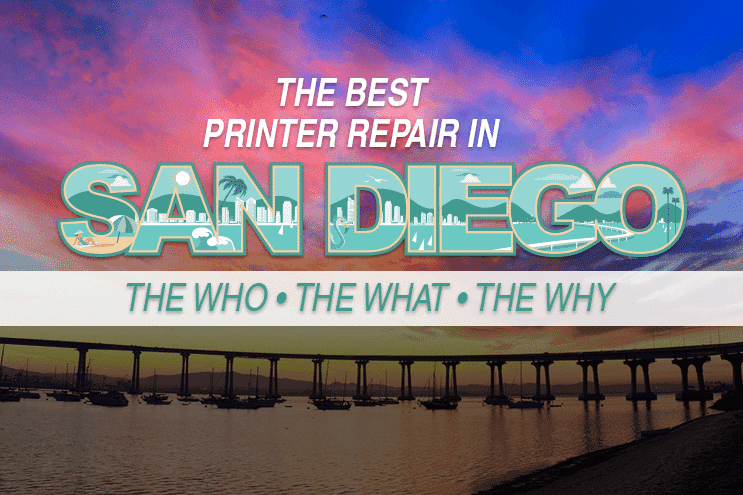 Located along the Pacific Ocean, San Diego is a beautiful city, but the businesses there are still in need of printer repair. If you've ever searched Google for 'printer repair company San Diego California', it may be a little difficult to find the best one.
Why?
Because there are quite a lot to choose from. Not just in San Diego directly, but when you search online for the best printer repair company you receive results from national companies that may have a presence in San Diego, but may not be located in San Diego. Or you may find companies in the 'toner' business. They specialize in offering toner to businesses, but present themselves as a repair company.
In this area there are many printer/copier repair companies, and this makes it an even more difficult decision to choose the best repair service. Just Google the words 'printer repair' and you will see plenty of ads and listings from businesses in San Diego. To get a good idea of their operation, look up their address in Google maps, using street view, and you will see what their offices really look like from the street—this is always a fun way to peek in on their business.
So, when you are looking for the best printer repair company that is local to San Diego, you should check them out thoroughly before making a decision to service your office printers.
This is a primary reason we have no problem talking about the competition there. Another main reason is we feel that it's important that you as a business owner need the proper information and should understand the right questions to ask in order to make an informed buying decision for service. We can only expect the same from the partners we choose to do business with.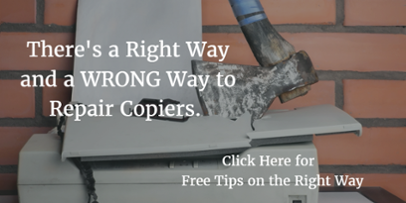 My printer keeps breaking down?
If you have this recurring problem, then you either bought a printer based on price and tried to make it work in an industrial type environment, like an office, or it may be getting tired and it's time for an upgrade. Either way, you need to make sure you purchase the right printer for your needs. A consumer grade laser printer found in a retail store may have an attractive price, but consider the following:
Volume: How many prints per month is the printer rated for vs. how many pages you print in your office per month.
Maintenance: If you purchase a printer at a retail store, you can buy a warranty, but they don't sell maintenance programs. If you're going to use this machine in an office, you're going to need a maintenance contract to perform preventive maintenance and save you the trouble of having to deliver it back to the store to be repaired. Service can make a big difference even if you're buying a single printer for a small office.
Toner: This is an important one. Toner costs on an annual basis add up and from my experience with my printer at home, I am constantly buying toner cartridges. And don't forget about the "Toner Pirates," these guys have learned how to rip-off many businesses. If you haven't heard about them, you need to know how to identify them so you don't get robbed when replacing your toner.
Actually, a slightly more expensive printer from an authorized reseller could save you money, check out our most recent blog post which compares Laser Printer Repair vs. Purchasing a New Printer—Are those discount laser printers at retailers a good deal?
What are the different types of printer repair companies?
There are a few different types of companies that are providing repair services in San Diego. These include:
Retail Stores
Retail stores like Office Max, Staples, and Best Buy all provide some type of basic repair through their technical department. You need to make sure they have "successful" repair experience with the make and model of your printer before you spend the time delivering your printer to their store and let one of their PC technicians begin working on it. Be careful as some of them may state they only do installation support on printers.
Toner repair companies
Their sole business is to sell toner. They usually provide printer repair as an ancillary service because they've heard a number of customers over time ask them where to get their printer fixed. So you need to make sure this is not a "just because" part of their business, but they take this part of their business seriously.
PC & Computer Repair
Here's another business that may have added printers to their already successful PC and computer repair business. They have technical staff right? If they can fix a PC, they can repair a printer right? Not necessarily. Printers are completely different devices. It takes specialized and trained personnel to repair these devices and they constantly need to be schooled on new firmware and upgrades. There are also many different printer manufacturers which is much different than PC manufacturers where the operating system is the same or similar to each device. Each printer manufacturer has a completely different way of building their printer, and their software and firmware is different too.
Copier and Printer Repair Businesses
These companies specialize in repairing both copiers and printers. They also service multi-function printers too. They usually make an investment in their technical staff to be trained and updated on a regular basis on different printer manufacturers. Like I said above, each manufacturer is different, so make sure when you choose one of these businesses, that their service technicians are trained and have experience in successfully repairing your manufactured printer and model.
Best Printer Repair Companies in San Diego
We have done all of the legwork for you. Below is a list of companies that service printers in San Diego that you should consider when looking for printer repair.
Affordable Printer Care
Affordable began operations in July of 1993. They are located in Miramar and provide inkjet and laser repair services as well as offer refurbished printers for sale. They work on Brother, Dell, Lexmark, HP, and Canon printers. They are an authorized reseller of HP printers.
Laser Saver, Inc.
Laser Saver was established in 1988. Their main business is providing compatible laser printer toner cartridges for HP and Brother printers. They are located in Miramar, California, just North of San Diego and offer refurbished HP LaserJet 4 and LaserJet 4000s. They are an HP Authorized Service Provider and provide onsite printer repair services for HP printers.
Printer Repair Depot
For over 20 years, Printer Repair Depot has been providing printer repair services to the San Diego market. They have two locations, Kearny Mesa and Carlsbad, and provide onsite, in home, or drop off repair services for most types of inkjet and laser printer models. They also sell ink and toner for printers.
What questions should I Ask?
Our recent article, "7 Signs You Need to Hire a Copier Repair Service Company", may be about copiers, but the information can also be directly related to how and when you may need a printer repair company too. And at the end of the article, it provides a complete list of questions to help you identify the best printer repair company in the San Diego, CA area.
If you are looking to replace your printer, you should consider buying a printer from a locally authorized dealer to overcome all of the considerations in the purchasing process. It's not an easy decision, but they can help you through this process and provide you with the regular maintenance you will need to ensure your printer is in good working order and provide you peace of mind (Buying a Laser Printer – The Problem Might Be You).

At AIS, we are so confident in our ability to provide our clients with a product that meets their demand and win more business. We also continue to maintain high levels of customer satisfaction in order to grow our business into new markets. Today, we offer the same products, maintenance, and repair services to all our markets including San Diego, Corona, Orange County, Palm Springs, and Las Vegas.