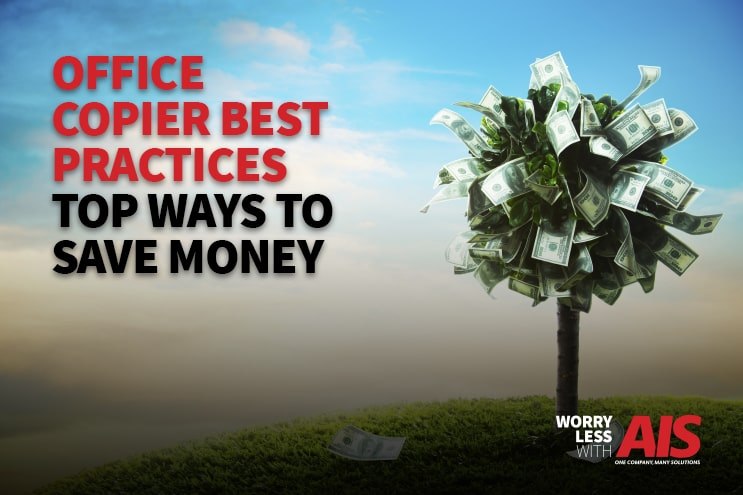 READ TIME: 5.5 MINS.
The office copier is a staple of every office environment—and for a good reason. Copy machines and multifunction printers allow for the printing, copying, scanning, and faxing of office documents and jobs throughout your business.
As much as office copiers are essential for improving workflow processes, they can also be one of your largest sources of hidden costs that are eating at your budget. Crunching numbers is important to the success of every business, no matter how big or small!
The good news for you is that we are here to help your business save money, especially when it comes to controlling your office technology expenses— and there are a few things we recommend you do in terms of controlling the costs associated with your multifunctional printer.
With almost 20 years of guiding and educating our readers and customers in the business technology industry, you can count on us to give you the most helpful tips to ensure your business continues on its path of growth and success.
You came here to find a solution and maybe some ways you can cut down on some of your office copying costs, right? Well, follow along as we give you our six most common ways your business can save money by controlling costs that can also increase office productivity.
Office Copier Best Practices For Saving Money
If you're the owner or purchasing decision-maker of your company, you know that even the smallest cost-cutting methods sometimes make the most significant impact.
Establishing guidelines for your office copying and printing allows you and your staff to budget more effectively as well as increasing employee productivity.
1. Set Office Copying and Printing Rules or Guidelines
Your entire staff needs to be on board when it comes to cutting office copier costs— it cannot be a one-person crusade. Having company policies in place when it comes to using the office copier is an excellent first step to take. Some of these money-saving policies include:
Print in black and white or grayscale when possible.
Make sure large jobs are routed printers designed for high volume jobs instead of slower jobs.
Print double-sided when possible to save money.
If you only need part of a file printed, then select just those pages instead of printing the entire file and throwing the pages you don't need away.
Prohibit the printing of personal documents. While printing one or two pages here and there may not seem like a problem, this can quickly get out of hand if allowed at all.
It is also very important to make sure that every member of your staff understands how to properly use each function of the office copier and follow the cost-cutting policies that are in place.
2. "Go Digital" Whenever Possible
Times have changed, and our digital world continues to evolve each day. It might be hard to make this adjustment at first. Still, an important rule on controlling printing costs is only to print documents when it is necessary.
Try to get into the habit of utilizing digital files whenever possible. For example, instead of printing out a schedule for everyone on your team, create a downloadable file (such as a PDF) that can be saved on each employee's desktop, laptop, or mobile device.
You could even print out one master copy of the schedule and hang it in your break room or a common area that everyone can see.
Instead of printing out messages to send to other team members or your supervisor, think about utilizing a messenger system such as Microsoft Teams, Google Hangouts, or Slack. You can even consider text messaging to communicate back and forth.
Going digital enables you to save on office copier resources such as paper, ink, and toner. It also means you are putting less and wear and tear on your office copier. Less wear and tear means that the copier parts are less likely to malfunction and need repair or replacement— as well as servicing less often, which saves you money.
3. Stop Ignoring Copier Machine Messages
When a service light appears on the dashboard of your car, what do you do? You might ignore or overlook it for a week or so, but eventually, you take your car into the shop to get serviced. The same goes for your office copier or printer.
Reading all copier alerts is a critical way to help save money within your organization. I know, it is tempting just to press the dismiss button and move on for the sake of time. But, doing so will cost your company money.
It is very easy to misprint a job (which wastes paper) or even print the same job multiple times due to low ink, toner, paper jams, or other printer errors.
Make sure all alerts are activated and that your team understands what each alert means and the steps they should take to fix each issue. This eliminates frustration amongst your staff and prevents someone from hitting the dismiss button because they do not know how to fix the problem at hand.
RELATED: How To Find The Best Copier Companies Near Me.
4. Upgrade Your Office Copier
When is the last time you upgraded your office equipment? Even if that trusty dinosaur seems to be working just fine, it is more than likely costing you more money to operate than a newer device would.
The first way is the use of energy. Older machines are not as energy-efficient as newer office copier machines. A device that requires less energy costs less money to operate in a number of ways. Upgraded office copiers can also save money by:
Improving workflow processes
Utilizing ink and toner more efficiently than older machines
Require fewer repairs
Newer technology makes for a more efficient work environment while being cost-effective at the same time.
5. Choose an Office Copier That Fits Your Needs
When selecting a copy machine, it is important to choose one with the features that fit the needs of your office, staff, and customer demands.
Remember, every business is different. Some may need an office copier with basic features, while others may need a multi-function printer with a whole host of functions from printing, scanning, copying, faxing, and so much more!
If you purchase or lease a printer with fewer features than you actually need, you will waste money finding alternative methods for accomplishing these tasks. If you choose a much larger printer with more features than your company will ever use, you waste money maintaining a device that you aren't making full use of. Neither of these is cost-effective.
It is helpful to make a list of all of the features you need your office copier machine to have before you invest in one. A list allows you to learn exactly what you need when you compare office copier options.
6. Perform Routine Maintenance
Whether you leased or purchased your office copier, it is essential to make sure you are having your machine serviced on a regular schedule. If you bought your copier outright, you can either perform the maintenance yourself or hire an experienced company to maintain your office copier.
If you lease your machine, regular service and maintenance of your office copier should be in the lease contract. A regularly serviced copier ensures it is running optimally.
Final Thoughts: Do Not Let Your Office Copier Drain Your Budget
As you can see, there are some easy steps you can begin to take if you are looking for ways to control your copying and printing costs. Following these six tips will help make sure your company is using your office copier in the most cost-effective way possible.

The money your company saves can be put towards other areas of your business. Our experienced and knowledgeable consultants are happy to discuss your office copying needs and various options to fit your needs. Contact us today for more information on our services! Also, check out our channel on YouTube, The Copier Channel. We're here to give you peace of mind and help you win more business.