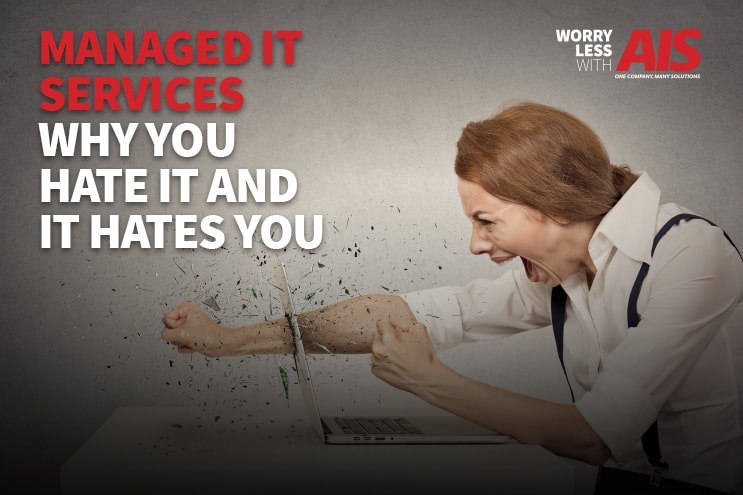 READ TIME: 5 MINS.
Do you ever feel like anything to do with IT or technology always tends to give you problems? If you answered, "Yes," to that question, you're not alone!
IT professionals and managed IT services companies don't actually hate you, and you don't really hate your IT people or departments, right?
There's something to be said about the inevitable battle or conflict that both sides tend to experience with each other. However, rather than turning this article into a one-sided gripe session, we're instead exploring the issues both sides might experience.
Like most departments at a company, there's always room for growth and collaboration. This is true even if you're outsourcing your IT needs by utilizing managed IT services.
With IT, it sometimes can seem impossible to get on the same page as the technology experts at your company who fix your computer or phone issues when something malfunctions or breaks down.
We feel it's necessary to examine these issues so that the resolutions between both parties become clear. The more you understand about your IT department, and the more they understand about your needs, the better success you'll see in technology processes company-wide.
To learn if your company needs external IT help, read our article, What is Managed IT Services? How to Tell If You Need Them.
Why You Have Issues With Your IT Department
Like we mentioned earlier, it can become quite a challenge to feel like your managed IT services team has a clear understanding of your needs. There are a couple of reasons why this happens, but we've come up with some of the most common ones we hear the most.
Bureaucracy: IT Implementation
Have you ever heard that the IT department is the place where good ideas go to die? When an employee presents a new IT idea or system they'd like or need is something we continue to see over and over again.
You might feel that in many cases, your idea was completely shot down for some reason, often involving a committee that steers the IT projects for the company. A lot of employees find that it takes too long to get things done or that there is an overly bureaucratic process for getting a technology project designed, approved, and implemented.
What many employees fail to see is that an IT department hates it just as much as employees do! A great IT department would love to have unlimited resources (such as budget, time, and employees) required to fulfill the wants and needs internally.
Unfortunately, IT departments are constrained, and other outside factors (such as higher up authority) have been implemented to help allocate IT resources that are sometimes scarce.
An IT Team Protects Their Knowledge and Expertise
Let's face it; information technology can be extremely complex and unfamiliar to those who don't work within the department. However, this doesn't mean an employee should feel inadequate when facing an IT problem.
A great IT professional, internal or external, will provide excellent feedback, information, and education to their users—instead of making them feel dumb. Sadly this is a stereotype that IT has.
To simplify this, it's essential to remember that information technology is a service organization and should serve the needs of all employees, just like you would expect your employees to service their customers.
Regrettably, there are many IT professionals who've taken things a step further by refusing to share insightful knowledge that could significantly help an employee complete their job duties efficiently.
The saying, "Knowledge is power," in this case, is sometimes overemphasized. It's common for IT experts to do this for a couple of reasons. The most common reason, though, is the belief that it creates job security. Truth be told it doesn't— it only breeds mistrust.
To learn more about the frustrations employees have with their IT department, read an article published by CIO, 4 Things Employees Hate About IT (And How to Fix Them).
"Why Does My IT Department Hate Me?"
Now that you've got a better understanding of why you might find it challenging to relate to your IT department let's turn the tables a little. Your IT department probably has similar frustrations with you, as you have with them.
Misallocation of Funds for IT: High-Cost Center
It's common that business owners or purchasing managers refuse to spend the appropriate amount of money required to ensure a sustainable IT infrastructure, roadmap, strategy, technical support, cloud computing strategies, remoting monitoring and management, and continued maintenance.
Business owners tend to spend as little as possible for their business IT needs. A misallocation of funds for any IT department, large or small, is never a good idea. Once a natural disaster or cyberattack strikes, the business owner typically blames the IT department for the damages that occurred.
What most don't realize is that the disaster could have been prevented, or managed in a much better way, if there wasn't such a lack of financial investment.
The Importance of Valuing IT Staff
Regardless of the industry, every employee should have something valuable to bring to the table. IT professionals are smart and love new, cutting-edge ideas. These people are experts in their field and will typically want to work on just about anything that involves technology. However, this can be seen as a double-edged sword.
We, the users and employees, have given IT a bad name by asking for investment in resources and projects which don't provide enough or any value to the business they support. Over time, this has led employees to think IT staff simply wants to play with toys all day.
Make sure to give your IT department some love, and take time to learn all the different ways they provide your business goals with the IT support it needs to function each day. You'd be surprised what a little praise could do!
IT Involvement: When Is The Time Right?
Earlier, we briefly mentioned the prevention of cyberattacks and how important it is for IT staff to manage the network infrastructure in case a horrible disaster occurs, such as data backup and disaster recovery efforts. So many tragic and detrimental experiences could be avoided by simply including IT in all business plans, now and in the future.
Having a plan or an IT roadmap in place is one of the best ways to remain on the same page as your IT team. Speaking of an IT roadmap, have you ever heard of one? Read our article to learn more, Virtual CIOs and Successful IT Roadmaps.
Utilizing an IT roadmap isn't often seen as holding strategic value, but it can significantly bridge the gap between an IT department and the rest of the company. It's always essential to have a plan for all sectors for your business, why should IT be any different?
It's also important to remember that your IT department needs time to plan for a project, just like you. Waiting until the last minute to approach your IT team with a problem and expecting a quick outcome without any planning won't do you or your IT team any good. Make sure to give your IT staff the proper amount of time to plan and execute the tasks you're requesting.
Unreasonable Demands
If there's one thing that IT professionals want, it's stability and planning. Above all, IT experts value time so they can adequately manage and implement the systems or strategies employees so desperately request.
Many times, employees approach IT staff expecting immediate gratification or resolutions, and don't consider how time-consuming these projects might be. However, the reality is that they aren't the only ones requesting resolutions for an IT issue they're experiencing.
IT staff are continually working on multiple projects for multiple employees. They have limited time and want to make sure they're spending their resources wisely.
If you want even more information on the benefits of managed IT services or your businesses' technology infrastructure, visit our Ultimate Resources Page for Managed IT Services.

At AIS, we're not just a business technology company. We're a place for you that holds powerful resources and tools so that your employees and customers get the most out of your business plans and strategies. Becoming familiar with the needs of IT experts, whether that be in-house or through a managed IT services company, is the best way to ensure a robust IT infrastructure. To learn more about managed IT services, or any of the products and services we offer, reach out to one of our business technology consultants, here. We're here to give you peace of mind to help you win more business.