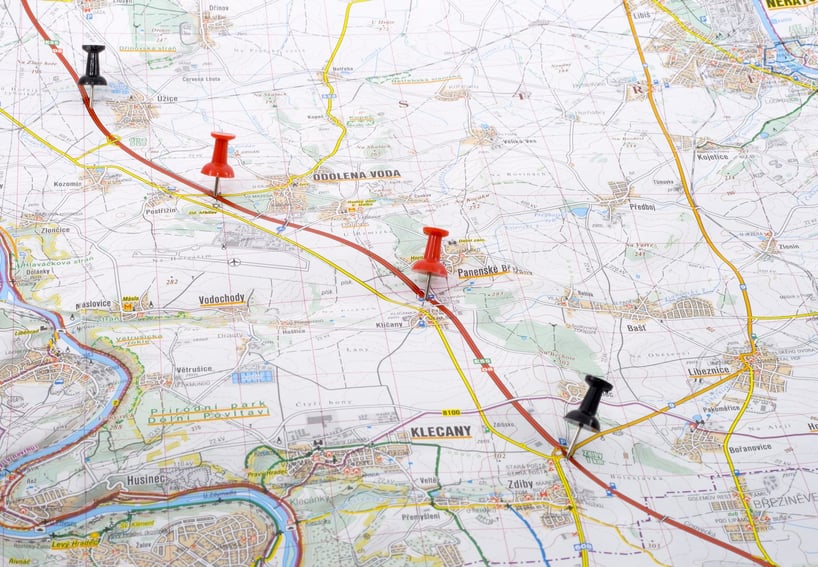 If you don't know where you are going, any road will get you there.
~ Lewis Carroll's Cheshire Cat
Forget for a moment Google Maps, MapQuest, or your car's GPS.
Remember roadmaps? (You can still buy them in gas stations.)
Before GPS, when you wanted to take a trip, you planned it out with a map. OK, conceivably, you could get from one end of the country to the other by getting on I-10 and driving straight (or always taking the highway that said "W" or "E"), but if you wanted to get there in good time – and maybe take in a few sites along the way – your roadmap was your best friend.
When it comes to information technology and managed IT services, many companies don't take the time to plan out where they want to go, leading to dead ends, missed opportunities, and a perilous trip with no certain destination. Because IT has become increasingly easy to use on the front end, many mistakenly assume that IT projects are also easy – that you can input your "current location" and "destination" and the route will magically appear for you.
It's not that simple. You do need a roadmap.
Don't just take my word for it. IT project failure is rampant.
Allow me to back this up with a few statistics.
One in six IT projects has an average cost overrun of 200% and a schedule overrun of 70%. (Source: Harvard Business Review)
The US economy loses $50 - $150 billion per year due to failed IT projects. (Source: Gallup Business Review)
75% of business and IT executives anticipate their software projects will fail. (Source: Geneca)
OK, you might be thinking, I'm in good company because my last IT project wasn't a total success."
Not OK.
Why is this important? High-performing organizations successfully complete 89% of their projects, while low performers complete only 36%. (Source: PMI.org)
How many projects do you start – and finish?
You Need a Destination
In reality you need a series of destinations, because your IT journey will never end (barring a zombie apocalypse). Your overall destination is an IT infrastructure that supports your business goals. Setting small, realistic goals while thinking big is how many successful companies manage their IT projects.
You reach that destination with a roadmap.
Your Virtual CIO and IT Roadmap
Many small businesses don't have the time, expertise, or resources to keep on top of ever-changing IT trends. Honestly, that's hard for those of us with IT careers! A virtual CIO (vCIO) is an outsourced CIO who will help you identify your current IT situation and guide you through the steps to create a roadmap to successfully using IT to support your business.
You can read about what a vCIO does here.
Here are the questions a vCIO will help you ask and answer for your business. Working for the C-level/leadership of your business down into operations, sales and marketing, support, finance, and other departments; the goal of the vCIO is to be an extension of your business and provide technology recommendations.
In a quarterly review, a vCIO ensure current services are meeting expectations:
Review the previous three months alerts, remediation, etc.
Is further stabilization work required?
Review equipment warrantees and if any equipment needs to be replaced due to age or overwork.
Additional service needs?
The vCIO will also look at IT/business needs and changes to identify areas of misalignment between current IT and current needs as well as identify opportunities to improve business via use of information technology.
Any environmental changes since we visited last?
Planned changes next quarter or year?
Adding or reducing staff
Changing office space (including allowing more remote working)
Big projects?
Software expirations/upgrades
Talk to the various departments and ask how technology is helping or hindering their monthly, quarterly, and yearly goals. Honest feedback from these departments is crucial for successful IT planning. IT can't be an afterthought if it's going to be successful.
Through broad knowledge of the IT industry in general, a vCIO can spot the gaps in your as-is state and determine where you need to be.
A vCIO won't just tell you what you need to do, but also help you plan how to do it. However, that is a post for another day.
Remember the Cheshire Cat when it comes to IT – know where you want to go so that you can figure out the right roads to get there.
For more information on everything to do with Managed IT Services, check out our resource page, here.
Our comprehensive managed IT service offering includes a vCIO. Curious about what managed IT can do for you? Click the image below to download and read our free eBook.