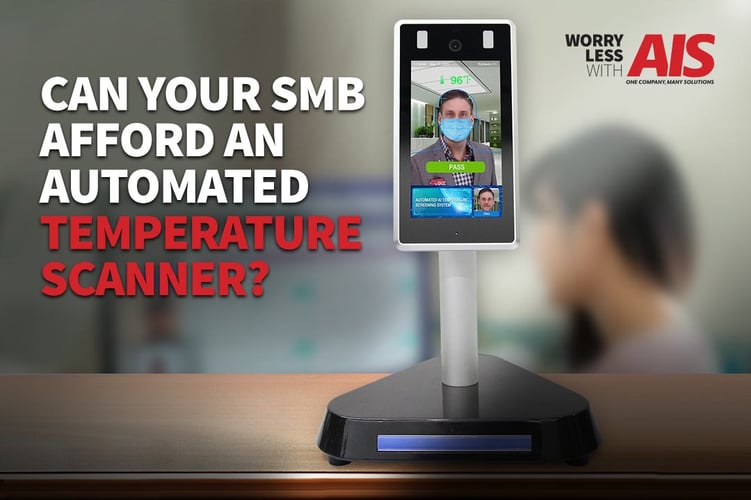 READ TIME: 5 MINS.
Small to Medium Size Business (SMB) owners nationwide are facing growing concerns about protecting employees, visitors, and customers from dangerous viruses, such as COVID-19.
Requiring (and even providing) masks or facial coverings are a great way to prevent the spread of this novel virus. However, necessitating the use of a face mask is only one small measure we should take as we face this pandemic head-on.
Along with social distancing and contact tracing, the use of a thermal and automated temperature scanner kiosks are highly recommended for all kinds of businesses. But like any other new and emerging piece of technology, this can come with a hefty price. Times are tough right now, and any additional business cost is one that several of us aren't willing to take.
So, can your SMB afford an automated temperature scanner, especially as many of us are struggling to stay afloat?
To swiftly respond to the question, the answer is, "Yes." But, we first want to tell you the "Why" and the "How" in terms of affordability for this valuable technology solution.
An Automated Temperature Scanner Kiosk And Your SMB: The Breakdown
Typically, cost is the leading factor determining if you'll pull the trigger on purchasing a new product, right? An automated temperature scanner is no different.
But what is different is the options you have. And we're not just talking about pricing options, but also the type of scanner or hardware and software features.
It's important to note that although many companies advise for a fully automated and contactless temperature scanner or thermometer, this isn't always the case.
When a temperature scanner kiosk is completely contactless, that means the temperature is read without the touch or physical need of a person to obtain the reading. In this instance, achieving safe social distancing is available in some devices —keeping both the employee and visitor at a safe distance.
We've been in the business technology industry for almost 20 years and specialize in some of the best products and services your business needs to grow. We provide solutions for your employees and customers, and have a knowledgeable approach when assessing your business demands. Learn about the different types of temperature scanners by reading an article we recently published, How Much Does An Automated Temperature Scanner Cost?
Without a truly contactless temperature reader, two people must come in close contact with one another. Unfortunately, this type of interaction is risky and could potentially increase the spread of the virus if a temperature is elevated or a fever is detected. So, where does cost come into play here?
Your SMB Can Afford A Contactless Temperature Scanner Kiosk!
Because a contactless temperature scanner is a higher-end device than a standard forehead thermometer, the price is a bit higher. But in this instance, you get what you pay for.
The cost of an automated and contactless temperature scanner could cost thousands of dollars if paid outright. But, have you ever thought about your leasing options?
Leasing a temperature scanner kiosk is an excellent alternative to purchasing, especially if your business has more than one entry point—requiring you to purchase more than one device.
You'll find that leasing an automated temperature scanner is significantly more affordable, with an average price ranging between $70–$120. The leasing price depends on a number of factors, such as configuration and the duration (number of years) explained in the lease agreement or service level contract.
In addition, you can decide after the lease is over if you are ready to upgrade or own the product outright.
Learn more about a Service Level Agreement (SLA) by reading our article, 8 Tips, and Tenets for Service Level Agreements.
Associated Costs and Pricing
Selecting the most suitable temperature scanner kiosks for your business is the key to receiving the best value for your investment.
As we mentioned earlier, the price of these products varies, depending on hardware and software features, accessibility, implementation, accuracy, and more.
Skill Required for Setup and Daily Use: Some contactless temperature scanners are hard to set up and operate, causing a poor user experience. If not correctly positioned, the device may not perform properly, malfunction, or provide inaccurate results.



The AATVSSV2 (V2 Pro) Automated and Contactless Temperature Scanner

is a great option, as it's compact and straightforward to use. This device doesn't require programming or networking knowledge. The easy-to-use software allows many configurable extra's and options.

Not to mention, the stand of the device gives you a couple of options to choose from (a desktop or floor stand) depending on where you decide to place the device.
Accuracy of Readings: When shopping around, it's important to check for it's temperature accuracy and margin of error. Consistently unreliable temperature readings question the practice of screening, which is the opposite of what you'd want from a device like this.

Make sure the model you're interested in can detect temperature with or without a face covering. A device like the V2 Pro accurately reads a person's temperature, even if they're wearing a mask.
This type of detection is extremely valuable if a person is indeed sick without knowing but can keep their mask on throughout the screening process.

Another great feature worth mentioning is the alert system that can warn users to put on their masks if they aren't currently wearing one. How nice!

The accuracy of a contactless scanner is one of (if not the most) essential features, and certainly contributes to the overall cost of the machine.
Quickly Displaying Results. Not only should a contactless temperature scanner be easy to set up, use, and provide accurate temperature readings— but, it should be fast.

We've got places and go and people to see, and people don't want to spend their busy work days standing in line or waiting for their results. Infrared temperature scanners should measure body temperature accurately from up to 10 meters away, and provide a reading within three seconds. I think we can all agree that time is money, and when it comes to quick results, this feature is priceless.
Essential Features: There are also additional features that make up a great automated and contactless temperature scanner kiosk. We are basing these features off of the V2 Pro device that our customers deem helpful and valuable:

Simple to use setup–software with options
Alert signals and alarms that can be turned on and off
Snapshot function to store images and data
Email and SMS notifications for device administrations
Accessible from any workstation for convenience
Password protected for security
Live camera feed available
Datalog storage and exporting capabilities
Facial recognition
The V2 Pro temperature scanning device is completely equipped with easy-to-use, accurate, industry-standard features, yet its cost can fit most small businesses' budgets.
Learn more about this office technology solution by watching our video.
The Final Say: Afford An Automated Temperature Scanner Kiosk
Life as we know it is very uncertain right now. All SMBs must take reasonable precautions to lessen the chances COVID-19 should spread within their facility.
Although it's sometimes difficult to justify and budget funds for an out-of-the-ordinary expense, we have to adapt whether we want to or not. If installing an automated temperature scanner could detect even one case of COVID-19, alert the individual, and keep the virus from spreading throughout your office, wouldn't you consider the investment priceless?
Purchasing a temperature scanner kiosk from a local, trusted technology provider like AIS assures your company is receiving the unconditional support for all of your small business needs. Want to learn more about temperature scanners or any of the products and services we offer? Reach out to us today! We're here to give you peace of mind to help you win more business.