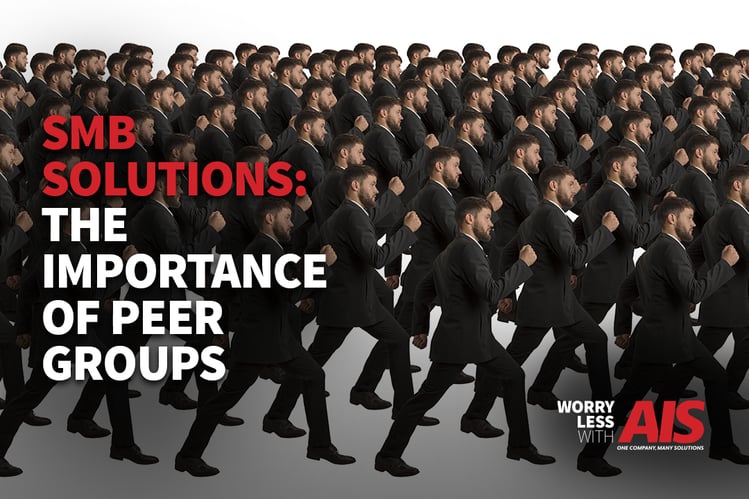 We live in such crazy times right now, and it doesn't seem to be going back to normal anytime soon. Most business owners and professionals are forced to find new ways to shift their business operations and strategies to finish out this year as strong as possible.
So, what should we be focusing on? Besides adjusting to all of the unexpected conditions COVID-19 has brought (such as a shift in customer or consumer demand of your products and services), what else can we do to ensure we're staying on top of our game?
Have you ever thought about the importance of peer groups, especially as it pertains to small business solutions for your employees and customers?
Peer groups hold much value and can quickly provide you with solutions that may have never crossed your mind. I think we can all agree that knowledge is power, right?
I've always been a firm believer in soaking up as much information and best practices that my fellow industry leaders are doing each day throughout their businesses. And on the other hand, I've always had a passion for sharing what I'm doing, whether it be business solutions that are working or the lessons I've learned along the way.
What Is The Importance Of A Peer Group And How Can It Grow My SMB?
I wasn't quite sure what a peer group was until I joined my first one about 12 years ago. So, what is it?
A peer group is, "A group of people, usually of similar age, background, and social status, with whom a person associates and who are likely to influence the person's beliefs and behavior."
In my opinion, this definition is a bit stiff. From my experience, a peer group is simply a group of people who have something in common that they are passionate about and want to learn more about. Initially, for me, it was office copier dealers of small businesses.
As I came across my first peer group, The Copier Dealer Association (CDA), I was instantly hooked on what I heard from many of the members. The CDA is a dynamic group of independent copier dealers across North America who share best practices, hold industry events and conferences, and give innovative strategies to help their businesses excel.
The CDA peer group provided an industry financial analyst, as well as members. They were able to measure their organizations against a specific financial benchmarking model to identify what great looks like. And if you know me, you know I am BIG on "good vs. great." There's a big difference—trust me!
The owners meet three times per year, and service and financial leaders meet once a year. In addition to the meetings, all members of the CDA communicate throughout the year, sharing information and assisting with national equipment deployments.
I have to admit, the other piece of the peer group that initially hooked me was the owner's meetings. These meetings always took place in impressive locations, like Mexico, Hilton Head, and Aspen. My love for traveling and the opportunity to learn how to grow my business better—what more could I want?
By the way, I'm going into detail on my first experience of joining a peer group because if you can find a peer group for your specific business or industry needs, you'll come across the same successes as I have.
My Peer Group Discoveries
Besides the perks that come with a beautiful trip out of the country, I immediately (at the first meeting, actually) discovered the value of this peer group.
Sharing Industry Findings and Resources
It was refreshing to see how all the group members were genuinely there to help each other or newcomers, like me, learn, and strategize. The environment was perfect for those interested in how we can improve our business while also learning about some of the best resources out there within our industry.
At our meetings, guest speakers take the stage to share relevant knowledge and expertise. The speakers discuss new and emerging trends and technologies, give motivational outlooks, review management competencies, and so on.
The CDA peer group meetings also included focus panels showcasing other members who may be experts on a specific topic—or maybe they ventured into a new area of business and wanted to share their experiences.
Assessing My SMB Benchmarks
The CDA peer group also prepares benchmarks of all the members, giving us great insight into fundamental concepts:
"What is possible?"

"What does 'great' look like?"
I was challenged to apply these two questions from many different business standpoints, such as revenue, earnings, productivity, and compensation. This type of information was completely invaluable to me as I was sure my findings would guide my business into becoming a more powerful, well-run organization. Hence, the overall importance of a peer group.
Assessing benchmarks and discussing them with other industry leaders like myself was an opportunity for me. It was a comfortable and trusting environment with some of the best idea-sharing taking place over a cocktail hour or dinner. These different settings allowed us to dig into more details on the ideas we heard throughout the day.
Speaking of benchmarks, one I learned early on that I hadn't previously given much thought into was company culture. Without this peer group, who knows when I would have worked on the culture taking place inside my business doors. For me, this was one of the most powerful learning moments that was entirely business transformational on almost all levels.
Read about my journey on implementing an influential company culture and the benefits I continue to see; Company Culture Isn't Important… Or Is It?
SMBs During A Pandemic: Why Are Peer Groups Even More Important Right Now?
Now that you have more of a backstory on my first experience in joining a peer group, it's just as important to understand why a peer group is more important now than ever. By the way, since joining my first peer group, I'm now a part of three more.
As I mentioned earlier, we are in uncharted and unprecedented times. And when I say "we," I mean all of us. No matter what business you're in or the types of customers you serve, I assure you've felt an impact as our entire world changed earlier this year.
Before COVID-19, most of our businesses were on a fast-path, autopilot mode of growth, just charging forward. But then it all changed— and what seemed to be overnight.
When I first heard the federal government was recommending closing all non-essential businesses for two weeks, I was shocked and concerned. I then listened to the Governor of Nevada (where my business is headquartered in) was going to address the state, and I feared he was going to do precisely that.
So, I prepared myself and our staff. We anxiously listened to his press conference, and what we heard shocked us to our core. The closing of businesses wasn't just two weeks, but 30 days. The news was numbing. At this point, panic began to slip in. We knew the days to come would be filled with putting a well throughout plan together on what to do next.
What do we do?
How do we do it?
How do we pivot?
How do we protect our business and employees?
How can we navigate all the HR issues to come?
How do we keep our business funded?
This was when being members of those peer groups became even more powerful. All of these questions running through our minds were also running through my fellow peer group members' minds. AIS was not alone in this.
Peer Groups For The Win
Unknowingly at the time, one of the peer groups prepared me for the novel pandemic that was soon coming. My last peer group meeting took place in September of 2019 and discussed the importance of MicrosoftⓇ Teams.
Up to that point, I never gave a platform like this much thought. However, I quickly followed suit once hearing what all my other peers were doing with it. Just a month after my meeting in September, many of us at AIS began using Teams.
Side note, if you are not familiar with Microsoft Teams and want to learn, check out this article,
5 Reasons Why You Should Start Using Microsoft Teams Today.
Fast forward to March 2020 when many of us were forced to stay home, what did we do in terms of communication? How could our peer group now get together and share our business practice and ideas now that travel was essentially banned? Well, sitting right there for us was Teams.
Teams allowed all of us to collaborate with live meetings anywhere in the world effectively. Our peer groups quickly set up weekly meetings in Teams, so we all could share how we were handling the COVID-19 chaos.
I can sincerely say that this communicative tool immensely helped my company and myself survive this pandemic to date. It has not been easy. It would have been almost virtually impossible to be where we are today without the peer groups and our weekly meetings.
Too much was changing too quickly, and it was challenging to stay up to date with the ever-evolving environment. My peer groups even helped many members learn that their businesses were considered essential and could remain open.
And for those deemed non-essential, the peer groups helped guide each other through the logistics of working from home and even how to keep ourselves and our staff safe and healthy.
Learning and implementing such a helpful tool like Teams through my peer group enabled me to communicate better to my team members, navigate the relationships I had with our banks, and discuss the federal government's Paycheck Protection Program (PPP) for SMBs like mine.
Teams also helped us leverage a brand new product that helps keep employees, customers, and visitors safe and healthy— an automatic and contactless temperature scanner.
I can confidently say that I owe a lot to the peer group members that supported and further educated me from the second the pandemic began.
The Final Say: SMB Solutions And The Importance of Peer Groups
Unfortunately, we are not through this pandemic yet; some even say this is just the beginning. But, it is incredibly comforting knowing that my business, employees, and customers are not alone. Because of peer groups, I have an immense amount of tools and ideas that will help us make it through and come out even stronger.
If you haven't joined a peer group, now is the time, as it was one of the best decisions I made for my organization's health and wealth.
To learn more about peer groups, our best practices, or any of the products and services we offer, reach out to us today. We're an office technology company that is passionate about educating our readers and customers on what they can do to grow and improve their organization. We're here to give you peace of mind to help you win more business.