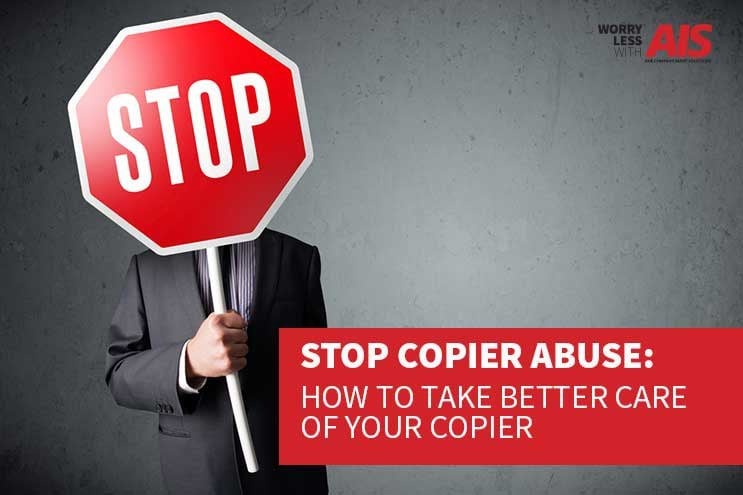 Oh great, your office copier broke… AGAIN.
Are you getting fed up with "fixing" the same problem over and over? You have presentations to print and reports to assemble, and the last thing you need is for the copy machine to break down.
We understand the frustration that comes with a broken copier, but what makes it even worse is when you're dealing with the same problem day after day, which never seems to go away no matter what you try to do to fix it.
Googling the problem isn't working and waiting for a service repair technician to come on-site just isn't cutting it. Have you ever thought about preventing the issues from occurring in the first place?
Drumroll, please….
Want to see what to do to care for your copier? Watch this!
We know some simple actions you can take to prevent copy machine issues from occurring at your business, and we're here to share them with you. That's right; we can help save your time by providing you ways to prevent these printing issues from happening at your workplace.
Let us first remind you that printers and copiers are high-tech pieces of equipment, and they need maintenance and upkeep just like your car does. Sometimes, it isn't your fault when your copier breaks. But other times, copier malfunctions are caused by lack of love from their owner.
Give a little TLC: Copiers Need Regular Maintenance

Tone'er Up!
Would you expect your car to run well if you continued to fill the gas tank up with regular gas when it requires premium? Probably not.
Copiers are the same way. The better the products used in your copier, the better the copier will run. This type of copier maintenance can be easily solved with the kind of toner you use for your machine.
Toners vary in their viscosity and quality. If you don't use the right toner for your copy machine, you can easily cause severe damage that requires a costly repair, which could potentially void your warranty.
The copier's owner's manual should list the types of toner the machine is compatible with, so make sure you don't stray from their recommendations. And don't forget to watch out for those "Toner Pirates" that use telemarketing tactics attempting to sell you inferior product at over inflated prices.
If you've misplaced your owners manual, see if you can find it online by searching for the type and model of the machine. If that doesn't work, call your service provider. They should have a downloadable version for you to reference.

TIP: If you find a bottle of toner that looks like it still has a little toner left inside, DON'T attempt to top off another bottle you may have. Toner bottles are designed to release their contents only when placed in a machine and failure to do so could result in a huge mess.
Check with your service provider to ensure you are ordering the right supplies for your specific machine if you are unsure, and make sure everyone in your office is using the right product for the right job.
Are you interested in learning more about the right toner for your copier? Read our article, Caring For Your Office Printers and Copiers. This article provides you with more in-depth information on toner cartridges, the best way to store them, and how to get the most use out of them.
Keep it clean
Another way to give your copy machine a little love is by cleaning it. This could seem a bit strange, but hear us out!
Cleaning your copy machine is an easy tip for you to do every few months or so ensuring high-quality prints as well as the removal of dirt and debris that enter your copier on a daily basis.
Even if your printer or copier is stored in a clean place, it still absorbs unwanted or foreign materials that can internally damage the machine.
A light wiping of the machine's exterior and a regular wiping of the bypass and exit trays not only keeps your copier looking new but performing like new as well.
To properly clean your copier (without damaging it), make sure you always use a gentle force using a little Windex and a microfiber cloth. Many copiers also come with a cleaning cloth to wipe the glass platen.
Want to learn the best techniques to clean your copier? We've got the perfect article for you, How Do you Clean Copier Glass? With...Windex!? This easy-read walks you through the steps to properly clean your copy machine in no time.
Don't let your copier jam up your time
If we could predict the most common copier malfunction your copier faces, we'll have to go with the classic paper jam.
Are we right?
We have good news and bad news. The bad news, paper jams will probably always occur, even if your machine is brand new. The good news? We have insight on how to prevent paper jams from occurring as frequently as they probably are occurring now.
Check out these simple hacks to avoid paper jams:
Avoid Torn Paper.

It might not seem like a big deal to you if some of your paper is torn in some of the corners. However, to a printer or copier, this can make all the difference. The second your machine detects any strange texture of copy paper, it will jam.
Fan Your Paper.

Have you ever heard to fan your copy paper before adding it to your paper tray? It actually works! Also, when adding your paper to the paper tray, put it right side up. Look for the arrow on your ream of paper.
Remove anything that's not paper.

Before you add documents to copy or scan, double check that all staples, tape-torn edges, post-it notes, and anything else your copier might try to 'eat' is removed. We sometimes forget to do this but doing so can save you time as well as preventing your copy machine from a total breakdown.
The Plug published a great article, Your Quick Guide to Fixing (and Avoiding) Messy Paper Jams, giving you even more insight about fixing and preventing paper jams. You'll be surprised at all the things you can do to that will help your copier function better.
TIP: If and when your printer or copier does jam, make sure to remove the jammed paper SLOWLY, with very minimal, but consistent and deliberate force. You can severely (and quickly) damage your machine by pulling the misfed paper out too quickly. Don't be too rough on your copy machine; they're here to be your loyal assistant in the office, not that annoying intern!
Also when clearing paper jams, be sure you retrieve all parts of the pages that have jammed. Even the tiniest scrap of paper left inside the paper path can cause significant damage during your next copy run.
If you are still interested in learning about proper care for your office copier and how to make the most out of your copy machine, download our FREE eBook, The Ins and Outs of Copier Repair. This eBook is an excellent resource for further explaining copy machine issues and why they occur, as well as the steps you can take in maintaining a healthy, long-lasting copier. And, the great thing about an eBook is that it's a digital document, so you can continue to access it whenever you need to.

At AIS, we understand the frustrations that come with a broken or malfunctioning printer or copier. It's an inconvenience for your business that wastes time out of your busy workday and more times than not, wastes precious company dollars. However, we're here for you! We are continually working on ways to better serve our current customers and our potential ones by providing new and top-notch resources to make your workday run a bit smoother. We can't cross off the number of tasks you have on your to-do list, but we can help your printers and copiers run more effectively, giving you peace of mind to help you win more business.
-Article updated June 2018.