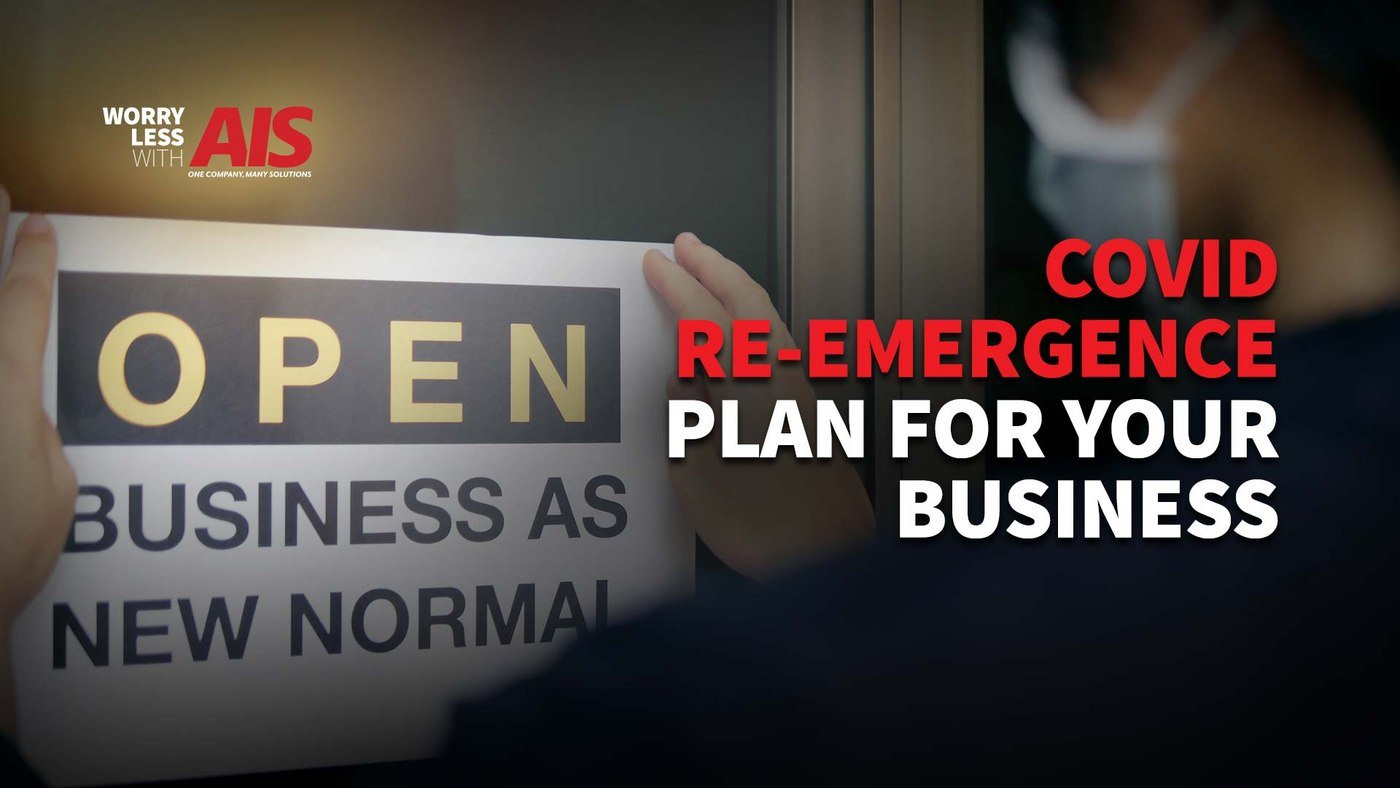 I think we can all agree that the majority of this year has been difficult for just about every business out there. The novel COVID-19 pandemic forced many of us to reevaluate how we protect our employees and ensure business continuity.
Not to mention, we've had to quickly learn how to protect our business against economic downturns, causing millions of employees to remote into work from other locations, such as working from home (WFH).
These pandemic-like conversations are ones we're having with customers and prospects each day—and the concerns are real. The dramatic impact COVID-19 continues to affect our business makes it much more critical to implement a re-emergence plan.
In simple terms, a re-emergence plan gives business executives and decision-makers a clear picture of where their company is and where it seeks to go. Planning for your organization is always a good idea. But in this unprecedented time, a re-emergence plan is the most significant and necessary initiative you must take.
So, what does that mean for your business and employees? What's the first step to take when creating a re-emergence plan? What questions do you need to ask to make sure your plan is specific to your company?
Lucky for you, we've got some good news! We created a list of the top three questions we ask our current and new clients to help them brainstorm, build, and implement a re-emergence plan.
A Re-emergence Plan For Any Business: Questions To Consider
Each day, we meet with many different businesses that all have various needs and concerns. From large law firms and doctors' offices to small churches and e-commerce stores, we are well-versed on how a re-emergence plan can fit your distinct business model.

One of the most helpful approaches we've noticed is asking our clients these questions below. It allows us to assess where their organization is currently at and allows us to find better ways to support them now and in the future—even during a pandemic.

1. Adapting To Business Changes
Based on the past year, what changes have you made or considering to have business continuity that ensures the health of your organization?


The past nine months have made companies fully aware of whether they are (or not) prepared for these turbulent events. Unfortunately, none of us were ready for our business to slow down, lay-off or furlough employees, or even be shut down.

The main focus of most businesses is to continue to operate and generate revenues. They must have a strong technology background to support work functions anywhere globally— not just in their offices.

Unfortunately, for most of us, the pandemic caused revenues to dip in one way or another. Asking if your business has made recent changes that support continuity allows you to narrow down certain core areas that promote your company's continuance.

Some core areas to assess and strategize in your re-emergence plan are:
Maintaining and securing servers

and devices throughout your business.

Back-up
Cloud Accessibility
Video Conferencing
Telecommunication Tools
Virtual Call Centers
Portable Computers (Laptops/Tablets)

Providing

resources for your customers

so they can continue to receive your products and services

Inventory
Shipping & Logistics
Web Support
Chat Features
Call Center or Contact Center

Becoming creative in driving revenue

Look for other sources of revenue
Diversifying their offers and products
Creating a need and want for services/products being offered
2. Health And Safety For All Employees and Visitors
With the anticipation of employees and clients coming back into your facilities, do you have a re-emergence plan on how to

protect them and your business against COVID-19 and other infectious diseases?




Are you asking, "What can I do to identify and limit the number of people entering my facility that may have an elevated temperature?" If you're not asking this, you need to be. Making sure your employees and visitors are safe in your building is a necessary measure to take immediately.

There are ways to help slow the spread of the virus (or any contagious virus for that matter) within the walls of your office. Below are some of the methods a re-emergence plan can address in terms of health and safety.
Limit the number of people entering facilities with elevated temperatures through the use of thermometers.
A hand-held or portable thermometer is typically performed by a staff member as employees and customers enter their business. However, there are a few issues with this device and the overall system.
Problem #1: You're not meeting a social-distance guideline of staying six feet away from a person if you have to physically take their temperature—putting your employees at risk.
Problem #2: The accuracy of most handheld and portable devices is only about 50-75% accurate, depending upon the scan location.

Implement Facial & Body Thermal Scanners
A completely touchless and contactless automated scanner is an excellent piece of technology that gives your visitors and staff members the peace of mind they deserve.

The accuracy of these devices is around 95% or greater.

A thermal scanner provides facial recognition capabilities to integrate into your employee database. This advanced capability offers historical data on all scans, in case you ever need to go back to a particular point and time.

A touchless temperature scanner, like the one we provide to our customers, even provides notifications to the HR manager (or the designed personnel of your choosing) and instructs the person if they have an elevated temperature. These notifications also advise the user on what to do next, such as leaving the facility or contacting a medical professional.

Learn more about finding a reliable and trusted temperature scanner for your business by reading our article, How to Choose a Temperature Scanner For Your Small Business (SMB).

Protecting Your Business: Covering All Of Your Bases
What are you doing to safeguard your business against lawsuits and inquiries from employee advocacy groups?


Businesses are more aware than ever that not protecting to the best of their ability puts their business at risk of lawsuits from employees and customers. Here are some ways you can safe-guarding your business:
Preventing persons from entering their facilities with an elevated temperature
Mandate protocols for persons deemed to have an elevated temperature
Implement a process for an employee to re-enter the facilities after recovering from COVID-19, cold, flu, or other infectious diseases.
The Final Say: Implementing a Re-emergence Plan To Strengthen Your Business
You may say this is information is a lot to consider—and I would agree with you. Unfortunately, this is our new norm, and we have to find ways to and strategies to make sure our business and our employees are safe. Every business owner can do things to better support their business; it just takes a little time and creativity to get there.
At AIS, we want to make sure you're informed and educated on the best practices for your business. We offer various technology solutions that support your employees, customers, and the organization's growth and success. To learn more about creating a re-emergence plan for your business or any other services we offer, reach out to one of our business technology consultants. We're here to give you peace of mind to help you win more business.