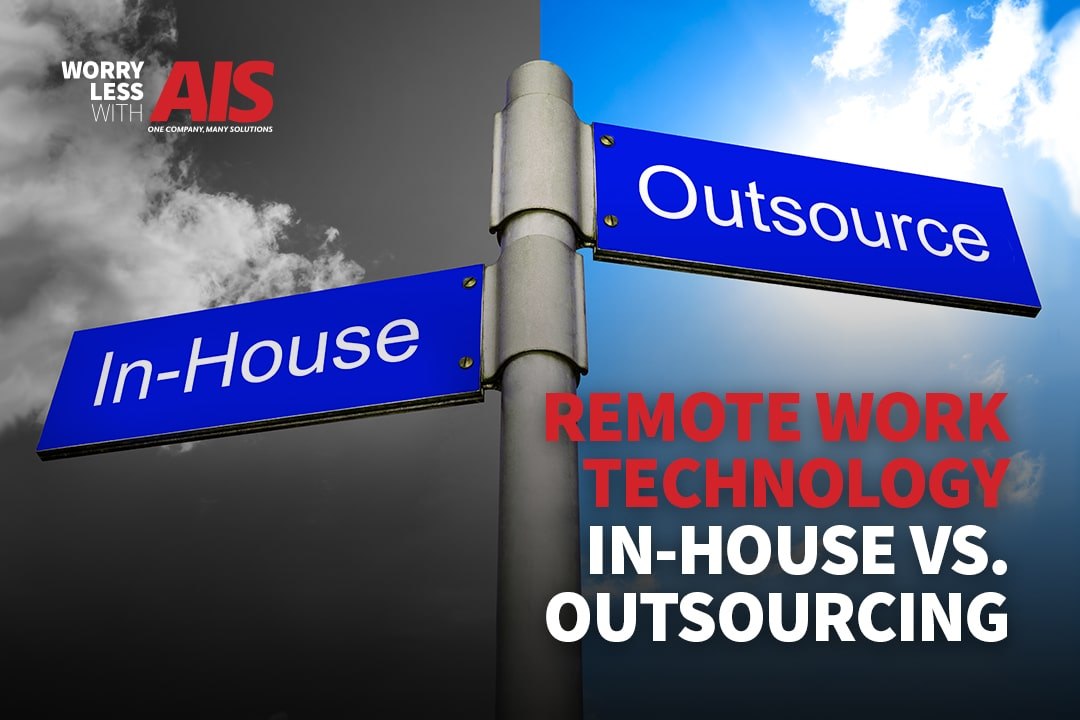 READ TIME: 4.5 MINS.
Many businesses have already made the shift to remote work full time in light of the COVID-19 pandemic.
While some are preparing for the transition back to the office, others are planning on allowing employees to continue working remotely (possibly long-term).
We can all probably agree that both scenarios have pros and cons to them. Working from home (WFH) helps decrease virus transmission and keeps us safe. WFH could also positively shift workplace culture by allowing employees to work more comfortably with a more flexible schedule.
On the other hand, many of us are finding that we miss human interaction and even falling short of "Video Call Fatigue." Never heard of video call fatigue? It's a real thing! Read more about it here.
Whether you're working from home or heading back to the office, it's necessary to learn the differences between in-house tech support and outsourced IT (managed It services).
Do you have a powerful, knowledgeable, and certified technical support team in place that keeps your business up and running?
Follow along as we go over some of the common differences between an in-house technical support team and an outsourced provider. The more versed you become in IT support, the better decision you'll make when determining the most desirable support for your employees, customers, and prospects.
Work From Home (WFH) Tech Support: In-house or Outsourced?
1. Everyday Technology and Communication Tools Your Employees Need
In-house support is often focused directly on the tools that your team members use every day. Your in-house support has likely received specific training and information about the tools and platforms that your business uses regularly. They are also likely highly focused on those platforms.

If your business has a new need, whether in light of the pandemic or not, your in-house team may need to go through new training to understand that platform better.
However, your in-house IT team may have more specific knowledge and a more direct familiarity with the specific systems you use every day. An outsourced team, on the other hand, often has a broad pool of knowledge available.
2. An Outsourced IT Company Can Understand Your IT Needs
An outsourced team can quickly scale to meet the needs of your business. When you outsource, you can instantly (in real-time) and effectively calibrate your tech support to meet your business's changing needs.
When you first make the shift to remote work, for example, your employees may need more support than they did previously. They may struggle to implement new technology or to get used to the new collaboration tools they need to use daily.
An in-house team may run ragged by those early days, only to have a marked decrease in activity as employees settle in and learn how to handle many of their own basic IT challenges.
An outsourced managed IT provider can quickly and effectively scale to meet those changing needs, such as virtual team meetings or video calls. These changing needs could be a temporary increase in service when you deploy a new type of technology or a dip as your employees adjust to the new situation.
3. Remote Connectivity Through Outsourcing
An outsourced team already has the tools to connect remotely, such as connecting through cloud-based solutions.
If your business has previously done most of its work from the office, your IT staff might not have the expertise to allow your employees to connect remotely.
An outsourced IT team may already have strategies and tools in place, making it easier to handle those remote situations. Thanks to the growing list of tools and resources, an outsourced team can quickly handle problems for all employees.
4. Improve Your Overall Security, Even Remotely
A great outsourced It team can help improve your overall security as employees work remotely. An even better IT team can even help you stay protected remotely through video conferencing to avoid person-to-person contact.
Cybersecurity is becoming increasingly important for many businesses, especially as scammers and hackers try to take advantage of COVID-19.
As you may have heard, the FBI has announced an increase in extortion scams throughout the pandemic. Some of those strategies may continue, even as normal work resumes across the nation. Not only that, but you may also face increased security threats due to less-secure networks used by remote employees.
Fortunately, you can take steps to protect your business—and a managed IT provider can help you put the levels in security that your business needs most in place quickly and effectively.
5. Save Money Through A Managed IT Services Provider
Managed IT support can be less expensive than keeping an in-house team. Many businesses find that working with a managed IT provider can reduce the costs of IT support.
When you keep an in-house team, you have to pay for their salaries even during times when they may have little to no work. Not to mention, you have to pay for their vacation time and other benefits.
If your IT staff is in-house (at your company's physical location, rather than working remotely along with much of the rest of your team), you'll also have to pay for office space.
When you outsource your IT support services, you won't have to worry about many of those costs. Instead, you'll pay for one comprehensive package—allowing you to keep up with the needs of your employees and customers.
6. Adapting To Working From Home In The Best Ways
A managed IT support provider has the experience needed to create a plan to help your business adapt to remote work. Making the shift to remote work can prove challenging for many businesses.
There are many factors that you have to consider, from the technology and tools your employees need to the measures that keep your business secure.
Do you need time-tracking software to allow you to see what your employees are doing with their days? Are you taking the steps necessary to keep your technology updated?
An experienced managed IT provider can prepare your business for the challenges associated with remote work. By doing so, you'll be better positioned to manage your changing needs.
7. Supporting The IT Needs Of Your Employees
An outsourced team is there when your employees need it. Remote employees often do not work the traditional "9-5," and you need your IT provider to show the same flexibility and consideration.
Instead of expecting your employees to wait until normal business hours to submit a ticket or get a response, you can work with an outsourced team that is available when your employees need them most (such as a call center or help desk).
The Final Say on In-house vs. Outsourcing Technology
If you're making the shift to remote work, consider how a managed IT service provider can help you accomplish your goals and improve the efficiency and effectiveness of your IT support.
Let's start a conversation! Reach out to one of our business technology consultants, here.
Want to learn more? Check out our Ultimate Guide to Managed IT Services page to help you better understand the advantages an outsourced IT team can provide to your business, no matter what your work environment is. We're here to give you peace of mind to help you win more business.