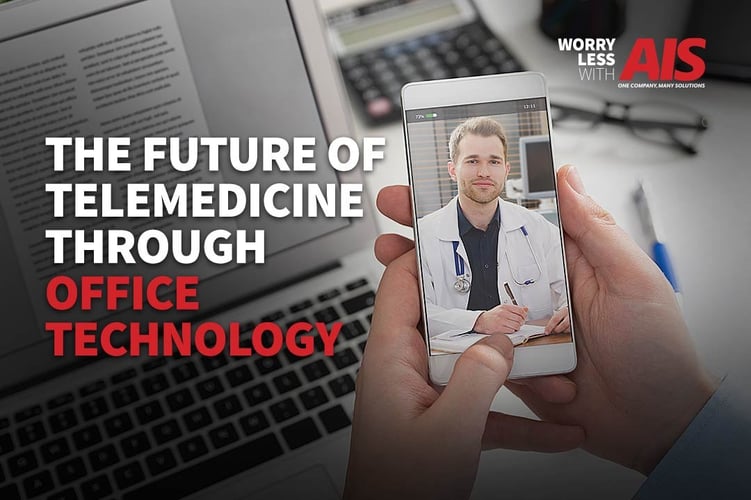 READ TIME: 4.5 MINS.
Doesn't it seem like everything has changed—just over the past few months? Due to the novel COVID-19 pandemic, just about everything has changed. Not to mention, the changes are happening so quickly, it's virtually impossible to keep up.
Whether you're a small law office, a school district in a metropolitan city, or a large healthcare provider, you've felt some impact this year. We've seen a significant uptick for telehealth services, which has piqued an interest in the future of telemedicine through office technology.
Before the pandemic, telehealth services were somewhat unfamiliar to most, as visiting a doctor in-house was the norm. We've since realized that many of the ways we practice medicine can be done remotely— from the comfort of our homes.
So, what does this mean for your medical practice or clinic? What about mobility and security for your patients and doctors?
Many realize that the best way to adapt and stay on a steady path of growth is to enhance the office technology that supports telehealth services and telemedicine long-term.
Telehealth Services Through Office Technology: Supporting Your Practice
Telehealth proposes exciting new opportunities for advancing the future of healthcare. Telemedicine can improve healthcare access to many, but it also has the potential to considerably lower costs.
As more and more adjust to a new way of seeking the medical care they need, telehealth will advance our overall quality of health substantially. But, that comes with the right technical support.
What Should My Office Do To Better Support Telehealth Services?
We can all agree that any type of remote support gives both the provider and the recipient more mobility. Mobility is a great thing that can even save us some time throughout our busy days. But, how can a medical practice experience mobility through telemedicine?
Your IT infrastructure must have the capability and capacity to support your remote patients and even remote team members. It would be extremely problematic if your video conferencing system were unable to host your appointments efficiently, leaving your patients frustrated and feeling their time wasn't well spent.
As your practice shifts to a more remote-based office, be sure to explore your new and required options from your managed IT provider. If your IT is currently handled in-house, now might be a great time to outsource your office technology needs.
Read our article to learn more about managing your IT in-house, Can You Manage IT? 5 Questions to Ask Yourself.
A great managed IT provider can assess your current technology infrastructure, learn your needs, and develop a plan specific to your team members, patients, and the services you offer.
They can also work with you to develop a technology road map that you will be needing in the future as you grow.
Office Technology and Telehealth: Securing Your Network
Cybersecurity is (or should be) of the utmost importance to almost all businesses, especially for those in the medical field. Patient personal information protection and privacy are requirements your medical practice has to follow, regardless of how you choose to operate.
As medical offices begin to shift their appointments from in-house to a virtual environment, the security of their entire IT infrastructure has to remain healthy and follow all compliance standards and regulations, such as HIPAA.
Both you and your patients should want peace of mind. Although their consultation may be online, their information, appointment recordings, and any follow-up documents sent via email or deposited in the cloud to be safely stored—should have the highest level of protection making them unable for cybercriminals to gain access to.
You'll know if a managed IT services company based on how much they emphasize assessing, monitoring, and reporting on the security of all your devices and systems.
So what exactly can a managed IT services provider do for the security of your business?
Data Backup, Recovery, and Security: Data loss, accidental, or by theft, is one of the most significant concerns for businesses. IT outsourcing services offer complete protection with a secure firewall, servers, malware, and virus protection.
Intensive data security service stops thieves, hackers, and criminals in their tracks. Proactive security and 24/7 monitoring of your network helps eliminate attempted cyber-hacks from happening and anti-virus patches and other software updates to be done quickly, keeping you up to date and protected
Virtual CIO (vCIO): A vCIO, also known as a Virtual Chief Information Officer. The vCIO may be a consultant, third-party, or business that offers a service (part-time person) to fulfill the role of a current CIO. This helps support the overall security of your network because you will have a dedicated person who is fully responsible for the planning and architecture of your network operations.
This service helps businesses that can't afford the salary and benefits for a full-time executive. A vCIO usually works remotely and supports developing a technology roadmap, review, and maintenance of IT infrastructure, vendor management, new technology, and recommendations.
Technology Road Mapping and Planning: With the help of an IT outsourcing services team, you can create technology plans to future-proof your business. Make sure to focus on your business goals with the technology you're currently using and how you plan to grow with new technology as it emerges.
A technology roadmap helps you better plan out your IT security measures so that your networks are always up to date and perform safely.
Learn more about outsourcing your IT by reading our article, How Can IT Outsourcing Services Help My Business?
The Final Say: Telehealth Services Through Office Technology
To be honest, we've barely scratched the surface of office technology of telehealth and your medical practice. However, learning all the ways these new and remote services can promote and grow your business is one of the best things you can do for continuity.
As you continue to learn more about telehealth and the types of technology to implement, make sure to seek opinions of office technology experts, like us, who are dedicated to helping you.
If you' like to learn more about AIS or any of the products and services we offer, reach out to us today. We are always looking for new and emerging technology solutions to provide to our readers and customers. Let us guide you as we navigate through tricky times. We're here to give you peace of mind to help you win more business.